Best Binoculars for Hunting Astronomy Birding and Hiking
The best binoculars can change the way your experience your outdoor life. Personally, my first encounter with a pair of binoculars as a kid. Being able to see distant objects so close, and with both eyes, was just amazing. Back then, it was just for fun.
As I grew up, I learned that a binocular has a lot more applications than just in real life. You may need to use a quality pair of binoculars when hunting, as security tool at night, and of course for bird watching.
While a pair of binoculars may not have a magnification that matches that of a scope, it does offer a wider field of view. In that regard, you will find it more comfortable to use a binocular as a reconnaissance tool when hunting.
It also comes in handy when you need to have a clear view of your surrounding at night. Thanks to the use of night vision technology and quality lenses, a pair of binoculars can help you see intruders clearly.
Before we look at some of your other questions, let as look at some of the quality binoculars you can buy. If you already have own, you may still wish to take a look a what other models or brands have to offer.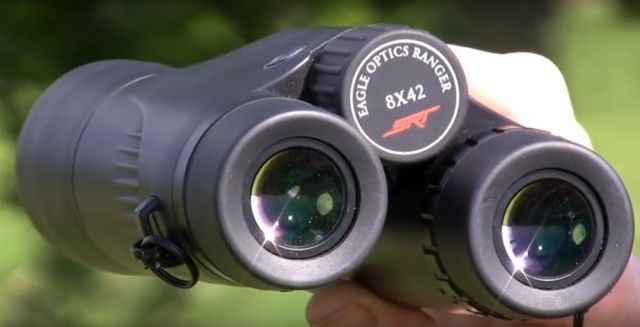 1. The Best Binos Under 100 is the Bushnell Powerview [Compact Folding Roof Prism Binocular]
Everybody wants to own a pair of binoculars nowadays for reasons known to them. But no matter your reason, there is always a right kind of binocular for you.
For those who need a simple and affordable pair of binocular but very useful, then start by looking Bushnell Powerview kind of binocular.
This is a great device for people who are interested in nature viewing, tourist, sports observer and even tourist
What to Expect From the Bushnell Powerview
These binoculars contain covered optics that give splendid and distinctive pictures. Even when working in low light condition, the Bushnell Powerview ensures you still get the best view.
Another outstanding feature on this device is the kind of glass used for its optics, we find that many binoculars are equipped with prism glass but do not come with line prism glass of BK-7 at the top unlike the Bushnell power view
Apart from using the prism B7 glass, the design of this device is also roof type. By using a roof prism glass, it means that you will be getting nothing but crystal clear and high-quality visions.
Binoculars using roof prism design have a complex optical system. This makes production cost a bit higher and further making this device more expensive than others made using different kind of optics
The roof prism glass is coupled with coated optics which gives you more reason to choose from this line of binoculars. This is because the combination that comes when fully coated optics and the roof prism technology.
It produces an excellent product from a known and best brand. The coated optics allow enough transmission of light and clear images which you will not expect for its affordability.
The Bushnell power view fold-able feature makes it quite unique product. Because it can be folded, it makes it compact for storage and it can fit in one's pocket or even a purse.
Bushnell Powerview 's Body
The body of this binocular is coated with rubber armor which protects it from shocks, the rubber amour further gives a firm grip on the binos. The open bridge design of the binocular makes it easy to one-handedly hold the glass.
Also, the binocular is lightweight as it only weighs 12.4 ounces and this makes transportation easy.
This binocular model, unfortunately, does not have tripod mount which would have been great if it would have been included. Using a monopod or tripod while viewing nature or bird watching makes sharing of your views easy to others.
This binocular may be durable, but unfortunately, it's neither fog proof nor waterproof. The lenses also are not O-ring sealed and nitrogen has not been purged at the optical chamber
It is the Best Binos Under 100
This model certainly has the best features that make it the best under 100. If you are a beginner or you are looking for a pair of binoculars to have fun with, this is the best deal you can have your money on.
2. Best Binoculars for Astronomy Under 500 is the Leupold BX-2 Acadia 12×50 mm [Review]
Finding a roof prism binocular that offers the Leopold quality performance had proven to be a challenge until the BX-2 Acadia was introduced.
This is a high definition Leupold binocular that gives nothing but the best of the results.
It's known for its high-resolution images and excellent color correction that ensure there is clarity and sharpness of images.
The binocular has been widely used in bird watching, basic observation and hunting. A lot has been said about this device that we decided to find out more about it.
Features of the Leupold BX-2 Acadia 12×50 mm
The binocular features a roof prism design that ensures there is longevity of the device. TheBak 4 prism in the device gives a perfect round exit pupil with no distortion at the edge.
The phase coated roof prism helps in increasing resolution specifically for distant but bright images, making it the best binoculars for astronomy. It also featured among the best binoculars 2018.
The device also features a large, tactile focus dial which is very easy to use even with gloves on your hands. This gives the precision focus required to pick antlers out of trees or the bushes.in addition, the binocular is waterproof and fog proof and this ensures that it is ready to work in the harsh weather condition
Best Binoculars 2018 Optics
The binocular contains anti-reflection multi-coat that ensures light rays are not reflected affecting the quality of image. The 4 optics in the binocular are fully multi-coated to ensure that the objects are bright and clear with very minimal distortion.
They also ensure that the color transmission has not been interfered but remain original. The 12x magnification lenses in this binocular is best for resolving details that are in heavy bush at a long distance where accurate identification of the object is critical.
The large 50mm objective lens found in the binocular provide enough light transmission to give clear and bright images. The 50mm objective lens is very useful during low light condition as they allow more light to pass through giving clear images.
The binocular contains tethered objective lens cover which protect the lenses and ensure there is easy access to them. Also, the binocular has a 15mm long eye relief. That your eyes are at a safe distance during viewing.
The center dioptric adjustment and twist eyecups makes the binocular comfortable when using and also make them easy to use. You can explore this article on how to adjust your binoculars.
BX 2 Leupold's Body
The binocular is built for the purposes of outdoor activities. The housing is made up of a black armored exterior, the armored exterior protects the binocular from impacts that come after a fall or drop.
The optical tubes are O ring sealed with nitrogen filled in them to ensure they remain fog proof and waterproof.
Buy the BX 2 Leupold for Astronomy and Bird Watching
The BX 2 Leupold Acadia binocular has been liked for overall general use as they have proven to fit and work in different fields. The Leopold warrants the binocular to be free from defect in materials and perform excellent under normal use. I feel comfortable recommending this Leupold BX 2 Acadia binocular for astronomy and bird watching.
3. Best Binoculars for the Money – Stainer Military-Marine 8×30
Steiner military –marine 8×30 is a rugged set of binoculars that are known to take anything thrown at them.
It's a great device that will work very well on wildlife spotting, great safaris, military and marine application and many more.
This binocular is touted fit for any purpose and environment, this claim is backed by finely unique features and the sets firm construction.
In addition, they are designed to provide quality visuals when in the field. With a lot of hype in the market about this binocular, I decided to get to find out more and have a feel of it
Magnification and image quality
Using this binocular, you will be able to enjoy an 8x magnification and a 30mm objective lens which ensure there enough light transmission and clarity. The lenses are fully coated allowing maximum light is gathered.
That provides an excellent and consistent level of clarity of an image. The mirror prism technology in the binocular also helps in the clarity of images.
The binoculars provides an excellent wide field of view which is great for long range observation.it has an autofocus which after adjusting each eyepiece, the image is kept sharp and this allows seamless tracking of moving object.
With 390 feet field of view at 100 yards, it ensures that user is able to locate target easily using this device. In addition, with the extended eye relief of 20mm, users who wear glasses are able to see through without necessarily removing them off.
Generally, the binocular operates best at mid to long ranges with the auto-focus being effective at a close distance of 20 yards. That is largely it is the best binoculars for the money, you get more without burning a hole in your pocket.
Body of the Stainer Military-Marine 8×30
The manufacturers kept in mind ruggedness when making of this binocular.It has armored rubber housing that provides enhanced gripping in any field condition. The binocular has an ergonomic design, making it easy to carry.
Its waterproof construction makes it suitable for use under extreme weather condition, without compromising image quality. The binocular is made using durable polycarbonate materials which have armored the body with the NRB long life rubber.
The chassis also is rugged and this ensuresthat it is able to withstand an impact of up to 11Gs. this will ensure that even the falls that occurs on the field will not damage the device.
Pros
Compact design
Floating prism
Separate diopters for both eyes
Sports autofocus system
Lightweight
Cons
Price
Consumer misconception
Best Binoculars under 300 – Steiner Military 8×30 mm
The Steiner Military 8×30 mm is a very versatile binocular and a must have for hunters. It's a master of all its trade but still performs optimally, making it the best binoculars on a budget.
It's also suitable for observance and exploration but also ideal for leisure settings. The Steiner's auto-focus stands out while the sturdy but streamlined physical design ensures that the device last long.
The manufactures of this binocular offer a lifetime warranty which ensures that your device will be repaired at no cost in case of defects or damages. In addition, the Steiner's have a heritage warranty.
This works when the binocular is transferred from generation to generation without losing the warranty. Since it has proven its ability to perform, I will recommend you to get one of this.
4. Vortex Optic Diamondback 10×42 – Best Binoculars for Birding
Vortex manufactures have proved that their optic products are worth surviving the competition in the optic industry. Being an American brand, it has gained a lot of popularity in recent past.
The company manufactures optics that range from entry-level, advanced, and state of the art tools. If you need the best budget binoculars for birding, then look no further.
One of the latest loved series of the vortex binos is the Diamondback 10×42 that has an upgraded sleek and sexier design. It is among the best binoculars under 500.
Lots of people have been talking about the diamondback binocular, but if you have not had a chance to get your hands on them, then read the review below.
Vortex Optic Diamondback Features
The binocular features a roof prism design that is used to ensure durability of the device. The optics in the binocular are multi-coated, this is done so to ensure that there is increased transmission of light through the device.
The BAK-4 roof prism of the device contains a phase correction coating, which enhances resolution, contrast and minimizes chromatic aberration.
There is also a center focus knob that works very smoothly and effectively with or without the gloves. Its main work is to offer resistance from bumping the scope out of focus.
However, it rotates smoothly allowing you to get your subject to focus easily, which makes it the best binoculars for birding.
Optics of the Best Binoculars Under $500
These pair of binoculars features X10 magnification and provide a 42mm objective lens. Its optics provides an excellent resolution, contrast and clarity of any image.
Moreover, by using this binocular, you are able to get a close focus for up to 5 feet. That allows you to get up close and personal even with distant objects.
The field of view of this binocular is great with an excellent linear field of view that provides 345 feet width at a 1000 yards. The device also has a very comfortable eye relief of 16mm. That makes it easy to use whether you wear glasses or not.
The eyecups twist upwards and downwards, and it has clear markings to help set the right distance. On the eyepiece that is on the right, you will find a locking diopter adjustment that is easy to use.
Body Armor Design
The shell of the diamondback 10×42 made of high-strength polycarbonates, which makes it shutter resistant and shockproof. Its rubber armor provides additional protection from fall, drops, and bump. Furthermore, rubber armor provides a perfect grip on the barrels. The tripod adapter is found just at the bottom of the body
Pros
Waterproof and fog proof
Coating is dielectric
Unique bridge design
Easy focusing
Lifetime warranty
Cons
Does It Offer Value For Money?
The vortex optic diamondback 10x42mm is an excellent binocular and offers value for the money. If you have bought a pair of binoculars before and gotten disappointed, then you should try this one.
If you check out what other buyers are saying, or even try it yourself, chances are you will keep it. Overall, Vortex has won the hearts of many thanks to their superior design. Could you be the next one? Share your experience with us.
5. Best binoculars for hunting – Canon 18×50 Review
With so many activities today that require the use of binocular, you need to get one that will not disappoint.
Canon 18×50 is one of the best binocular of the highest quality that you can find from the canons and currently in the market.
This is because it is an all-weather binocular with great features and optics. It comes with a neck strap, case and batteries.
For a long period, canon manufacturers have been making image-stabilizing binoculars, which have always been of the highest quality.
So how does the Canon 18×50 stand out? Let us find out more about this device.
Is Canon 18×50 the Best for hunting?
The device has one of the greatest image stabilization technologies; this is of great help when it comes to viewing high magnification of images that are at a distance. The image stabilization technology here works by combining a special variable angle prism with a motion sensor.
Its motion sensor detects any motion either horizontally or vertically, which is why it is among the best binoculars for hunting. On the other hand, the prism collects the incoming light and prevents the image from shaking. This happens in seconds and you cannot even notice.
This binocular can withstand harsh weather conditions. This therefore means you do not have to stop what you are doing because of change in weather. Thanks to its weather resistance JIS 4 specification.
The binoculars have a rubber finish designed to withstand the harshest conditions thus making them ideal for heavy-duty use. In addition, it can withstand a fall or two!
Optics
When it comes to optics, you do not expect less than the highest quality. The optics are specially designed with ultra-low dispersion glass which helps in the clarity and accuracy of images by reducing the chromatic aberration.
In addition, the glass is super spectra coated, which is a canon signature. The lenses are fog proof and therefore during the rain cannot hinder the view. Canon 18×50 boasts of an extra magnification of x18, which is a very nice upgrade.
Moreover, it provides a wide field of view, which is important during the high magnification. The coated optics and the large 50mm objective lens work very impressively to give quality images; the images are very clear and detailed.
With the basic information about the canon 18×50 image stabilization binocular already captured above, it can't miss its likes and dislikes, let's find them out:
Pros
It has X18 magnification
Comfortable rugged quality
Wide field of view
Steady bright view
Withstand harsh condition
Cons
Do I recommend Canon 18×50?
The Canon 18x50mm image stabilization, all-weather binocular, is unarguably among the best image stabilized binoculars in the market. This device is among the top rated binocular currently in the market and we found that it offers real vale.
It has a longer lifespan, thanks to the use of quality materials. The overall performance is excellent and I bet you won't regret getting yourself one.
6. Zeiss optical 20×60 – Best binoculars For Long Distance
Owning a high-end Zeiss 20×60 [with image stabilizer] binocular is just awesome. That is because it has unmatched performance and reliability.
Moreover, its features make it stand above from the rest. Pricing of this device might be a bit costly but it is worth it since you can just feel the difference when using it.
In case you are confused on the type of binocular that you may need, then Carl Zeiss optical 20×60-image stabilization is the best solution for you. Let us find out more about this device.
A Carl Zeiss optical 20x60image stabilization binocular offers high-performance features which comes from European technology, which ensures there is quality and durability of the device.
Exterior Features
Being one of the best high-end fancy binoculars currently in the market, you will definitely expect nothing but the best of designs.
The device offers an elegant design with a super strong exterior. It comes with a premium black color whose quality is excellent, and it does not chip off easily.
Looking at the chassis, it is strong and purposely designed to endure heavy usage. Which is why it made it to the best binoculars 2019.
In addition, the binocular can work under extreme condition, as the chassis is waterproof. The size is comparatively big with a dimension of 6.3 x 6.3 x 10.8 inches.
Best Binoculars 2019 Lens, Optics, and Image Quality
The excellent optical features in this binocular take your viewing experience to the next level. It comes with a powerful magnification of 20x and a 60mm objective lenses. To have a shake-free viewing, the binocular has an image-stabilizing gyro, which significantly prevents blurriness of the image.
Viewing using this pair of binoculars gives you a razor sharp and very clears images. It owes all that high-performance optic and premium lens coating, making it the best binoculars for long distance.
The light transmitting capability of the device is excellent; this enables it to provide high performance during the low light conditions. The special feature with this device is that it enables you to lock an image to a position to get more details in high definition.
With already basic knowledge about its basic features, it definitely cannot miss its pros and cons. let us summarily and look at them.
Pros
Unique design, which is very amazing
The chassis is super strong
The field of view is wide
Quality of the image is excellent due to clarity and extreme sharpness
Stable viewing and high definition experience
Performance under low light is excellent
Resistant to water
Cons
The pricing is much expensive to some customers
Its only available in one color (Black)
Why go for the Carl Zeiss optical 20×60 Binoculars with Image Stabilization
Carl Zeiss optical 20x60mm image stabilization bino is with no doubt a binocular with an excellent performance. The price might be high, but the clarity and quality of the image that it provides is un-matchable.
In addition, the device is made of durable materials, which ensures it last for a longer period. In addition, this is noise free binocular with a very high definition viewing for long distance.
Therefore, for the people who love high-end performance binocular, this is the best product for you, as it will stand out giving you the best service that you require.
What To Look for When Buying Binoculars
There is an increased interest on usage of binoculars worldwide, and buyers are looking for the best binoculars. Therefore, you may wonder how binoculars work or even try to figure out the best binocular to purchase.
Then the guide below will try to answer all the major things that you should know before you get one.
Familiarizing yourself with the technical terms used in binoculars is considered the first step to begin with. Then the following basic features will help you determine how powerful the binocular will be able to perform in the field,
Discover Features of the Best Binoculars
1. Understand the Numbers
Generally, all binoculars are referred with 2 numbers, such as 8×42, 7×42 and lot more. The first number found before the "x" is the binocular magnification power. Taking an example of 8×42, we find that the images will be magnified and appear 8 times larger than on unaided eye.
The second number that appears after the "x" represents the objective lens diameter. Looking at a binocular with 10×50 lenses, we find that its objective diameter is 50mm, 8×42 lenses have 42mm objective diameter.
Taking the second number and dividing it by the first numbers gives you an exit pupil value. This number determines how close you can hold the binoculars.
Things to note:
High magnification numbers lead to a dimmer image, though the image is enlarged, you will have a narrow field of view and consequently be unable to get a focused image.
Large objective lens lets in or gathers in more light. This is very important especially on low light activities. However, with the large lenses, the binocular will tend to be heavier.
Large exit pupils result in more light reaching the eye. A normal human eye dilates 2-7 mm of light depending on available light. It advisable to check the value of exit pupil that match the width that your eyes dilate
2. Lenses
Majority of binoculars in the market come with glass lenses that are known to provide clear and good quality image. However, there are plastic lenses, which provide same image quality but might be a bit expensive. Glass lenses are known to partially reflect light but this can be prevented by using the right coating.
Things to note:
Coating of lenses is described with 4 main words. That is C, FC, MC and FMC
C means the lenses have a single layer coating.
FC indicates that all lenses surface has coating.
MC indicates that some of the surfaces contain multiple layer coating.
FMC indicates that all the lenses contain multiple layer coating
Plastic lenses are best for use in situations where durability is important. They are rugged compared to glass lenses.
3. Eyepiece
The eyepiece lenses should be located at a distance from your eye and even farther, if you are using glasses, this distance is what we call the eye relief. It ranges between 5-20mm. Those people that wear glasses should consider purchasing a binocular that has an eye relief of between 14-15mm or even higher.
Binoculars have rubber eye caps around the eyepieces that help in setting the eye. For those that wear glasses, I recommended you go for binoculars that have caps that flip out of the way or retract
4. Focusing Ability
It is important that you consider the focusing ability of the binoculars and even rifle scope. Calculate the distance between the object and where your position when using the binocular and when not.
Majority of binoculars have a center post mechanism with a diopter corrector. Which allows one of your eye to be stronger than the other. However, it is important to note that waterproof binoculars have individual focusing on each lens and controls on each of the eyepiece.
Other binoculars are "focus free" and they have no ability to adjust the focus. This kind of binoculars can cause eyestrain if you try to focus on images that are closer than the preset distance
5. Waterproof vs. Water-Resistant
This will depend on where you are going to use the binocular. Are you are going to use your binocular in areas that do not exposed to precipitation? If so, then get yourself a water resistant binocular. If on the other hand, you are going to use your binocular in sporting activities like skiing or white water rafting, go for waterproof binoculars.
6. Prism Design
Majority of binocular use Porro prism designs where the main lenses are spaced wider than eyepiece. This makes the binocular look bigger and nearby images to appear in 3-Dimension.
Moreover, binoculars that are made to have roof prism, have their main lenses in line with the eyepiece. This makes the binocular more compact but at the cost of quality of the image.
Cheap binoculars use BK-7 prism, which we find that one side of the image is square shaped. Expensive binoculars on the other hand use BAK-4 prism that transmits more light and give a sharper and rounder images.
7. Weight of the Binocular
As earlier said, binoculars with high magnification and large lenses tend to be heavier than the standard binocular. However, you may mount them on a tripod when using them. You may also use a strap to hang them around your neck. In case you are traveling a long distance, then it is advisable to settle on lighter binocular but less powerful.
8. Brand Reputation
It is good to understand how long the manufacturer has been in the business and look on other optical product they manufacture. This will help you know their reputation and get to know how they handle damaged binoculars and warranties if there are.
Buy the Best Binoculars to Get Value for Money
Majority of people have now shown a lot of interest in getting themselves a pair of binoculars. Unfortunately, the market is flooded and that poses a challenge to first-time buyers. It is important to go through the reviews first before buying one.
That will help you gather more knowledge and information about the device that you are interested in. Overall, do not base your buying decision on your budget only, it is better to pay more and get the best. Paying for a cheap and frustrating pair of binoculars is simply a waste of your heard-earned money.
How Far Can You See With 10×50 mm Binoculars
Binoculars have gain popularity in the last decade, which is why it is not surprising that many people are trying to buy themselves one. Most people buy their binoculars for use in bird-watching, hunting, and to view distant object in general.
Unfortunately, not all people know how far they can see with their binoculars and even do not understand the meaning of numbers written on the binoculars.
As people check on different specs before purchasing their preferred binoculars, many people may opt for the binoculars with 10x50mm specs.
Nevertheless, how far can one be able to see using this kind of binoculars? It is with that that I have decided to specifically point out the major things that will help you understand how far you can see with the 10×50 mm binoculars.
Magnification – Best Binoculars Under $100
The first number on the binoculars will always refer to its magnification, so in a 10×50 binoculars, the first number (10) is the magnification power of binoculars. Magnification is the measure how much an optical devices enlarges an object at a distant.
For the 10x50mm binoculars, it will enlarge the image 10 times. In other words, the image will appear 10 times larger than it would appear on an unaided eye. If you get the best binoculars under $100 that offers that kind of magnification, go for it.
People always mistake and think that the more powerful a binoculars is, the better it is. This might not be right, as adding power to binoculars will result to an increase in weight. This might prove hard carrying it around considering it is heavy.
Objective lens
For the 10×50 binoculars configuration, the second number will always refer to the diameter of the objective lens. The second number (50), hereby is the objective diameter and it is always in millimeters. The objective lens is always located at the front of binoculars and further from the eyes.
The main purpose of the objective lens is to absorb light and form a clear image of the distant object. The larger the objective lens the more light it will allow the binoculars to gather. That will result in a brighter view and a clear image.
Keeping quality in perspective is very important. A high-quality 50mm lens and its associated glass components will definitely give you a brighter and a better image in clarity.
Field of view
This is the width of the area that one can see at a 1000 yards. Generally, binoculars magnifications are always determined at 1000 yards. Therefore, for a 10×50 binoculars an object that is at 1000 yards will appear 10 times larger compared when observed with 20/20 naked eye at a magnification of 1x.
Getting an expensive pair of binoculars so as to get a wide field of view will definitely be a poor investment. The manufacturers of good brands will not want to lose business by creating poor a binoculars without a sharp image. A binoculars should not have a wide-angle view at the expense of clarity and sharpness of the image.
Exit pupil size
This is always the determinant of how the binoculars will work especially in low light conditions. Exit pupil size is always the actual diameter of the beam of light leaving the eyepiece. It is obtained by calculating the objective lens diameter with the magnification.
Therefore, 10×50 will have an exit pupil size of 50/10 and this will result in 6mm. During the day when there is sunlight, we find that the size of eye pupil will contract to a size of 2-4 mm and at night they expand up to 7mm.
If the light beam is wider than your pupil is, you find that you cannot be able to see through. Binoculars with a 4mm exit pupil will seem clearer and brighter. However, during the night when the eye pupil has enlarged, the 4 mm will be dim compared to the 5mm binoculars.
Applications of the Best 10×50 Binoculars
1. Astronomy
Since the 10×50 binoculars have a larger objective lens, it will allow more light to be transmitted through the device. This, therefore, means that you will be able to see clearly much better in the darker. The 10×50 binoculars will also yield.
Clear and spectacular view of the moon
Excellent view of the 8 planets that will appear like small dots
Spectacular view of the Jovian moon, stars, bright NGC objects and many more
2. Nature viewing
When visiting attraction site, it's always not possible to move around the whole area just touring as some of the areas are always risky. This kind of binoculars comes in handy now as they are ideal especially on large field area.
Using this you will be able to get the images closer to you and possibly get to see the spectacular view of the mountain ranges, avian sanctuaries, deserts and many more. It is mostly perfect for terrestrial watching activities and bird watching.
3. Sport spectating
With a lot of sports enthusiast nowadays, we find that people are always packed at the stadium and some may not have a clear view of the things happening at the field of play.
So if you are stuck in a nosebleed section of a stadium, then you don't have to worry. The 10×50 binoculars will guarantee you that you don't miss any action in the field. You can easily use them to zoom in and catch every action.
Choose the Best Binoculars to get Value for Money
Despite its popularity, many people have not been able to use this kind of binoculars to its full potential. Understanding how to use this kind of a device will help one to view the distant wonders of nature through binoculars just as they expected.
It is also advisable to get a renowned brand of binoculars, which comes with good lenses. The market is flooded with different kind of fake brands; you do not want to end up frustrated and not being able to fulfilling your sightseeing and bird watching plans.
This article has highlighted the main areas that will help you know how far you can be able to see using the 10x50mm binoculars and its overall performance. We hope that this information will help you understand better your device and get to use it appropriately.