Set Bait To Hunt Wild Hog
You need to know how to bait hogs quickly if you want to hunt hogs successfully. Hunting is an essential practice to reduce the hog population, which poses a serious risk to agriculture, property, and the environment.
But this way is for the traditional way of hog hunt, if you want a new feeling, you can try  hog hunt by helicopter
Unfortunately, hog hunting can be difficult, though, as these animals are elusive and challenging to catch.
They make tough prey due to their strong hearing, keen sense of smell, and rapid reflexes. In this post, we will look at a number of quick and efficient hog-baiting techniques to make hog hunting easier.
What You Need to Know About Hogs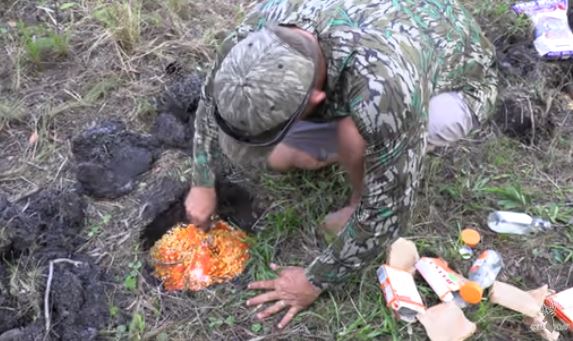 Wild boars, also referred to as wild hogs, are extremely adaptable creatures that can live in a variety of settings, such as wetlands, grasslands, and woodlands. They are active both during the day and at night, with the height of their activity around dawn and nightfall.
Because they are social creatures, pigs typically live in groups called sounders that are headed by a dominant sow. Aside from using baits, you can use electronic hog calls to whole sounders.
Pigs are opportunistic feeders, which means they will consume a variety of foods based on what is readily available. They eat fruits, insects, small mammals, reptiles, roots, tubers, and tubers. Pigs will also eat carrion, trash, and even pet food in situations where there is a lack of available food.
Hogs can detect food using their keen sense of smell. It's crucial to utilize strong-smelling bait for hog baits, such as maize, sweet potatoes, or apples. The high sugar and carbohydrate content of these foods makes them extremely alluring to hogs.
Acorns, wheat, barley, oats, and soybeans are some more common baits that work best on hogs.
In order to enhance your chances of success, it's crucial to change your hunting site and bait kinds. Hogs are known to be highly clever creatures, and they can quickly learn to link certain areas or odors with danger.
How to Select the Best Bait for Hogs
When it comes to baiting hogs, there are several different types of bait that can be used, each with its own set of pros and cons.
Corn Hog Bait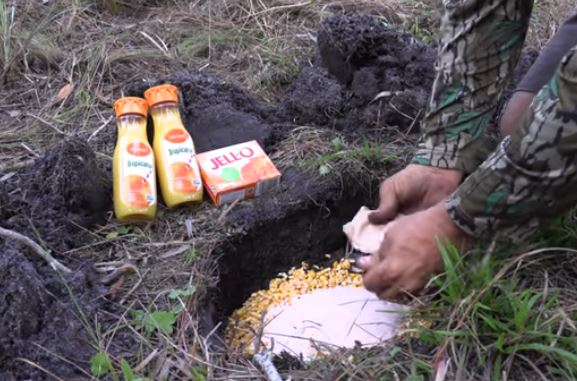 Corn is a highly attractive bait for hogs and is readily available at most feed stores. It can be used on its own or mixed with other ingredients to make a more attractive mixture. One of the benefits of using corn as bait is that it is relatively inexpensive and easy to obtain.
However, one of the cons is that it can attract other animals, such as raccoons, bears, and squirrels, which can make it difficult to target hogs specifically.
Sweet Potatoes Hog Bait
Sweet potatoes are also highly attractive to hogs and can be used as a standalone bait or mixed with other ingredients. They are rich in sugar, which hogs find particularly appealing.
They are also relatively inexpensive and can be obtained at most grocery stores. One of the cons is that they can spoil quickly in warm weather, which can make them less effective as bait.
Apple Bait for Hogs
Apples are another popular bait for hogs, as they are high in sugar and carbohydrates. They can be used on their own or mixed with other ingredients to make a more attractive mixture.
Apples are readily available at most grocery stores and are relatively inexpensive. However, they can also attract other animals, such as bears and raccoons.
Homemade hog bait
Mixing items like corn, sweet potatoes, wheat, barley, oats, and soybeans will yield homemade bait. The demands and tastes of the hogs in your area can be taken into account while making homemade bait.
One advantage of utilizing homemade bait is that it may be tailored to, particularly, target hogs. Making your own bait can, however, take more time and money than buying ready-made bait.
It's crucial to take into account the particular requirements and preferences of the hogs in your area when choosing bait. The potential effects on other creatures and the environment should also be taken into account. Always remember to abide by local hunting laws and restrictions.
Bait Placement Tips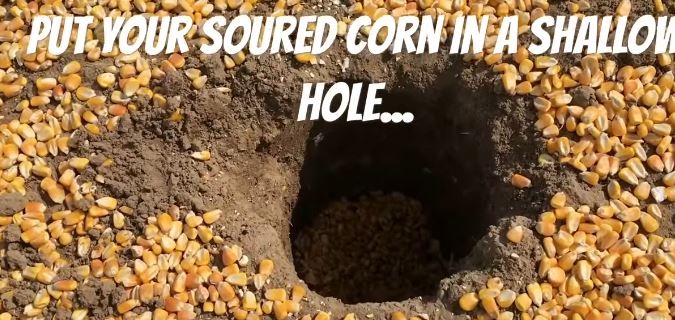 When placing bait for hogs, it's important to choose locations where hogs are known to frequent. These areas may include food plots, agricultural fields, or natural feeding areas such as acorn groves.
It's also important to consider the wind direction, as hogs rely heavily on their sense of smell to locate food. Baiting in an area upwind from where hogs are likely to be will increase the chances of them smelling the bait and investigating it.
Using scent can also be an effective way to attract hogs to your bait. Natural scents such as anise, apple, or cherry can be added to your bait to make it more attractive to hogs. You can spray scents directly onto the bait or use them in the form of scent wicks or scent dispensers.
When baiting hogs, you have to take safety precautions to protect yourself and others in the area. Place bait in areas where it will be out of reach of children and pets, and use appropriate protective gear. For instance, you can wear gloves and a face mask to handle bait.
You need to be aware of the potential dangers of hunting hogs and take appropriate precautions, such as carrying a means of self-defense.
Moreover, follow local hunting regulations and guidelines and get the necessary permit when baiting hogs.
Monitoring and Maintaining your Baits
You have to monitor and maintain your bait stations to bait hogs successfully. Regularly checking your bait stations can help determine how much bait the hogs have consumed. You may then consider refilling the bait station or moving to a more effective location.
To maintain your bait stations, keep them clean and free of debris. You can remove any spoiled or uneaten bait, trash, or other debris. Unfortunately, such trash often accumulates around the bait station with time.
It's also vital to replace spoiled or uneaten bait with fresh bait to ensure it remains attractive to hogs. You can add fresh bait to the station or replace the old bait with new bait.
Remember to dispose of any leftover bait properly after hunting. To do that, remove the bait from the station and dispose of it in a trash receptacle. You can also bury it in a location that is not near water or where it will attract other animals, such as bears or raccoons.
Remember to clean the bait station and remove any scent wicks or dispensers before leaving the area.
Hunting hogs can impact the environment, so hunt responsibly and ethically, following all laws and regulations. In addition, proper monitoring and maintenance of bait stations can help minimize the environmental impact.
And it can increase your chances of success in hunting hogs.
Conclusion – How to Bait Hogs Quick
In summary, hunting hogs can be a challenging task. However, understanding their behavior and habits, selecting the right bait, and properly placing and maintaining bait stations can make it much more manageable.
The key takeaways from this article include the importance of understanding hogs' diet and food preferences, using strong-smelling bait such as corn, sweet potatoes, or apples, and placing bait in areas where hogs are known to frequent.
You must also monitor and maintain bait stations regularly and dispose of leftover bait properly. Hunting hogs can impact the environment. Therefore, you must hunt responsibly and ethically, following all laws and regulations.
Additionally, be aware of the potential dangers of hunting hogs and take appropriate precautions. By following these guidelines, you can increase your chances of success and enjoy hunting hogs safely and responsibly.Top of FormBottom of Form