Why Should Hunter Find Best Scopes for Coyote Hunting?
Coyote hunting requires a keen eye and precise aim. These elusive creatures are known for their intelligence and ability to adapt, making them challenging targets for hunters.
To increase your chances of success, you must equip yourself with top-rated scopes specifically designed for coyote hunting.
A high-quality scope offers several advantages in the pursuit of coyotes.
Firstly, it provides enhanced clarity and visibility at various distances, allowing you to spot these cunning creatures even in low-light conditions or dense vegetation.
A clear image not only helps you identify your target accurately but also enables you to assess its behavior and surroundings before taking the shot.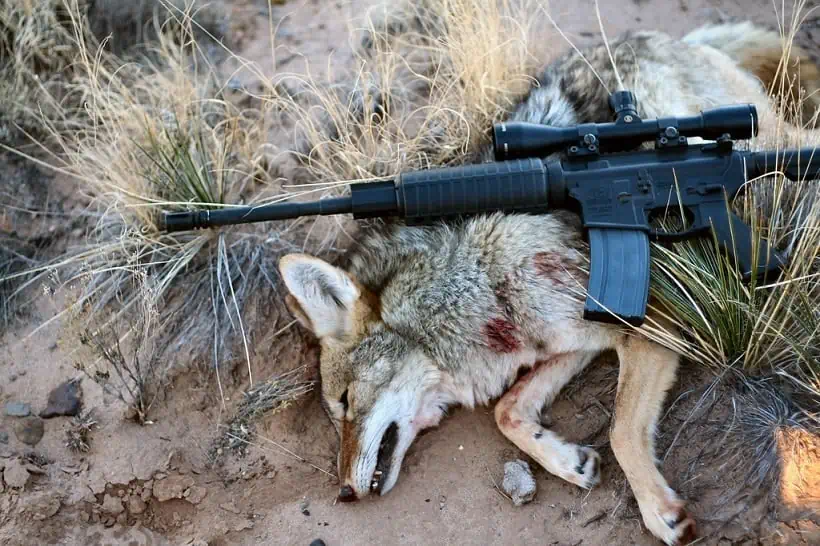 Additionally, top-rated scopes often come with variable magnification settings that allow you to zoom in on distant objects without sacrificing image quality or field of view.
This versatility is invaluable when tracking coyotes or adjusting for windage and bullet drop compensation across different terrains.
Moreover, a reliable scope aids in improving accuracy by providing precise aiming points through reticle options such as duplex crosshairs or ballistic compensators tailored specifically for varmint hunting. So, The Vortex Scopes series is the best option.
Investing in a top-rated scope ensures that your gear can withstand harsh weather conditions while maintaining optimal functionality throughout extended hunts. With features like shockproof construction, waterproof seals, and fog-resistant coatings, these scopes deliver consistent performance regardless of the environment.
In summary, optimal success in coyote hunting relies heavily on equipping oneself with top-rated scopes designed explicitly for this purpose.
These advanced tools offer superior clarity, enhanced visibility, and accurate targeting capabilities necessary to outsmart these intelligent predators successfully.
Quick Review of Best Rifle Scopes for Coyote Hunting
Best Rifle Scopes for Coyote Hunting
Vortex Optics Viper PST Gen II First Focal Plane Riflescopes
Quick fact:
Suitable for close to long-range shooting applications.
Lenses protected with ArmorTek coating.
Available for purchase with detailed pricing info on the linked page in the article.
What we like:
Enhanced resolution and color contrast due to the XD lens element.
Fully multi-coated optics for better visibility.
First focal plane for accurate hold at any power level.
Durable construction with high-quality materials.
Fog-proof and waterproof features for reliability in various conditions
What we not like:
Potentially high price point.
Might be complex for beginners
The Vortex Optics Viper PST Gen II series is a beacon of excellence in first focal plane riflescopes. Crafted with precision and passion, it caters to newcomers and seasoned marksmen. These scopes are meticulously designed to empower shooters in many conditions, be it close-quarter combat or distant targeting. Earning its place among the elite long-range scopes, this series is a glowing reflection of Vortex Optics' unwavering commitment to superior quality and peak performance.
Key Highlights:
Versatility: Celebrated for its dynamic adaptability, the series showcases intuitive and intricate features, earning its spot as a top pick among shooting enthusiasts.
Optical Mastery: With its ten intensity shades, the reticle seamlessly adapts to fluctuating light scenarios. This ensures unparalleled clarity and pinpoint accuracy, making every shot resonate with precision.
Endurance: The Viper PST Gen II is a paragon of durability. Its design stands firm, and the choice of materials speaks of lasting endurance. Rain or blazing sun, this scope remains unfazed with its fog-proof and waterproof attributes, vouching for unwavering reliability.
User Acclaim: The chorus of approval is resounding. Marksmen laud the pristine visuals, crisp reticle, and the elevated shooting ambiance it orchestrates.
Further Insights:
Add-Ons: The series extends a rich array of accessories, from precision bubble levels to expansive cantilever mounts, enabling users to tailor their ensemble.
Comparative Excellence: While it shies away from direct juxtapositions, the soaring user accolades and effusive testimonials hint at the Viper PST Gen II series' supremacy, radiating unmatched quality and prowess.
Value Proposition: A consensus among users is that the scope strikes a harmonious balance between premier features and a reasonable price point.
The Vortex Optics Viper PST Gen II First Focal Plane Riflescopes series is heralded as a prime selection for shooting connoisseurs. It pledges optical magnificence, stalwart build, and add-ons for a bespoke shooting journey.
This series is a luminous testament to Vortex Optics' ethos of crafting offerings that resonate with and elevate the aspirations of the global marksmanship fraternity. Whether you're at the onset of your journey or a seasoned maestro, this riflescope assures a symphony of quality, efficacy, and unmatched value.
Vortex Optics Viper Parallax Adjustment Second Focal Plane Riflescopes
Quick fact:
High Magnification: Allows for detailed viewing of distant targets.
Bright and Clear Images: Achieved through a large objective lens diameter.
Versatile Reticle: The mil-dot reticle assists in bullet drop compensation and windage adjustments, facilitating accurate shots.
Durable Construction: Ensures the scope is both fog-proof and waterproof, allowing for use in various weather conditions.
Quick Re-indexing to Zero: Facilitated by capped turret settings, enhancing shooting efficiency.
What we like:
Versatility: Suitable for both competitive shooters and long-range hunters due to its mil-dot reticle.
Durability: Fog-proof and waterproof features ensure longevity.
Vision Performance: The 30mm single-piece tube enhances vision performance, strength, and accuracy.
Quick Re-indexing to Zero: Allows for quick re-indexing to zero when you sight a target, enhancing efficiency during hunting.
What we not like:
Eye Relief: Some users might find the eye relief distance (3.1-3.3 inches) limited, especially for high-recoil firearms.
Field of View: The field of view might be considered narrow, restricting the viewable area at a glance.
The Vortex Optics Viper series stands tall as a luminary in the optics realm, consistently clinching its position among the premier rifle scopes priced under $500.
This ensemble unveils a diverse range of riflescopes, harmoniously blending versatility with efficacy.
The PST Gen II First Focal Plane Riflescopes, a crown jewel in this collection, are sculpted with finesse, boasting state-of-the-art optical mechanisms and radiant reticles, ensuring a transcendent shooting odyssey.
Key Highlights:
Zoom Mastery: Enables meticulous scrutiny of far-off targets. Luminous and Pristine
Visuals: Realized through an expansive objective lens breadth.
Adaptable Reticle: The mil-dot reticle facilitates bullet trajectory adjustments and windage calibrations, promising unerring shots. Sturdy
Framework: The scope's resilience to fog and water equips it for diverse climatic challenges. Swift Re-calibration to Zero: Augmented shooting prowess owing to the streamlined turret configurations.
Points of Deliberation:
Eye Comfort: A select group might find the eye relief span marginally restrictive, particularly with high-recoil armaments.
Visual Span: A constricted visual field is possible, potentially limiting the immediate observable expanse.
The Vortex Optics Viper series is a symphony of innovation and pragmatism, catering to both neophytes and seasoned marksmen. These scopes are forged to excel even in the sternest scenarios, making them a reliable companion for varied shooting backdrops. Their radiant reticles enhance visibility during twilight, ensuring an unobstructed vantage point.
Optical Prowess: The Vortex Optics Viper series is a testament to optical excellence. The ultra-refined dispersion glass radiates vibrant visuals and rich chromatic authenticity. The XR lens coatings amplify luminosity, presenting lucid imagery even under muted illumination.
Architectural Excellence: The blueprint and anatomy of the Vortex Optics Viper Riflescopes reflect the brand's allegiance to unparalleled quality. Crafted from aerospace-grade aluminum, it promises stellar visual delivery and enduring robustness. Its sleek obsidian design is both aesthetically pleasing and functional.
Performance Indices: The Vortex Optics Viper Riflescopes are performance titans. They flaunt a magnification spectrum of 6.5-20x, addressing shooting requisites. Nonetheless, visual clarity might taper at heightened magnifications.
Tenacity: Durability is the cornerstone of the Vortex Optics Viper Riflescopes. Their O-ring sealing and argon purging vouch for fog-resistant and waterproof capabilities.
User Acclaim: Predominantly, the user chorus for the Vortex Optics Viper series resonates with approval, with many extolling its crystalline visuals and user-friendly attributes. The perpetual warranty further bolsters confidence in the product's longevity.
The Vortex Optics Viper Parallax Adjustment Second Focal Plane Riflescopes emerge as a trusted confidant for shooting enthusiasts. They pledge to eclipse user anticipation by amalgamating elite optics, a formidable structure, and many features. The added seal of a lifetime warranty signifies a creation built to last. Whether you're a passionate huntsman or a shooting enthusiast, this riflescope series assures unmatched quality, efficacy, and value.
Vortex Optics Crossfire II Adjustable Objective, Second Focal Plane, 30mm Tube Riflescopes
Quick fact:
Price Range: Under $300
Best for: Deer hunting, target shooting, and for discriminating shooters and hunters.
Special Feature: Dead-Hold BDC reticle suitable for various ranges, eliminating concerns over holdover.
What we like:
Adjustable Objective: Clear images, great value.
Parallax Removal: Ideal for deer hunting.
Long Eye Relief: Comfortable, quick target acquisition.
Fast Focus Eyepiece: Enables rapid shots.
Multi-Coated Lenses: Easy target, adjustable turrets.
Durability: Durable, waterproof, fog-resistant material.
The Vortex Crossfire II Riflescopes series shines brightly in optics and is celebrated for its dynamic adaptability and cost-effectiveness. Sculpted for both novices and seasoned marksmen, it unveils an array of reticle choices, encompassing the Dead-Hold BDC, V-Plex, and V-Brite, each meticulously tailored for diverse shooting landscapes.
Key Highlights:
Cost Efficiency: Priced under $300, it clinches its position as a premier rifle scope in this budget segment. Adaptability: Perfectly suited for deer stalking, precision target shooting, and discerning marksmen.
Signature Trait: The Dead-Hold BDC reticle, crafted for varied shooting distances, eradicates the uncertainties tied to holdover.
Optical Mastery: The Crossfire II is a beacon of optical brilliance, offering pristine glass clarity pivotal for pinpoint shots across lighting spectrums. Its anti-glare, fully multi-layered lenses radiate luminous and lucid vistas, making target identification effortless. The swift-focus eyepiece stands out, ensuring an impeccable visual frame across diverse zoom levels.
Architectural Excellence: Forged with precision, the Crossfire II mirrors Vortex's unwavering allegiance to superior quality. The singular tube, carved from aerospace-grade aluminum, vouches for enduring robustness while retaining a feather-light silhouette. Its resilience to water and fog guarantees peak functionality across climatic variances.
Performance Indices: The Crossfire II is a performance titan. Its accommodating eye chamber and elongated eye comfort ensure rapid target lock-on and mitigate shooter fatigue. The scope orchestrates a lucid visual expanse, adeptly tracking agile targets. Its prowess in dimly lit settings further accentuates its performance credentials.
Endurance Ethos: Durability is the cornerstone of the Crossfire II. Molded from aerospace-grade aluminum, it's fortified to brave adversities. The anti-glare and multi-layered lenses are shielded against potential harm, promising lasting service.
User-Centric Blueprint: Championing user experience, the Crossfire II boasts an ultra-accommodating eye chamber and extended eye comfort for a serene viewing journey. The altitude and azimuth dials facilitate effortless reticle calibration and nimble tweaks, rendering it intuitive in fluid shooting terrains.
Comparative Excellence:
While direct juxtapositions with peer scopes remain elusive, the Crossfire II's attributes and prowess hint at its competitive supremacy, often paralleling pricier counterparts.
Value Proposition:
Radiating unmatched value, the Crossfire II emerges as a budget-friendly choice for marksmen. Its efficacy and features resonate with its price, presenting a solution that amalgamates efficiency without straining the wallet. Vortex's perpetual warranty further bolsters its value, vouching for its longevity and peak performance.
The Vortex Optics Crossfire II Riflescopes series is a harmonious symphony of quality, efficacy, and cost-effectiveness. Catering to a broad spectrum of shooting requisites, it's endorsed for both greenhorns and maestros, pledging to uplift the marksmanship odyssey.
Nikon Prostaff 4-12X40
Quick fact:
The scope, designed for the AR-15 platform, boasts a versatile optical system with a 4-12 magnification range, making it ideal for both close-quarter shots and mid-range engagements, while being resilient against water, shocks, and fog.
What we like:
Compact and seamless design.
Robust and durable construction.
Versatile optical system.
Resistant to water, shocks, fog.
Swift-focus and extended eyepiece.
What we not like:
Limited to 500-yard optic.
Specific to coyote hunting.
Requires familiarity with BDC.
Length might be cumbersome.
Limited magnification range.
With its compact design, this scope seamlessly complements the flat-top AR-15 platform. Envisioned as a 500-yard optic for coyote hunting, it is ideal for hunters prioritizing performance and budget.
Constructed with a blend of polymer and aluminum, the scope radiates robustness and durability. Boasting a 4-12 magnification range, it's adept for swift, close-quarter shots and mid-range sniper engagements, perfect for ridge-to-ridge shooting scenarios.
The most fitting descriptor for this optical system would be "versatile," specially tailored for those moments when coyotes venture close. The unit has a multi-coated optical mechanism, transmitting 98 percent of ambient light.
Its nitrogen-infused and O-ring-sealed design makes the scope's housing resilient against water, shocks, and fog. The reticle incorporates the BDC system, a hallmark of Nikon's design. This swift-focus eyepiece extends to a length of 14.1 inches.
Positioned as a commendable coyote scope, it mirrors the flagship designs favored by deer hunters for their diverse hunting and shooting escapades.
On a related note, I personally vouch for Nikon scopes, having experienced two distinct models. The first is the 1000 Black Long Range; the other is a target Prostaff, which features an exposed elevation turret and a shielded windage knob on its right flank.
Furthermore, this scope integrates MOA gradations for elevation, coupled with similar sub-tensions, offering shooters ample flexibility in sight control. It's imperative for potential buyers to acquaint themselves with Nikon's signature BDC sub-tensions, a recurring feature across many of their scopes, before finalizing their purchase.
Bushnell Engage Riflescope
Quick fact:
The scope is a superior coyote hunting optic system with a robust construction, excellent light absorption, and a zero-stop feature, designed specifically for precise targeting and range estimation.
What we like:
Superior coyote hunting optic.
Robust, durable construction.
Excellent light absorption.
Expansive visual field.
Zero-stop feature included.
What we not like:
Not the pinnacle product.
No fancy reticles.
Traditional range estimation.
This scope amalgamates several features, culminating in a superior coyote hunting optic system. While it doesn't claim the pinnacle spot — as ultra-premium scopes can indeed be a financial undertaking, and I can vouch for that — it holds significant merit.
The scope carves a niche in this segment, boasting a robust 30 mm main tube constructed with durable turret core materials.
Its prowess in light absorption is commendable, leveraging a generous lens system to hone in on distant targets. This stands as one of the prime optics for the AR-15, offering an expansive visual field, especially for swiftly moving, proximate targets.
Leveraging the MOA gradations and distinct hash marks, marksmen can fine-tune range and windage by adjusting their sight configurations. There are no fancy reticles in play here; it's all about traditional range estimation and dialing, especially when targeting that elusive coyote perched on a distant fence line some 600 yards away.
This scope has a zero-stop feature, ensuring you always revert to the precise zero of your foundational 100-yard sight settings.
Over the past year, my hands-on experience has encompassed testing many Bushnell systems on real-world targets. Now under the aegis of Vista Corporation, this line has witnessed monumental evolution from its erstwhile offerings to the shooting community.
Embracing contemporary breakthroughs in optical technology, Bushnell has refined its lens systems in multifarious ways. Presently, the optical caliber of Bushnell systems resonates with excellence.
Leupold VX-5HD 3-15x44mm Side Focus Riflescope
Quick fact:
The Leupold "Twilight Max HD" illumination system grants shooters an extra 30 minutes of target acquisition post-sunset, coveted by coyote hunters.
What we like:
Enhanced long-range capability.
Custom Dial System reticle.
Twilight Max HD illumination.
Swift parallax adjustments.
American-made quality.
What we not like:
Requires many turret clicks.
Second focal plane preference.
Specific to AR-15 platform.
As the AR-15 platform evolves with enhanced cartridge designs, extending its range, there's a parallel need to upgrade the optics accompanying these cartridges—a step in the Leupold VX series, with its long-range champion being the 3-15X44 mm optical system.
Leupold stands unwavering in optics, always adapting and refining their offerings to resonate with user requirements. This particular scope is primed for the new .224 on the AR-15 platform, transforming the rifle into a formidable tool capable of engaging targets up to 1500 yards away.
This is nearly twice the effective range of the commonly chambered .223 Remington or .556 NATO round in the AR-15. The scope integrates the Leupold CDS reticle (Custom Dial System), obviating the need for holdovers during extended-range engagements.
Additionally, the Leupold "Twilight Max HD" illumination system grants shooters an extra 30 minutes of target acquisition post-sunset — a feature that often becomes the envy of coyote hunters.
Unless specified otherwise, the scopes discussed herein operate on the second focal plane. This preference among hunters ensures the point of impact remains consistent, irrespective of magnification adjustments. To illustrate, the bullet's point of impact remains unchanged whether the scope is set at 10X or 3X.
This optical system incorporates a side focus knob, facilitating swift parallax adjustments, ensuring a crisp and clear sight picture with every shot.
The Leupold "Guard-Ion" hydrophobic lens coating, a standard on this scope, guarantees lens durability and is ready to brave any environmental challenges.
With its 30 mm main tube, the scope offers an expansive range for elevation tweaks. It requires a substantial number of turret clicks to achieve the necessary elevation for those distant shots. This scope is equipped with the prowess; all that's needed is the marksman's skill to take that 1000-yard coyote shot confidently. The mantra in the coyote hunting circles is simple: "Dial and dispatch."
Proudly, this scope is conceptualized, crafted, and consolidated right here in America.
Leupold Mark AR M-3. 3-9X40
Quick fact:
Experience unparalleled precision with the Leupold Mark AR M-3, expertly crafted for long-range coyote engagements on expansive terrains!
What we like:
Tailored for AR-15/M-16.
Handles .223 and .224 cartridges.
Comprehensive structural overhaul.
Designed for terrain shooting.
Generous 52 MOA adjustment.
What we not like:
Specific to assault rifles.
Limited to certain cartridges.
Only the second focal plane system.
Leupold christens its Mark AR M-3 as an "Assault Rifle Optic," primarily tailored for the AR-15 platform or the M-16. This scope is adeptly equipped to handle the conventional .223 Remington cartridge and the more advanced .224.
The rationale behind this?
A comprehensive structural overhaul. Crafted with the expansive terrain shooting of coyotes in mind, this scope boasts a one-inch main tube, employs the second focal plane reticle (SFP) system, and offers a generous 52 MOA adjustment range, facilitating elevation tweaks for those distant engagements.
Tract TORIC UHD 4-20X50
Quick fact:
Boasting pristine clarity from premium European materials, this scope delivers unmatched long-range performance, making it a marksmen's dream come true!
What we like:
Expansive scope range.
Enhances AR's capabilities.
Pristine clarity and quality.
Exceptional long-range performance.
Great material value.
What we not like:
Possibly oversized for AR.
Not ideal for woodland ranges.
Better options for mid-range.
Might be overkill for some.
Requires larger investment.
This scope is notably expansive, verging on being slightly oversized for the AR platform. Yet, with the AR-15 now accommodating lengthier barrels and heat guards, the trend is towards elongated rifles, catering to the extended-range ammunition preferences of many marksmen and hunters. A scope of this caliber significantly enhances the AR's capabilities.
I personally utilize this very scope on a one-mile 338 Lapua. Over the past year, it has been rigorously tested, documented, and fired across the Dakota grasslands and the rugged terrains of the Badland mud buttes.
Branded under TRACT's Toric line, this optic is truly exceptional, boasting pristine clarity. The glass is crafted from premium European materials. Its housing is constructed from robust, high-grade 30 mm tube channel metal and's as resilient as a Russian tank.
The scope employs TRACT's "Ultra High Definition" optical systems, integrating low dispersion lenses. This isn't mere hyperbole; this scope genuinely stands out, delivering impeccable performance even at one-mile targets.
It operates on the first focal plane reticle, implying that the reticle (sub-tensions) enlarges as magnification intensifies — a standard feature in military sniper optics. Professionals harness this to their benefit.
Its precision-engineered turret yields .24 MOA per click or 1/10 of an MRAD, depending on the installed system. I vouch for this optic for ultra-long-range engagements.
The scope incorporates a comprehensive zero-stop setting. Once you've zeroed your rifle, you can freely adjust the elevation turret, confident that reverting to the initial zero will be precise.
This scope is highly recommended for those venturing into open country coyote hunting, especially west of the Missouri River in the American West.
A noteworthy mention: This scope punches well above its weight in terms of material value. One might have to invest twice as much to match the quality and performance of another brand. This assertion stems from my hands-on experience with this optical system.
On the flip side, if your shooting confines are limited to woodland or brush country ranges, there's no rationale behind investing in a behemoth of a scope. Mid-range optics for ARs suffice for coyote hunting amidst sagebrush or juniper clusters. When a shotgun seems more apt, opting for a more agile, lower magnification scope is prudent.
Given a choice — and I exercise this privilege — I'd mount the Trijicon ACOG on any AR-15 for the aforementioned scenarios and confidently engage targets. However, since the ACOG isn't our focal point here, my top pick remains the Tract Turion.
TRACT Turion Rifle Scope
Quick fact:
Experience unmatched precision with the 3-9 x 40 mm rifle scope, boasting superior light transmission and a hassle-free lifetime warranty!
What we like:
Versatile hunting companion.
Superior light transmission.
Rapid range determinations.
Precise elevation adjustments.
TRACT lifetime warranty.
What we not like:
Tailored for AR-15 only.
Requires familiarity with BDC.
Potential over-reliance on zero-stop.
MOA settings might confuse beginners.
Dense information for new users.
The 3-9 x 40 mm rifle scope is a formidable optical system, adeptly compatible with a diverse range of rifles, shotguns, and muzzleloaders. This scope emerges as a versatile hunting companion, perfectly fitting the mold of a robust brush country optic tailored for the AR-15 rifle.
This scope harnesses the prowess of the TRACT HD optical system, which not only holds its ground against competitors but often surpasses many. The key to its acclaim among discerning professional marksmen lies in its coated optics and the superior light transmission capabilities of the SCHOTT-HT glass. It's adept at capturing optimal light across varied field conditions. And trust me, having personally used this scope, its advertisements are genuine.
Its BDC system employs strategically spaced rings, facilitating rapid range determinations — an invaluable feature when confronted with swiftly approaching coyotes in dense terrains. Moreover, its sub-tensions ensure that long-range targets remain unobscured, thanks to the sight's open space along the elevation line.
Precision is at the heart of this scope's design. The elevation and windage adjustments are meticulously calibrated down to the minutest detail on the metal. These optics consistently deliver, as evidenced by the one-inch test box — a standard assessment among firearm reviewers.
Equipped with zero-stop rings on the turret, this scope ensures you're never left guessing. Whether dialing up for distant shots using MOA settings or reverting to the 100-yard zero for close encounters, you're always in command, especially in brush country terrains.
And to seal the deal, the TRACT lifetime warranty is a testament to their commitment. There are no time constraints no tedious paperwork — any scope-related concern is addressed promptly.
Vortex Optics Crossfire II 1-4X24
Quick fact:
Experience the unmatched precision of Vortex's illuminated V-shaped reticle, ensuring swift target lock-on even in twilight, all at an unbeatable price!
What we like:
Affordable high-end competitor.
Efficient and reliable brand.
Illuminated V-shaped reticle.
Extended eye relief.
Durable one-piece construction.
What we not like:
Lacks brand insignia (initially).
Specific to coyote hunting.
Limited to twilight use.
Brace yourselves, enthusiasts, for a $200 optic that competes fiercely with the high-end contenders. Opt for this gem when the terrain is challenging, and the budget is constrained. Enter Vortex, a brand synonymous with efficiency and reliability.
I've extensively tested this hunting scope across various events, encompassing both weapon assessments and optic evaluations. I proudly own two of these, each mounted on distinct rifles. My inaugural piece is so pioneering that it lacks the brand insignia. Yet, its core unmistakably resonates with Vortex's signature quality.
Vortex embarked on a relentless innovation journey from its inception on retail gun shelves. The brand's trajectory has been upward, continually enhancing its offerings with novel scopes and advanced optical systems.
The Crossfire boasts an illuminated reticle, accentuating the aiming point with a distinctive V-shape, ensuring swift target lock-on even in dimly lit scenarios. If this isn't the quintessential gear for twilight coyote hunts in dense terrains, I'm at a loss for what is.
Featuring an extended eye relief and an exceptionally accommodating eye box, this scope guarantees rapid target acquisition, especially when those elusive coyotes venture too close for comfort. Its design, characterized by a one-piece tube construction, ensures resilience, making it a trusty companion for the adventurous coyote hunter.
Understanding the Coyote Hunting Environment
Understanding the coyote hunting environment is essential for a successful hunt. Coyotes are highly adaptable and intelligent creatures, making them challenging to track down. They thrive in diverse habitats, from dense forests to open fields, and can be found across various regions of North America.
To effectively hunt coyotes, you must familiarize yourself with their habits and behavior patterns.
But if you want to learn How to Hunt Coyotes, read the article I linked here!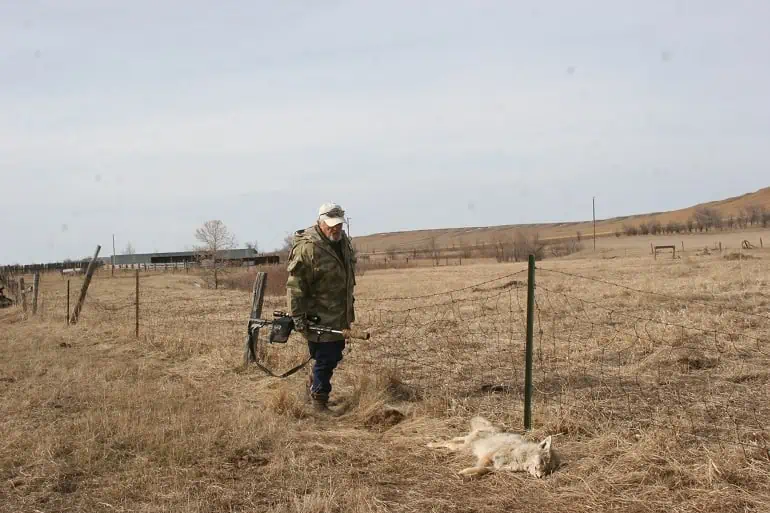 Coyotes are primarily nocturnal animals but can also be active during dawn and dusk. They have excellent hearing, sight, and smell senses, enabling them to detect potential threats from afar.
When choosing a hunting spot, look for areas with ample cover, such as thick vegetation or rocky outcrops that provide hiding places for these elusive predators.
To increase your chances of spotting a coyote during daylight hours when they may still be active or returning to their dens after a night's hunting- consider setting up near water sources like rivers or ponds where they often come to drink or search for prey.
It's important to note that understanding the local terrain also plays a crucial role in successful coyote hunting.
Familiarize yourself with different landforms like hillsides, valleys, ridges, etc., which can affect how sound travels through an area – this will help you strategize your approach better while avoiding detection by sharp-eared coyotes lurking nearby.
Knowing prevailing wind directions is also key because scent control is paramount when fooling these keen-nosed predators.
Scouting the area beforehand allows you to familiarise yourself with its topography and identify potential ambush points where you might get close enough for effective shots without being detected.
Considering all these factors — time of day/night activity, habitat preferences, and understanding of local terrain — and more Coyote hunting tips, you'll gain valuable insights into the ideal locations where you'll most likely encounter these wily creatures.
Scope Showdown: Pros and Cons of Top Coyote Hunting Optics
| Pros | Cons |
| --- | --- |
| Enhanced Accuracy: High-quality scopes offer precise aiming, improving your shot accuracy during coyote hunting. | Costly Investment: High-quality scopes can be expensive, requiring a significant investment upfront. |
| Long Range Capability: Certain scopes are designed to provide clear visibility and target acquisition at long distances, increasing your effective range. | Weight and Size: Certain advanced optics may be bulkier and heavier, impacting maneuverability during hunts requiring quick movements. |
| Low-Light Performance: Optics with excellent light transmission allow for better visibility in low-light conditions, such as dawn or dusk when coyotes are most active. | Learning Curve: More advanced scopes often come with additional features and settings that may require time and effort to fully understand and utilize effectively. |
| Durability: Many top scopes are built to withstand rugged outdoor conditions, ensuring they can handle the demands of coyote hunting. | Battery Dependency: Scopes with illuminated reticles or other electronic components may rely on batteries, which could fail at inconvenient times if not properly managed. |
| Variable Magnification: Scopes with adjustable magnification allow you to zoom in on distant targets or have a wider field of view when needed. | Limited Field of View at High Magnification: Some scopes may have a narrower field of view when using high magnification settings, making it harder to track moving targets. |
| Quick Target Acquisition: Some scopes feature illuminated reticles or quick-focus eyepieces, enabling faster target acquisition and improved reaction time. | Fragility of External Components: Accessories like lens caps or adjustment knobs can be vulnerable to damage if not handled carefully in outdoor environments. |
Factors to Consider When Choosing a Coyote Hunting Scope
When it comes to choosing a rifle scope for coyote hunting, there are several factors that hunters need to consider.
Firstly, one of the most important aspects is the magnification power of the scope.
A higher magnification allows for better target acquisition and identification, especially when dealing with elusive coyotes that can be difficult to spot in dense vegetation or low-light conditions.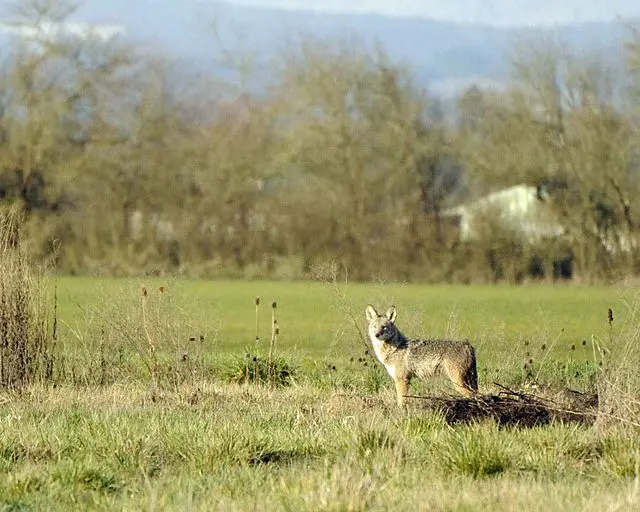 Additionally, hunters should also pay attention to the objective lens size.
A larger objective lens diameter lets more light enter the scope, producing brighter and clearer images.
This is particularly crucial during early morning or late evening hunts when visibility may be limited.
Another factor worth considering is the reticle type. Various reticle options are available, such as duplex, mil-dot, BDC (bullet drop compensator), and illuminated reticles.
Each has its advantages depending on personal preferences and shooting style.
Furthermore, durability plays a vital role in selecting a suitable coyote hunting scope, as these animals often require long-range shots that demand precision and accuracy over time.
Look for scopes made from high-quality materials like aircraft-grade aluminum or magnesium alloy construction for enhanced ruggedness and resistance against harsh weather conditions.
Unleashing the Power: Optics for Coyote Conquest
Choose the right magnification: Select a scope with variable magnification to adapt to different hunting scenarios and distances.
Consider objective lens size: Opt for a larger lens diameter to gather more light, especially during low-light conditions.
Reticle options: Look for reticles specifically designed for predator hunting, such as BDC (Bullet Drop Compensator) or Mil-Dot reticles.
Opt for illuminated reticles: Illuminated reticles enhance visibility in low-light situations, making it easier to acquire targets quickly.
Durability matters: Invest in a scope built with rugged construction, shockproof features, and waterproof capabilities to withstand tough hunting conditions.
Eye relief: Ensure the scope offers sufficient eye relief to prevent recoil-related injuries and provide comfortable viewing.
Consider turret adjustments: Look for scopes with precise and easy-to-use turret adjustments for windage and elevation corrections.
Quality glass: Optics with high-quality glass provide better clarity, brightness, and color accuracy, improving target identification and overall shooting experience.
Coatings and anti-reflective properties: Scopes with multiple coatings and anti-reflective properties minimize glare, increase light transmission, and improve image quality.
Quick-focus eyepiece: A quick-focus eyepiece allows for fast target acquisition and easy focus adjustment.
Consider weight and size: Depending on your hunting style, choose a scope that balances weight and size without compromising performance.
Price vs. performance: Find a balance between your budget and the required performance features, ensuring you get the best value for your investment.
Extra Features to Enhance Your Coyote Hunting Experience
Regarding coyote hunting, having the right equipment can make all the difference in your success. While a quality scope is essential for accurate and precise shooting, several extra features can enhance your overall hunting experience.
One such feature is an illuminated reticle, allowing you to see your target in low-light conditions easily. This is especially useful during early morning or late evening hunts when coyotes are most active.
Additionally, adjustable magnification settings allow you to adapt to different distances and terrain quickly, ensuring optimal shot placement every time.
Another beneficial feature is a parallax adjustment knob, which helps eliminate any potential optical distortion at various ranges.
Lastly, consider opting for a scope with a durable construction and weatherproof design to withstand harsh outdoor conditions and provide long-lasting performance on your coyote hunts.
Frequent Asked Questions
1. What are the key features to look for in a scope for coyote hunting?
When choosing a scope for coyote hunting, several key features must be considered. Look for a scope with high magnification power, a large objective lens for better light transmission, a wide field of view for quick target acquisition, and a durable construction to withstand rugged hunting conditions. Features like illuminated reticles and adjustable parallax can enhance your accuracy and performance in low-light conditions.
2. Which brands offer the best scopes specifically designed for coyote hunting?
Regarding the best scopes specifically designed for coyote hunting, some top brands to consider are Vortex, Leupold, and Nikon. These brands offer a range of high-quality scopes with features like clear optics, durable construction, and precise adjustments that can greatly enhance your hunting experience.
3. Are any specific magnification levels that work best for coyote hunting?
Regarding magnification levels for coyote hunting, it is recommended to use scopes with variable magnification options. This allows hunters to adjust the zoom level based on the distance and conditions of their target. A range of 3-9x or 4-12x is commonly used for coyote hunting, providing a good balance between close-range and long-range shots.
4. How important is the glass quality in scope for optimal performance during coyote hunts?
The glass quality in scope is crucial for optimal performance during coyote hunts. High-quality glass ensures clear and sharp images, allowing hunters to spot coyotes even in low-light conditions and make accurate shots.
5. What are some recommended scopes for low-light conditions during nighttime coyote hunting?
Some recommended scopes for low-light conditions during nighttime coyote hunting include the Vortex Optics Crossfire II 3-9×40, the Leupold VX-3i 3.5-10×40, and the Nightforce SHV 4-14×56. These scopes offer excellent light transmission and clarity, effectively allowing hunters to spot and target coyotes in dimly lit environments.
6. Can you recommend any budget-friendly scopes that still offer great performance for coyote hunting?
Certainly! One budget-friendly scope that offers great performance for coyote hunting is the Vortex Crossfire II. It provides clear and crisp images, has a durable construction, and is backed by Vortex's excellent warranty. Another option is the Nikon ProStaff Rimfire II, which offers good optics and a reliable build at an affordable price point. Both of these scopes are excellent choices for hunters on a budget.
Conclusion: Making the Right Choice for Coyote Hunting Success
When it comes to coyote hunting, choosing the right scope can make all the difference in your success. With a wide range of available options, finding a top-rated scope that suits your specific needs and preferences is essential.
A high-quality scope will provide clear visibility, excellent light transmission, and precise aiming capabilities, allowing you to spot and target coyotes effectively.
Whether you're an experienced hunter or just starting, investing in a reliable scope is crucial for maximizing your chances of success on every hunting trip.
So take the time to research and select a scope that meets your requirements – it'll be well worth it when you're out in the field tracking down those elusive coyotes.