Detailed Comparison: Vortex Optics Diamondback and Vortex Optics Crossfire II
In the world of top-tier vortex scope, two of their standout products, the Vortex Optics Diamondback Second Focal Plane Riflescope and the Vortex Optics Crossfire II 6-18×44 AO, have garnered significant attention from enthusiasts and professionals alike. This article delves deep into the features, performance, and value propositions of both these riflescopes, offering a comprehensive comparison.
Overview About 2 Vortex Scopes:
Vortex Optics has been a trailblazer in the world of riflescope manufacturing, consistently pushing the boundaries of innovation, quality, and affordability. Two of their standout products, the Vortex Optics Diamondback Second Focal Plane Riflescope and the Vortex Optics Crossfire II 6-18×44 AO, are prime examples of the brand's commitment to excellence.
Both scopes, while catering to different needs and preferences, uphold the Vortex promise of delivering top-tier performance without breaking the bank. This article aims to provide a detailed comparison of these two optics giants, shedding light on their features, strengths, and value propositions.
| Features | Diamondback | Crossfire II |
| --- | --- | --- |
| Optical Quality | Multi-coated lenses; optimized light | Advanced lens coatings; natural and vibrant view |
| Reticle | Dead-Hold BDC; clear point of reference | Dead-Hold BDC; illuminated for better visibility |
| Construction & Durability | Aircraft-grade aluminum; sealed design | Aircraft-grade aluminum; rugged construction |
| Magnification & Objective Lens | 4-12x; 40mm objective lens | 6-18x; 44mm objective lens |
| Price & Value | Affordable; unmatched value | Competitive pricing; top-tier optics |
| User Experience | Elevated shooting experience | Intuitive design; stellar performance |
Whether you're a seasoned marksman, a budding enthusiast, or someone in between, understanding the nuances of these two scopes can help you make an informed decision tailored to your specific requirements.
Optical Quality:
Diamondback: The Diamondback's optical prowess is evident in its ability to capture the minutest details. Whether you're observing the subtle movements of a distant animal or the vibrant colors of a bird in flight, the Diamondback delivers an unparalleled viewing experience. Its advanced lens system minimizes chromatic aberration, ensuring that the image remains sharp across the entire field of view.
Crossfire II: The Crossfire II is not just a riflescope; it's a testament to Vortex's dedication to optical excellence. The clarity it offers, especially in low-light conditions, is a game-changer. The lenses are meticulously crafted to reduce glare and reflections, ensuring that the image remains contrast-rich and true to life. The edge-to-edge clarity is particularly impressive, making target acquisition swift and precise.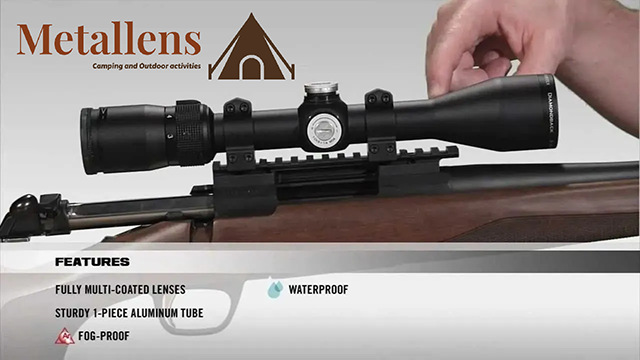 Reticle:
Diamondback: The Dead-Hold BDC reticle's design is a culmination of extensive research and feedback from seasoned shooters. It offers multiple aiming points, allowing shooters to compensate for bullet drops over longer distances. The reticle's suspensions are also optimized for popular calibers, making it versatile for various shooting applications.
Crossfire II: The Crossfire II takes the reticle game a notch higher. The Dead-Hold BDC reticle is illuminated, offering better visibility in dim light conditions. The hash marks are spaced at predictable intervals, allowing for accurate holdover and windage corrections. This is particularly beneficial for long-range shooting, where understanding and compensating for bullet trajectory is crucial.
Construction & Durability:
Diamondback: Beyond its robust aluminum construction, the Diamondback features a hard-anodized finish, making it resistant to scratches and corrosion. The internal components are precision-engineered, ensuring that the riflescope remains shockproof even when used with high-caliber firearms. The nitrogen-purged and O-ring-sealed design guarantees fog-proof and waterproof performance.
Crossfire II: Every aspect of the Crossfire II's construction speaks of resilience. The turret system is designed to resist wear and tear, ensuring consistent performance over years of use. The protective lens coatings shield against dirt, oil, and smudges, ensuring that the view remains unobstructed. The rugged construction can withstand accidental drops and bumps, making it a reliable companion for challenging terrains.
Magnification & Objective Lens:
Diamondback: The variable magnification range of the Diamondback allows users to zoom in on distant targets or zoom out for a wider field of view. The smooth zoom mechanism ensures that transitioning between magnifications is seamless. The 40mm objective lens, while compact, does an excellent job of gathering light, making dawn and dusk observations particularly rewarding.
Crossfire II: The Crossfire II's magnification prowess is complemented by its large 44mm objective lens. This combination ensures that images are not only magnified but also remain bright and clear. The parallax adjustment feature is a boon for long-range shooters, allowing for a parallax-free view, ensuring that the reticle remains stationary relative to the target.
Price & Value:
Diamondback: In the world of optics, where high quality often equates to high prices, the Diamondback disrupts the norm. It offers features and performance that rival scopes twice its price, making it an attractive proposition for both beginners and seasoned shooters. The value it offers is not just in its price but in the consistent performance, it delivers shot after shot.
Crossfire II: The Crossfire II redefines the price-to-performance ratio. It's a testament to Vortex's commitment to making premium optics accessible to a broader audience. Every dollar spent on the Crossfire II is an investment in quality, precision, and reliability. The scope's longevity, coupled with its top-tier performance, ensures that users get maximum value for their money.
User Experience:
Diamondback: The user-centric design of the Diamondback is evident in its ergonomic controls, intuitive reticle, and comfortable eye relief. Whether you're on a hunting expedition or at a shooting range, the Diamondback ensures that the experience is enjoyable and rewarding. The feedback from users, especially regarding its ease of use and reliability, is overwhelmingly positive.
Crossfire II: The Crossfire II is designed with the user in mind. From its fast-focus eyepiece to its precision turrets, every feature is crafted to enhance the shooting experience. The scope's balance, weight, and mounting flexibility make it compatible with a wide range of firearms. Users have often lauded its performance consistency, highlighting its repeatability and accuracy across various conditions.