Review Detail About Vortex Optics Crossfire II 6-18×44 AO
The Vortex Optics Crossfire II 6-18×44 AO is a beacon of precision and craftsmanship in the world of optics. With a legacy of producing top-tier products, Vortex has outdone itself with this riflescope, striking a perfect balance between innovation, quality, and affordability.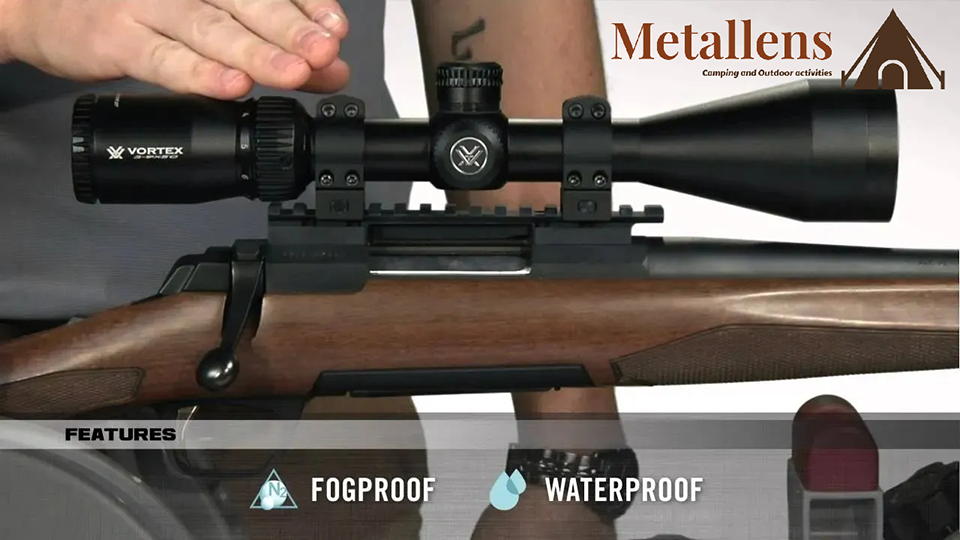 In our opinion, the Vortex Optics Crossfire II 6-18×44 AO is not just the best vortex riflescope; it's a revolution. It challenges the status quo, proving that premium quality doesn't always come with a premium price tag. Whether you're a seasoned shooter or someone just starting off, the Crossfire II promises to be a companion that won't let you down
Quick fact:
The Vortex Optics Crossfire II 6-18×44 AO stands out in the optics world for its precision and craftsmanship. It offers an ideal blend of innovation, quality, and affordability, making it a top choice for both beginners and experienced users.
What we like:
Superior optical quality with advanced lens coatings.
Extended eye relief for safety during prolonged shooting.
Dead-Hold BDC reticle for precise adjustments.
Durable aircraft-grade aluminum construction.
Versatile magnification range with a large 44mm objective lens.
Enhanced user experience with features like anti-reflective coatings and fast-focus eyepiece.
Overview
| Attribute | Detail |
| --- | --- |
| Brand | Vortex |
| Color | Black |
| Item Dimensions LxWxH | 9.1 x 9.1 x 9.1 inches |
| Sport | Hunting |
| Item Weight | 2.2 Pounds |
| Material | Aluminum |
| Magnification Maximum | 18.00 |
| Objective Lens Diameter | 40 Millimeters |
| Magnification Minimum | 6.00 |
| Compatible Devices | Rifle |
| Mounting Type | Cantilever Mount |
| Night Vision | No |
| Item Package Dimensions LxWxH | 18.15 x 6.38 x 5.12 inches |
| Package Weight | 1.05 Kilograms |
| Brand Name | Vortex |
| Warranty Description | Unlimited, unconditional lifetime warranty. |
| Model Name | CF2-31033 & Hat |
| Suggested Users | unisex-adult |
| Manufacturer | Vortex Optics |
| Part Number | CF2-31033 & Hat |
| Included Components | riflescope |
Optical Quality
Optical quality is the soul of a riflescope, and with the Crossfire II, Vortex has set a benchmark that's hard to surpass.
Glass Clarity
In the realm of shooting or birdwatching, clarity can make all the difference. Imagine being on a mountain range, trying to spot a rare species or a distant target. The Crossfire II ensures that every detail, no matter how minute, is visible and sharp. The advanced lens coatings not only enhance light transmission but also ensure that color fidelity is maintained, offering a natural and vibrant view of the world.
Eye Relief & Eye Box
Safety and comfort go hand in hand when it comes to shooting. The Crossfire II's extended eye relief ensures that even during extended shooting sessions or when using high-recoil firearms, the user's eye remains at a safe distance, preventing potential injuries. The expansive eye box, on the other hand, ensures that users don't have to constantly adjust their head position, offering a seamless viewing experience.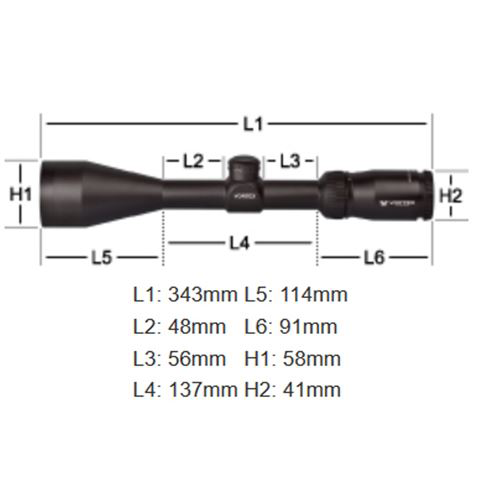 Reticle
The reticle is the guiding star for any shooter, and with the Crossfire II, Vortex has crafted a masterpiece.
The Dead-Hold BDC reticle is not just about aiding your aim; it's about ensuring that every shot counts. For instance, if you're on a hunting expedition in the Rockies and spot an elk at a distance, the reticle's hashmarks will guide you in adjusting for elevation and windage, ensuring a clean and ethical shot.
Construction
The Crossfire II's construction is a testament to Vortex's commitment to durability and performance.
Durability
A riflescope, much like any other tool, is exposed to the elements. Whether it's the scorching sun of the Sahara or the freezing winds of Siberia, the Crossfire II is built to endure. The aircraft-grade aluminum construction not only offers structural integrity but also ensures that the riflescope remains lightweight, making it a perfect companion for any expedition.
Adjustment Knobs
In the heat of the moment, when a target is in sight, having intuitive and precise adjustment knobs can make all the difference. The Crossfire II's turrets are meticulously crafted, offering tactile feedback with every turn. This ensures that users can make on-the-fly adjustments with confidence, knowing that the riflescope will respond with precision.
Magnification & Objective Lens
Versatility is the name of the game with the Crossfire II.
With its wide magnification range, this riflescope is a jack of all trades. Whether you're at a shooting range practicing short-range shots or on a mountain range trying to spot a distant target, the Crossfire II ensures that the world comes closer to you. The large 44mm objective lens further amplifies light transmission, ensuring that images remain bright and clear, even in dim conditions.
Other Features
The Crossfire II is a treasure trove of features, each designed to enhance the user experience.
From the anti-reflective coatings that ensure that glare never compromises your view to the fast-focus eyepiece that ensures rapid target acquisition, every feature of the Crossfire II is a testament to Vortex's attention to detail. These features, while subtle, play a pivotal role in ensuring that the riflescope delivers unparalleled performance in every scenario.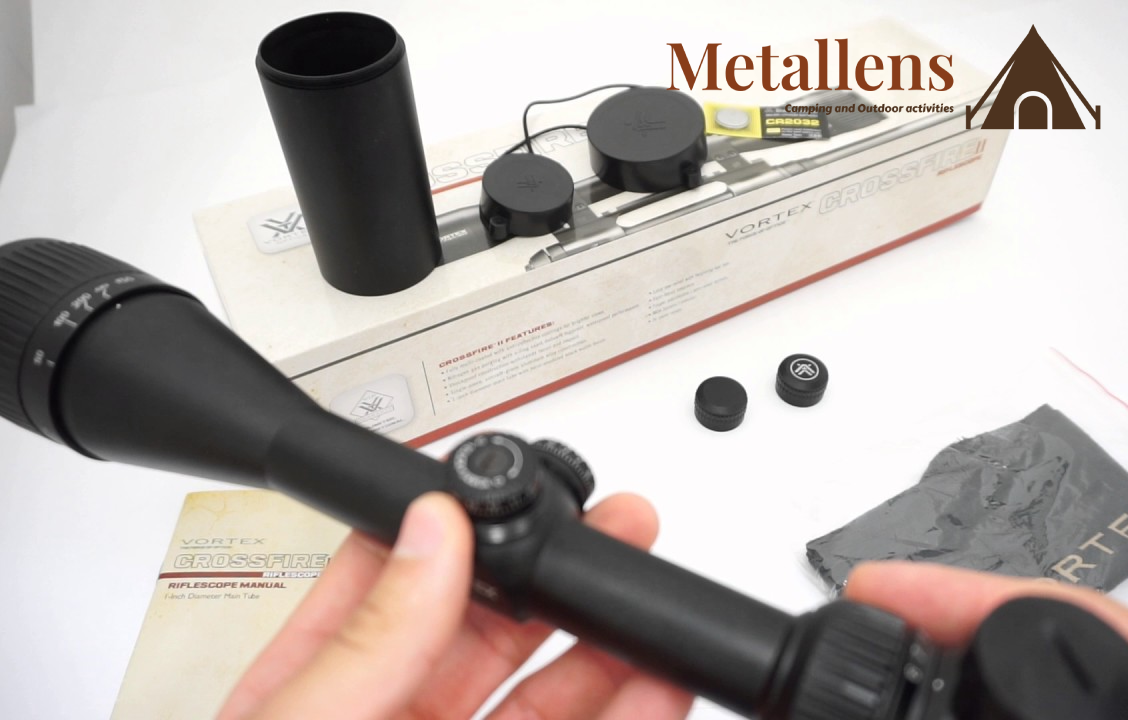 User Experience
A product is only as good as the experience it offers, and with the Crossfire II, Vortex has hit a home run.
From novices who are just getting into the world of shooting to seasoned professionals who've seen it all, the Crossfire II has garnered rave reviews. Its intuitive design, combined with its stellar performance, ensures that users can focus on the task at hand, be it hunting, birdwatching, or target shooting, without any distractions.
Mounting & Accessories
The right mounting system and accessories can elevate a riflescope's performance, and with the Crossfire II, users are spoilt for choice.
Vortex understands that every shooter has unique needs, and hence they offer a plethora of mounting options for the Crossfire II. Whether you're using a traditional bolt-action rifle or a modern semi-automatic, there's a mounting solution tailor-made for you. The range of accessories, from protective cases to lens cleaning kits, ensures that your riflescope remains in pristine condition, always ready for action.
Price & Value
In today's world, where quality often comes at a premium, the Crossfire II offers a breath of fresh air.
It's not just about the price; it's about the value proposition. With the Crossfire II, users get a riflescope that's packed with features, offers unparalleled performance, and doesn't burn a hole in the pocket. It's this commitment to delivering value that has made Vortex a household name in the world of optics.

CHECK LOWEST PRICE OF VORTEX CROSSFIRE II
Price and Value
Affordability without compromising on quality is a rare combination, and with the Crossfire II, Vortex has struck gold.
For many, investing in a high-quality riflescope can be a daunting task, given the costs involved. However, the Crossfire II, with its competitive pricing and unmatched performance, ensures that top-tier optics are within reach for all.
Comparisons
In a market flooded with options, the Crossfire II stands tall, dwarfing its competition.
Be it optical clarity, construction quality, or overall performance, the Crossfire II is in a league of its own. When juxtaposed with other riflescopes in its price range, it's evident that Vortex has not compromised on any front, ensuring that users get a product that's truly world-class.
Compared to Vortex Optics Diamondback
The Crossfire II boasts advanced lens coatings for a vibrant view, an illuminated Dead-Hold BDC reticle, rugged construction, and a 6-18x magnification with a 44mm objective lens. Both scopes provide excellent value, with the Diamondback being more affordable and the Crossfire II offering top-tier optics at competitive pricing.
If you want to learn more about Compared between Vortex Optics Crossfire II vs Diamondback