Embark on an unforgettable journey where you'll encounter the majestic elk in their natural habitat. With our expert guides, you'll have the knowledge, skills, and strategies to navigate the rugged terrain and track down these magnificent creatures.
Whether you're an experienced hunter or a novice looking for an exhilarating adventure, our guided elk hunting experience promises an immersive and rewarding expedition.
Get ready to test your hunting prowess, soak in the beauty of the wilderness, and create lasting memories as you embark on this extraordinary quest for the ultimate trophy with our seasoned professionals. Join us now and let the adventure begin!
Our Guided Elk Hunting
When embarking on an unforgettable guided elk hunting trip, look no further than Metallens. We pride ourselves on providing a top-notch experience that combines expert guidance, a wealth of knowledge, and a passion for pursuing these majestic creatures.
Our team of experienced and dedicated guides will accompany you on an exhilarating journey deep into the heart of elk country, where you'll have the opportunity to witness these magnificent animals in their natural habitat.
Where to Hunt Elks
Finding the perfect location for elk hunting is essential for a successful and memorable trip. Several states stand out as prime elk hunting destinations in the United States. Colorado, Wyoming, Montana, and Idaho are among the best places to hunt in the States.
These states boast vast wilderness areas, abundant elk populations, and a variety of hunting terrain, offering hunters an excellent chance of a successful hunt. On the Canadian side, Alberta and British Columbia are renowned for their world-class elk hunting opportunities, with vast untouched wilderness and thriving elk populations.
Best Places to Hunt in the States
The majestic bull elk's powerful presence has captivated the hunters' hearts and inspired countless stories. With steam billowing from their mouths and their bugle echoing through the Rockies, these North American wapiti, or elk, have become emblematic. While elk can also be found in Canada and even in introduced herds in places like New Zealand, the heart of their population resides in the United States. Thanks to the North American conservation model, which relies on hunting dollars, elk populations have made a remarkable comeback from near extinction to thriving herds.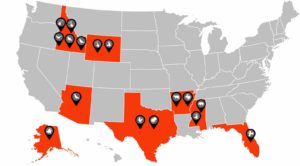 Today, elk have reclaimed much of their former range, with elk hunting seasons extending as far east as Pennsylvania. However, securing a hunting tag in these areas is challenging due to the low odds of drawing one. As a result, most hunters set their sights on the Western states for their elk-hunting adventures. Colorado, Arizona, California, Montana and New Mexico offer programs allowing outfitters to provide hunters with over-the-counter (OTC) tags. Nevertheless, luck and accumulated preference points in random draws are still necessary for the most sought-after opportunities.
Elk can be pursued through various methods, including calling during the rut, employing spot-and-stalk techniques, or even combining both. Late-season hunts generally involve rifles, but if you genuinely desire to experience the bone-chilling moments of the peak rut, be prepared to pursue your bull with a bow. These heart-pounding encounters will leave a lasting imprint on your soul as you immerse yourself in the hunt's raw beauty and primal energy.
Best Places to Hunt in Canada
The allure of elk hunting in Canada continues to captivate many enthusiasts. The Canadian Rockies proudly showcase thriving elk populations and pristine wilderness areas that rival even the renowned landscapes of the American West. Moreover, many licensed outfitters in Canada offer access to over-the-counter tags, eliminating the need for luck in the drawing process.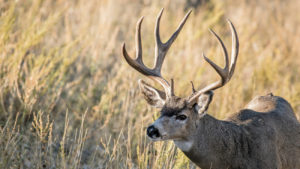 These hunts often unfold in remote locations, far removed from civilization, allowing for an unparalleled fusion with nature. Picture yourself in this untamed paradise, where the crescendo of the hunt reaches its climax as a majestic bull, breath billowing into the frigid air, lets out a resonating bugle within range of your rifle, muzzleloader, or bow. It's a moment that epitomizes the raw beauty and exhilaration of elk hunting in the Canadian wilderness.
Best Season to Hunt Elks
For those seeking to hunt a trophy bull elk, the prime time is during the rut, when these majestic animals engage in fierce battles for dominance. The rut typically occurs between September and October in most areas, making it widely regarded as the optimal period for elk hunting. Cold weather conditions are particularly favorable as they encourage increased bugling activity from the bulls and heightened overall elk activity.
Additionally, the colder temperatures facilitate the preservation of valuable meat. It's important to note that archery seasons may commence as early as mid-August. In contrast, the season extends until December in many regions, allowing ample opportunities to pursue these magnificent creatures.
Costs You Need to Go Elk Hunting
The cost of cow elk hunts and trophy bull elk hunts can vary depending on factors such as location and trip duration. Typically, cow elk hunts fall within the $1,000 to $2,000 range, while a 5-day trophy bull elk hunt may start at around $5,000 and increase from there.

It's important to note that the pricing structure can differ among outfitters. Some elk hunting trips are self-guided, where the outfitter assists with setting up camp and navigating the wilderness. However, it's crucial to inquire about additional expenses, such as the cost of the hunting tag, as some offers may not include it in the package.
Best Elk Hunting Outfitters
Regarding elk hunting outfitters, several establishments have gained a reputation for their exceptional services and successful hunting experiences. Here are five notable outfitters that stand out among the best.
Arizona High Country Outfitter & Guide Service, Arizona
Arizona High Country, Outfitter & Guide Service offers an unforgettable elk hunting experience in the picturesque Arizona landscape. With their extensive knowledge of the local terrain and elk behavior, they provide expert guidance to hunters of all skill levels. Whether you're pursuing trophy bulls or cow elk, their professional guides ensure a rewarding and memorable adventure.
A Savery Creek Outfitters, New Zealand
Savery Creek Outfitters in New Zealand is a standout choice for those seeking a unique elk hunting experience outside North America. Surrounded by breathtaking landscapes, their experienced guides lead hunters through the rugged terrain in pursuit of majestic elk. With their commitment to sustainable hunting practices and dedication to personalized services, Savery Creek Outfitters offers a remarkable international hunting opportunity.
Fishtail Ranch, New Mexico
Nestled in the scenic beauty of New Mexico, Fishtail Ranch is renowned for its premier elk-hunting adventures. With access to vast private lands and a high success rate, they offer an exceptional hunting experience for rifle and archery hunters. Their knowledgeable guides ensure hunters have the best chance of encountering trophy bull elk while providing comfortable accommodations and first-class hospitality.
Stockton Outfitters, Montana
Montana's Stockton Outfitters has established itself as a top-notch elk-hunting outfitter. With exclusive hunting rights to prime elk habitat and experienced guides, they offer unparalleled opportunities for hunters to pursue trophy bulls. Their commitment to sustainable practices and attention to detail make for a well-rounded and rewarding hunting experience in Montana's vast and picturesque landscapes.
Table Mountain Outfitters, Wyoming
Table Mountain Outfitters in Wyoming is renowned for its exceptional elk-hunting adventures. With a deep understanding of elk behavior and vast knowledge of the Wyoming wilderness, their expert guides ensure that hunters are positioned for success. Whether you opt for archery or rifle hunting, Table Mountain Outfitters provides a thrilling and well-organized hunt, comfortable accommodations and an authentic Western experience.
FAQs
Where is the best elk hunting in the world?
Regarding the best elk hunting destinations in the world, Wyoming stands out as a premier choice. Nestled within the majestic Rocky Mountains, Wyoming offers vast and diverse landscapes home to abundant elk herds. The state's special elk population provides hunters with unparalleled opportunities for an adventurous and fulfilling hunting experience. From the rugged wilderness to the breathtaking mountain ranges, Wyoming's scenic beauty sets the stage for an unforgettable elk-hunting adventure.
Is it legal to hunt elk in California?
Yes, it is. California stands out as the only state that offers hunting opportunities for all three subspecies of elk: Tule elk, Roosevelt elk, and Rocky Mountain elk. However, it's important to note that when it comes to the California draw, there is only one elk permit available for non-residents across any of these species. This limited availability may challenge non-resident hunters hoping to secure an elk hunting permit in California.
Where are the most giant elk killed?
In 2008, an exceptional non-typical elk measuring 478 5/8 inches was harvested, surpassing the previous record by an impressive 13 inches. Another remarkable feat occurred in Idaho at the Broadmouth Canyon Ranch, where the world-record archery bull elk was harvested, boasting an astounding measurement of 566 inches. These notable achievements highlight the potential for encountering giant elk in Idaho, making it an esteemed destination for hunters seeking record-breaking specimens.
Conclusion
Embarking on a guided elk hunting trip with Metallens is an adventure you will want to experience. With our expert guides, breathtaking hunting locations, and dedication to providing an exceptional experience, we guarantee an unforgettable journey in pursuit of the majestic elk.
Whether you choose to hunt in the prime locations of the United States or the rugged landscapes of Canada, be prepared for an exhilarating and rewarding experience. Remember to plan your trip during the optimal season, consider the costs involved, and choose a reputable outfitter to ensure a successful and memorable guided elk hunting trip. Get ready to make lasting memories and immerse yourself in the beauty and thrill of elk hunting.