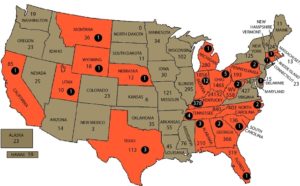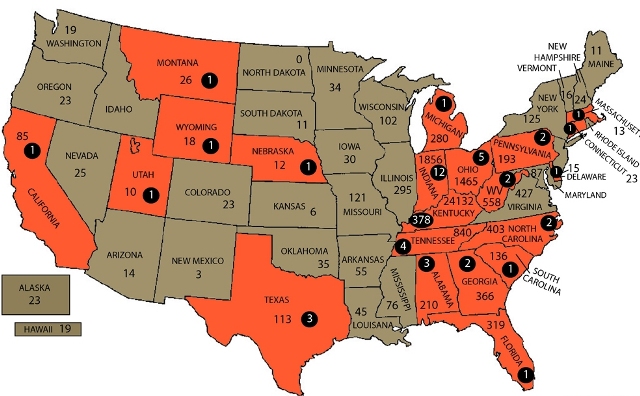 Elks can be hunted in about 20 states, but you will not have the same opportunity in all of them.
Being one of the coveted animal game, a lot of people travel thousands of mile to elk hunting states, and spend a lot of money just to get that hunting tug.
You will find different elk species mostly on the western states of the US near the Rocky Mountains and few on the eastern state.
So if you are willing to spend some reasonable cash to get that tag, then we can show you some few states to go.
11 Elk Hunting States That Should Top Your List
1. Colorado.
Elk Hunting In Colorado is considered the overall best state because there are high possibilities of getting an elk, this is due to the high concentration of over 500 000 elks. This high population has led to increased issuance of OTC permit and more hunting units. There is easy access to all zones where you draw a tag, also there are enough spaces for good shots. Both bows and arrows can be used for hunting apart from a few archery units.
2. Wyoming.
Although elk population in Wyoming might not be that big, you will likely find a lot of opportunities. Here you will have one of the amazing hunt down the Rocky Mountains with around 90000 elks available. OTC tags here are only given to resident with most units having a 100% draw, so your chances of landing a tag here are pretty high. This place is ideal for those for love hunting on a lower elevation.
3. Montana.
Montana is also a great elk state with its outstanding scenery that gives the best shot for an elk. It has the second largest elk count of over 160000 with high concentrations on the Rockies of Wyoming border. Landing a unit here will increase your chances of having a kill as there are 20-40% success rate using archery, and the figure could rise up when using a rifle.
4. Idaho.
Elk hunting popularity is first growing in this Idaho state because of its ample opportunity and good experience. Elks population here is somewhere around 105000-150000.in the past, the wolves and the wildfire have reduced the population but there is a strong comeback being witnessed. With the best price of tags, non-resident can get their OTC tags without any difficulties but this might change with the rising popularity of this place.
5. Oregon.
Oregon State stands out in its own league with because of its two kinds of elk species. There is no other state offering the opportunity for hunting Roosevelt elk apart from this one. The elk population here range from 100000 to 140000 with the 2 species equally splitting the number. Hunting in Oregon is like having a lifetime experience with thick forest and high peaks. Also, there is a large number of bulls per hunter compared to most states.
6. Pennsylvania
East of Mississippi, Pennsylvania remains the best place to hunt Elk. It used to be the best place during the early years of America's history. That you can tell because it has a county named Elk Count! You can still have a good time hunting elk there if you don't want to head to the West for now.
7. Arizona
It is hard to get a hunting tag in Arizona these days. However, if you hit the jackpot, you are assured getting a shot at the best bulls in the country. Many therefore say that it is worth the wait and patience needed to get a tag.
8. Washington
For sometime, the Elk population in Washington had dwindled thanks to mountain lions, forest fires, and of course hunters. That has now changed, but you still need to get lucky with an "tag" that allows you to hunt for elk. If you get one, go for the big bull.
9. New Mexico
In New Mexico, it is not easy to get a tag, but when you do, you still need some luck to spot an elk. However, we included it because when you do spot one, chances are it will be a big.  So try your luck, and have fun.
10. Utah
Just like Arizona, it is among the best places to hunt for Elk in the US. In fact, it boats of some of the largest ever shot in the US in recent history.
11. Texas
Texas has some elk hunting opportunities that you should consider if you live there or nearby. However, it isn't among the very best elk hunting grounds.
Final thoughts – Elk Hunting States
States worth noting like Pennsylvania, New Mexico, Utah and Arizona which have decent elk population with Kentucky growing yearly. Applying for a great spot in severally state is the best tactic to use until you get one. This being a lifetime hunt to many, it's good to have the needed information so as to make the best choice.