Why do you need the best Night Vision Binoculars?
Looking through a binoculars feels awesome and it is hard to imagine what hunting, navigation, reconnaissance, would be without them.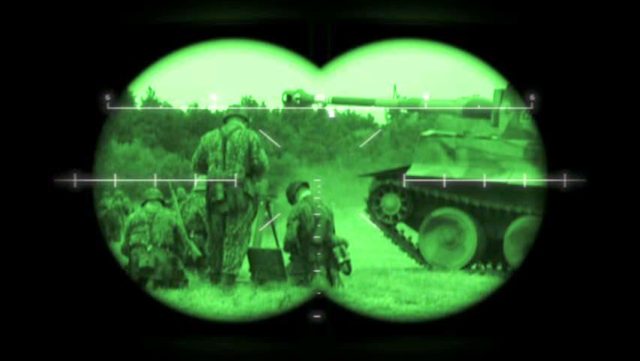 However, when it gets dark, you will find that a regular binoculars is only great for viewing objects that are either closer or illuminated.
It is a different story when you get a Night Vision Binocular. This type if binocular allows you to view objects night and day with almost the same clarity. It gives you the same advantage that a Lion, Leopard, or say an owl has when it comes to hunting at night.
In that regard, you will find that a binoculars with night vision is indispensable. If you do not have one already, or you need an upgrade, the read on to learn more about the best Night Vision Binoculars.
Do We Need Other Type Of Binoculars Other Than Night Vision Binoculars?
Yes, besides night vision binoculars, there are various Types Of Binoculars available for different purposes such as standard binoculars for general use, compact binoculars for portability, astronomy binoculars for stargazing, marine binoculars for water-based activities, sports binoculars for observing fast-moving action, hunting binoculars for tracking game, and birdwatching binoculars for observing birds in detail. Each type is designed with specific features to cater to the unique requirements of different activities
10 Best Night Vision Binoculars Reviews
1. Night Owl Pro Nexgen – Best Night Vision Binoculars
The Night Owl Pro Nexgen Night Vision Binoculars provides you with the world-renowned night owl quality along with a price which is customer friendly.
It may not be the most affordable night vision binocular in the market, but it offers you value for money.
CHECK LOWEST PRICE OF NIGHT OWL PRO NEXGEN
Its 5X magnification is arguably more than you will require as you operate in the dark while the binoculars works perfectly even if you'll be using ambient light.
The reason is it comes with image intensifier tubes. For you to get a better range while in darkness, you will need to switch on the infrared illuminator, which is inbuilt.
Compared to other binoculars that you can find in its category, the Pro Nexgen brand is heavier and larger. That means you should you should consider your needs.
For instance, if you intend to use it for extended periods. On the other hand, if you plan to use a tripod, it may not be possible.
The Night Owl the Pro Nexgen is Easy to Use
Using the Pro Nexgen is simple since it has two primary buttons. One button is used to activate the infrared Red while the other is the power on/off button. The optics and made using high-quality glass to ensure you get the best viewing experience.
The Pro Nexgen is comfortable to hold as a result of its soft-touch rubber finish. Another reason to buy this binoculars is that its durable.
The lens housing is designed using molded thermoplastic that's impact resistant. The eye caps and end caps are rubberized, meaning you will enjoy comfort and durability.
You can walk around with this binoculars since it comes with a padded neck strap. The result is you'll find it portable. Do you have an older or standard version of this binoculars?
You may find the location of the focusing knob has changed. That should not make you overlook this binoculars since it among the best you can get.
Get Amazing View from this Best Night Vision Binoculars
The Pro Nexgen binoculars give you amazing clarity, that's even if you're in an area with minimal ambient light. The moment you switch on the IR illuminator, you'll get best viewing results. Some users find it hard to believe that the Pro Nexgen uses the generation 1 technology since it provides them with amazing quality.
However, when you increase the range of the IR, you will get less distance but more detail. Remember that the binoculars will still work well without the IR, meaning you don't need to utilize the batteries all the time. This Pro Nexgen uses the CR123A battery type, which is on the higher side.
The Pro Nexgen is sturdy and looks professional, which is something you want from a binoculars that costs you hundreds of dollars. You'll be using this binoculars in the dark, which means you want a durable binoculars such as Nexgen. With the 50mm lenses that are made of high-quality glass, the Nexgen gives you the best value for your money.
CHECK LOWEST PRICE OF PRO NEXGEN
Additional reasons to buy it include the comfortable design, 5X magnification and durable casting. The minors things that may make you overlook it is that its heavy.
But when you look at this brand as a whole, what you get are the best features and a customer friendly price. For any handheld binoculars available at its price, the Nexgen is easily among the top picks.
2. Yukon Night Vision Binoculars Tracker 2X24
When you compare the Yukon Tracker 2X24 with other binoculars in the market, you will find it to be budget friendly and provides you with an amazing performance. Its smaller diameter and lesser magnification make it lose out against the Night (Owl Pro) Nexgen.
However, it offers you the best durability and quality. The pin holes in this binoculars's lens cap make it a versatile product.
It allows you to operate it anytime during the day. Remember many night vision products may not provide you with this feature.
CHECK LOWEST PRICE OF YUKON NIGHT VISION
The Yukon Tracker can withstand outdoor weather elements, is drop resistant and comes with rubber armor for additional protection.
Its magnification may not be as high as other night vision binoculars, but it offers you some nice image quality. You don't have to get stuck in the dark since this binoculars has a reasonable battery life.
Why Yukon Tracker 2X24 is Among the Best Night Vision Binoculars
You want a binocular that's comfortable when holding in your hands. That means the perfect option for you should be the Yukon Tracker, which is comfortable and lightweight. The rubber armor around its body ensures your binoculars is highly durable. Instead of the usual lens caps, this binoculars uses flip-flop lens caps.
Remember lens caps need to be fastened using strings and can easily drop in the dark since they are loose. Flip-flop lens caps provide you with more convenience since you fold them back against your binoculars' body.
You will find it easy to operate the focus knob since its found close to the center of binoculars' housing. On the other hand, the package comes with a neck strap and a protective carrying case.
Yukon Tracker Night Vision Binocular
The Yukon is one of the best-designed night vision scopes and sturdy, meaning users have been impressed by it. Its lightweight, which means you'll find it easy to carry around while in the fields. The reason is it uses smaller lenses when you compare it with other night vision binoculars available in the market.
CHECK THE BEST PRICE OF YUKON TRACKER
The lenses are made using optical glass of the highest quality and are entirely multi-coated, which mean the manufacturer places importance on quality. However, the price should make you handle this binoculars with care even if its drop and weather resistant.
Remember it's not waterproof, but if you find it to be an issue, you should get yourself an IPX5 compliant Tracker.
Powerful IR illuminator
Since it's a first generation intensifier, it could be the reason why its priced lower. Despite the lenses being 24mm, you will get a decent range. On the other hand, the IR illuminator gives you coverage of up to 150 yards.
The Yukon Tracker works perfectly when the ambient light is quite low. If you want to use the binoculars in total darkness, you should opt for the IR system (infrared illuminator).
The 2X is less than half when you compare it with what other expensive night vision products offer. However, if you don't need extra magnification, its price will make sure you get good value for money. The extra refocusing you'll need to do while using this binoculars should be a minor issue.
That's because Yukon says that you'll expect to get around 20 hours of battery life when using the binoculars. Remember you need to realize this duration will depend on how often you'll use the binoculars while the IR illuminator is switched on.
3. Night Owl Night Vision Binoculars Pro 5X Review
The Night Owl NOXB-5 Explorer Binoculars is among the high-end first generation binoculars (night vision) you can find in the market.
It offers you 50mm lenses along with 5X magnification. It has multi-element glass optics, which means you get the best image clarity.
If you accidentally drop it, it won't come apart because of it has a rugged design. Due to the quality and size of the materials inside, this binoculars may be on the heavier side.
It is a small price to pay for all the features that this binocular offers you.
Unique Exterior Military Design
The Night Owl (NOXB-5 Explorer is among the top models of the Night Owl night vision products. Its design is almost the same when you compare it with the other products in its range.
That means it may not appear flashy when you compare it with similar products in its range. Its functionality, comfort and durability are among the best you can find when looking for the best binoculars.
The 50mm multi-element glass optics are protected by the lens housings, which are durable. They are made from molded thermoplastic that can withstand impacts. Keep in mind that housings made from this material can take a few knocks but still perform to the required standards.
This feature is important for any item that comes at a high-end cost. The body of this binocular is designed using a rubberized finish that's soft touched. It enables you to grip it well even your hands are sweaty or wet.
The power and IR buttons are located on the top of this binocular, meaning you can easily access them in the dark. On the other hand, the central focusing knob is also placed in a good place to ensure you access it fast.
It is the Best Binoculars for Long Distance with Night Vision
The Night Explorer Pro 5X has almost everything you may need when looking for a first generation (night vision binocular). Among the first things, you will notice is the 5X magnification. It ensures you the perfect look at your intended targets even if it's dark.
Currently, it's the highest magnification you can find in the Night Owl products. This binoculars's glass optics are treated using oxides and fluorides, which means you'll get the best light transmission while at the same time reducing any reflections on its glass surface. That explains why this binoculars has a crisp viewing clarity.
Some users say that the weight of the Night Owl (NOXB-5 Explorer) is more when you compare it with similar products. That's unavoidable since it's made of quality products. For instance, if you're using this type of binoculars for the first time, you may not notice this weight.
Decent Battery Life -3 Volts
However, if you have used lighter brands, you'll notice the difference instantly. A 3-volt battery powers this binoculars, meaning it has a decent battery life. The thing to remember is it's a bit costly and can be hard to find in many general stores.
CHECK LOWEST PRICE FOR NIGHT OWL
The Explorer Pro 5X has two intensifier tubes which ensure there is an optimal use of ambient light. When you combine these features with the infrared illuminator, which is inbuilt, you will get maximum nighttime performance even if it's totally dark.
The Pro TX offers you high clarity similar to other products by the same manufacturer even if you've switched off the IR illuminator.
Its high price tag is the only reason why we didn't choose it as our top pick. The reason is the Nexgen, which the same manufacturer makes provides you with the same features at a reasonably low price.
However, if you want to invest in a quality product, you can't go wrong with the Explorer Pro 5X. Remember that the price will vary from one retailer to the other, meaning you should do your research if you want to get the best deal.
4. Bushnell Night Vision Binoculars LYNX Gen 1 Review
The Bushnell Company has been in business for more than 60 years and is one of the best-known names in the optics industry. The Bushnell LYNX Gen 1 2.5x 40mm Night Vision Binocular is among their best-known products.
It uses a generation one (intensifier tube), which is combined with an infrared spotlight that's powerful. If the infrared light in a binoculars isn't powerful, images viewed from minimal ambient light won't be clear.
That means you should look for a binoculars with a powerful infrared spotlight. One important thing in a binocular is the viewing range. Most models have a viewing range of about 400-800 feet. The higher the viewing range you get the better.
The Bushnell LYNX offers you a viewing range of 750 feet. It means any object within this distance can be viewed in a clear way, that's even in the dark. If you're hunting or hiking at night, this distance is good as you'll be able to get a wider view of the surroundings.
Note: Bushnell LYNX was Updated with Bushnell Monocular
Weather Resistant
The Bushnell LYNX is weather resistant, meaning it can withstand extreme outdoor weather conditions. For instance, it's a preferred binoculars for law enforcement since it works well in snow, heavy rain or during storms.
It's also used in night navigation and wildlife surveillance. The materials used to make this binoculars ensure that it's weather resistant.
LYNX from Bushnell is powered using two AAA batteries. Two factors determine the power consumption of the LYNX. The first one is the time that you'll put the infrared spotlight on. If you use it for extended periods, you should realize that it will consume lots of power, which means you'll get a short battery life.
The second thing that will determine the amount of power is the number of times you zoom in and out. That's because constant zooming means the lens will have to be adjusted constantly. Depending on the use, a pair of its batteries will last between 20-70 hours.
The Bushnell LYNX binocular provides you with the best optical performance when you compare it with others in its range. Its 2.5X magnification means it's among the best. Remember most binoculars offer you a 2.0 X magnification.
Maximum Light Transmission
Its 40mm f/2.0 lens system and 1st generation (intensifier tube) enhance the clarity of this binocular. You'll be able to get clear images even with minimal clarity. The reason is its optics increase its light transmission, meaning you'll get clear images even when in the low ambient light.
Compared to other binoculars in the market, the Bushnell LYNX is lightweight. It weighs 17 ounces, which means it's portable. Keep in mind that if you plan to use your binoculars for extended periods, weight is among the things you need to consider. Heavier models may not be ideal since they weigh you down.
CHECK LOWEST PRICE OF BUSHNELL LYNX
An additional advantage of this binocular is its tripod mount, which is ideal for people who want to view large areas for extended periods. The Bushnell LYNX offers you several benefits, which means it will give you great service. If you love the outdoors but live in areas with lots of humidity or rainfall, you should consider having this binoculars.
5. Sniper Digital Night Vision Binoculars Review
You may love night vision goggles or binoculars. That means you should consider getting a binoculars, which you can use during the night or day.
The Sniper Digital Deluxe (Night Vision) Binoculars provide you with the chance to have an efficient an exciting way to see at night.
Similar to other night vision binoculars, this brand comes with IR illuminators, which enhance images even if you're viewing at night. Among the key features of this binoculars, include the unique illuminators that you can adjust to seven different levels starting from the lowest to the highest. CHECK LOWEST PRICE OF SNIPER DIGITAL NIGHT VISION
Most brands of night vision binoculars have IR illuminators which have an on and off button. You should realize that a brand that comes with various adjustable levels ensure you can view things during the night using the illuminator levels most comfortable to you and the viewing conditions.
The Sniper Digital Deluxe, which has seven illumination levels, means that you'll get a pleasant viewing experience. This binoculars also features an original technology designed to enhance any imagery even its very dark. When you compare this with the IR illuminators, you'll get the best viewing experience.
Why is Sniper Digital Deluxe Among the Best Binoculars Under 200
For any binocular, zooming is one crucial feature since it determines its effectiveness. Most binoculars in the market, including the Sniper Digital Deluxe, have a 2X zooming, which is the common standard. This zoom is digital, letting you get the views as possible. With the touch of the button, you can also adjust the zoom.
Several factors determine the clarity of images in a binocular. One of them is the binoculars' aperture. The Sniper Deluxe binocular comes with a large F1.4 aperture along with enhanced lenses, which are multicoated.
They enable you to get clear images during the day and night. If you're a beginner or looking for a budget-friendly binoculars, you should consider this product.
CHECK THE BEST PRICE OF SNIPER DIGITAL NIGHT VISION
Many night vision binoculars don't have the option of enjoying views during the day since they are designed for viewing using minimum ambient light. That means many users tend to invest in a night vision binocular and a day binocular.
One benefit of the Sniper Digital Deluxe is that it allows you to enjoy excellent views during the day and night. If it's totally dark, you can get views of up to 100 yards, which is 40 yards more when you compare it with other binoculars in this category. When it's daytime, you can view of up to 440 yards depending on the time of viewing and amount of light present.
Sniper Digital Deluxe Crisp Clear Images
The Sniper Digital Deluxe is one unique product, which offers the chance to take pictures and record videos. Many gadgets on the market don't have this feature, which means you should consider buying this model. Other brands produce videos with blurs.
However, if you choose to use the Sniper Deluxe Night binoculars, you won't experience such problems. Remember that you can record any moving things or objects during the night or day using this video technology.
With an approximate weight of one pound, the Sniper Deluxe Night binoculars may not be the lightest in the market. However, it has a neck strap, meaning you can hang it around your neck when you're not using it.
That reduces hand fatigue that's associated with carrying it by hand. Its batteries aren't included in the package, but you'll easily find them in local stores.
6. Bushnell Night Vision Binoculars – Digital Equinox Series
When it comes to manufacturing excellent optical products, one company that's renowned worldwide is Bushnell.
Its night vision optics are among the best. One such product is the Bushnell Night Vision 260501 Equinox Series Digital Binocular. It's easy to handle, thanks to the rubberized and tough covering.
It ensures you get a comfortable grip when handling the binoculars for long periods. Your binoculars will be protected from knocks by the rubber covering, for example, when it drops. Considering how much this product costs, the covering is one amazing feature since it ensures your binoculars is durable.
Bushnell 260501 Equinox Gives Clear Images
The Bushnell 260501 Equinox is not meant for high-definition viewing. It may not have a 1080p HD, but the images will still be very clear. If you are planning to take videos and photos, the resolution you'll get will be very good and sufficient, even if it's at night.
However, you should ensure the R illuminators are turned on to ensure you get clear images even its very dark. Remember to use the illuminators during the night since they have little impact when you use them during the day. If you want to save battery power, make sure you turn off the IR during the day.
Many binoculars models in the market today don't have a digital sensor. It's one feature which helps to ensure the intensifier tubes are protected from light damage. This binoculars has an adjustable sensor brightness. It can handle different ambient infrared illumination in order for you to get excellent images.
Why It Is The Best Binoculars for the Money
Unlike other similar products on the market, this brand provides target illumination when you switch the infrared illuminator on. The purpose of this feature is to ensure you get the best image quality for any specific target.
The Bushnell Equinox Series 6L has a body which has been ergonomically contoured to ensure you enjoy a comfortable hold. The rubberized covering gives you a non-slip grip while the menu buttons, which are on top of the binoculars, provide you with an easy and comfortable handheld operation.
CHECK LOWEST PRICE BUSHNELL EQUINOX SERIES 6L
You can reach them easily using your fingertips as a result of their placement. The Equinox Series 6L offers you additional functions such as power on-off, IR illuminator on-off, infrared brightness control and coarse digital focus.
The wheel, which is placed at its center, ensures you enjoy a good comfortable focus adjustment, that's along with the digital coarse focus.
The eye-caps on this binoculars is also rubberized. The purpose of this design is to ensure you enjoy comfortable eye contact. In the event that you'll be in the outdoors for long periods, you should use the tripod mount to attach the binoculars to a tripod. The neck strap provides you with the opportunity to carry the binoculars around when not using it.
Uses Four AAA batteries
Four AAA batteries power the Bushnell 260501 Equinox. They are available at local stores in many areas. They are budget friendly, and you can choose to get types such as lithium. The batteries' quality will affect how often you're going to replace them.
If you plan to use them for extended moments, you should remember to carry an extra pair. Users who have used this binoculars have said they can run for around 3 hours when you use the batteries.
It means that if you intend to use the binoculars for more than three hours, you should have at least two pairs. This binoculars may be costly, but its features are among the best.
7. Luna Optics LN-PB3M 3×42 – Thermal Night Vision Binoculars
One of the things you'll notice about the Luna Optics Night Vision binocular when you unpack it is that it's very stylish.
For instance, the binocular's body is exposed, unlike other models, which are covered with rubber. This design makes them have a masculine and tough look.
When you hold them, they feel sturdier and are lighter than you may think. However, you should remember that this gadget is made of aluminum body.
The LN-PB3M weights 760 grams or 1.68 pounds, which is the standard weight for many full-sized binoculars.
The IR illuminator, which is built-in protrudes out of the binocular's body front and is found between the two barrels. Its illuminator gives you the ability to use your binoculars even in areas where the ambient light is not enough or when you're in complete darkness.
It emits infrared light and reflects it from any object you may want to view. This light is then amplified by the binocular's tube in the same way ambient light will get amplified.
It is the Best Binoculars for Hunting at Night
The sensors, which are next to the illuminator, protect your gadget from any damage that may arise from exposing its sensitive internal parts to bright light. The LN-PB3M (3×42 Premium) is weather resistant but will be affected by water and fog. That means if you intend to use them in the outdoors, you should consider this information.
When focusing, each barrel of the binoculars should be focused individually. Users can do this by twisting each of the barrel's end and focus on the object. When you compare this process to regular central focusing binoculars, you will find it slow since you must focus every lens individually.
Every (eyepiece) or ocular lens can get adjusted on its own by using the ring under the eyecup. This ring is important when you're setting up the binoculars to suit your needs. The best way to focus each piece is by closing one eye and focus the open eye to your preferences. You should repeat the process with the other eye.
It's important you consider the eyecups when purchasing night vision binoculars. That's because most people overlook or underestimate them. Many people only get to know their importance when they buy binocularss with uncomfortable eye-cups. They are crucial since they are the point of contact between your binoculars and your face.
Well Designed EyeCups
The LN-PB3M has great eyecups, which are made from a type of rubber, which feels similar to plastic. They are comfortable than they look and have wings on either side. These wings prevent external light from disrupting your view or entering from your face's side.
The objective lens's size of your binoculars will affect the gathering potential of your optics. If you want more light gathering potential, you should look for a larger objective lens.
The Luna Optics LN-PB3, which has a 50mm objective lens, ensures you get better light gathering potential. Remember giant objective lenses can be good but also bring negative results.
That's because they are expensive to manufacture and will increase the size of your binoculars. The Luna Optics LN-PB3M binoculars seems to get the balance right. That's because they are compact and can be carried around and have a better light gathering potential when you compare them to full sized binoculars which offer you 42-43 mm.
This binoculars is one of the best you can find in the market.
It has intensifier tubes, which enable it to amplify ambient lights to almost 900 times. It gives you a high resolution and provides you with the best night vision technology. The cost, which is relatively low, makes them one of the regularly used products in the market.
8. Pinty Military Night Vision Binoculars
If you're looking for a good binocular for both nighttime and daytime use, you should consider The Pinty 7×31 Night Vision Binoculars.
It comes with several amazing features. The inbuilt IR illuminators enhance this binoculars's image clarity.
The 640×480,30FPS night vision screen makes it stand out from the rest. You can use it as a real-time surveillance camera, telescope, camera or camcorder.
However, you'll need to connect it to a computer or monitor to enjoy real-time surveillance.
Best Binoculars for Long Distance
When buying a night vision binocular, one important feature you should consider is the observing distance. The Pinty offers you an impressive viewing distance of 1300 ft or 400 meters during the night.
If you compare this binoculars with others with the same capabilities, you'll realize they provide shorter observing distances, for example, 400-800 feet. The amount of the ambient light and weather conditions can affect the observing distance.
Consider it to be Among the Best Binoculars for Long Distance
By choosing the Pintyr, you'll get a 7x magnification, one of the best that you can find in the market. Keep in mind that many daytime and night binoculars provide you with 2x-4x magnification.
The 5x magnification allows you to view objects which are far away with better clarity than when you could have used a binoculars that offer less magnification.
Additional reasons to buy this binoculars are its 720 P video recording capabilities. If you were looking at an animal during the night, you can video record it at 720P. This may not be the best clarity in the market, but it's among the highest you can get. Videographers and photographers will also find the time-lapse function useful.
If you want to enjoy the best view, you should look at the observing distance of a binocular. The Pinty binocular offers you an excellent observing distance of 2 meters to 500 meters or 6.5 ft. to 1640 ft.
CHECK LOWEST PRICE OF PINTY 7X31
Best Guarder Night Vision Binocular
However, during the night, this distance may be shorter due to the lack of enough light. The good thing is that you can still get a good viewing distance of 150 meters or 492 feet. It's impressive since many night vision binocularss offer users viewing distances of less than 100 meters.
In the case you're recording or viewing a video, this binoculars offers you GPS ID stamp. If this information is not available, you can enter it manually. This binocular has an adequate illumination that enables you to use it even in dark environments.
The Pinty binocular offers users menu that supports different languages, meaning users will find it easy to use.
It weighs 2lb and comes with a carrying bag. The package also includes a USB cable, cleaning cloth and AV cable. For the best performance, you should use alkaline batteries. Remember that this binoculars is powered by 8 x AA, lithium, alkaline or NI-MH battery -not included.
9. Solomark Night Vision Binoculars
With the 3W, 850nm Infrared Illuminator, Solomark has ensured this issue has been taken care off. It enables you to view distances of up to 1300 fit or 400 meters in total darkness.
If cost has been the major obstacle, then this might be what you needed.  It balanced between quality and price.
It is ideal for anyone who cannot justify a huge budget on outdoor accessories.
Robust Design
Considering the price of this binoculars, you should realize that these are fantastic numbers. They are correct and honest when you compare it with some budget options that offer false promises.
You can use this binoculars during the day without damaging the optics. Night vision binocular without adequate protection can be completely ruined if you use them during the day, that's even for short periods.
Solomark (Night Vision) Binoculars provide you with up to 7x magnification when it's dark and a 2x digital zoom. That may not seem much, but if you're hunting in the dark, you won't need more since the distances are much shorter than when hunting during the day.
The 31mm brings in lots of light, which further enhanced night view-ability. They are entirely multi-coated to decrease any glare while the CMOS sensor makes sure you get sharp and clear pictures.
What Makes Best Binoculars Under 300?
Solomark night vision binoculars have a functionality beyond the typical night vision binoculars. For instance, this binoculars has additional smart features, which make it far better than regular binoculars. Remember as a beginner, you may want to try budget-friendly options before going for high-end ones.
CHECK LOWEST PRICE OF SOLOMARK NIGHT VISION
Among the benefits, you get from this binocular is the ability to record videos and photos. That means you can use it as a camera, and you'll save the files to a micro SD card, which you should buy. The card can be between 4 and 32 gigabytes.
Connects to Your TV
It's one of the best options if you're a hunter who wants to review scenarios that have happened earlier or just want to share your experiences with others. There is no need to record on an SD card since you can use the AV cable to watch the footage on your TV.
You won't find these features on typical night vision binoculars, but Solomark provides them.
If you have experience hunting in the dark, you will in mostly know what you require. For example, you may need something that offers you better performance and quality optics. That means you need to spend more to get that binoculars.
However, if you're a beginner in night hunting or just need a backup binoculars, the Solomark binoculars should be one great addition. It offers you some smart technology, basic functionality and is available at a budget-friendly price. The only things you need to do are consider your hunting needs, budget estimates and the time you plan to use it.
10. Sightmark Ghost Hunter 2×24 Infrared Night Vision Binoculars
The Ghost Hunter 2×24 is one piece of equipment, which is durable and affordable. You can also get them as a monocular, but in this review, we'll take a look at the binoculars.
You'll find them easy to use, and they are appealing to the eyes.
As you long as you set your expectations right, this Gen 1 binoculars won't cost lots of money but will offer some good service.
For example, if all you want is something that allows you to see what's happening around you as you hunt in the dark, you should give them a try. However, if you want to look at 1000 yards in total darkness, you should settle for other options.
Sightmark Night Vision IR illuminator
As I've mentioned above, the Ghost Hunter 2×24 is a Gen 1 binoculars, meaning you won't get the incredible powerful IR illuminators that the expensive Gen 2 and Gen 3 binocularss offer. However, its IR illuminator will still work very well and will let you see your surroundings. It has a 2x magnification that ensures things are close to you.
However, if you plan to put the Ghost Hunter 2×24 on your helmet for extended use, you may find yourself unable. That's because it means you'll want to know what's continually going on around you, not far away, which means you want to use 1x magnification.
The image you get will be clear, any object or anything around you will be illuminated well, for example, if the moon is around. Budget-friendly night vision binoculars often have issues when it comes to sharpness and clarity since the manufacturers have to reduce costs. However, with Sightmark, that's not the case.
Why It is Best Binoculars Under 300 for Hunting at Night
You may as well think that Sightmark chose to compromise on build quality. That's not the case either. Their built is amazing, and their polymer construction ensures this binoculars isn't too heavy. When you're not using this binoculars, the carry case will be of good use to you.
When it comes to protection, Sightmark did well to add an excellent safety feature to the Ghost Hunter 2×24. Night vision binocularss have problems with the tubes inside them when they are exposed to any bright light. For some brands, the issue is sorted by putting a small hole in the binoculars's lens cap.
That means you can use them along with the cap during the day. However, for Sightmark, theirs was a different approach. The reason is the binoculars will switch off whenever light is exposed to them, which means the tubes are protected.
AA batteries
The Ghost Hunter (2×24) doesn't have too many things which can waste its batteries. That means you only have to use two AA batteries. Using them, you can get around 72 hours of usage without the binoculars's IR illuminator. If you decide to activate it, the usage time will significantly reduce.
For some potential buyers, it's importunate to know that the Ghost Hunter (2×24) is restricted for sale in the State of California and outside the US.
The Ghost Hunter (2×24) is definitely one buy you should consider getting. Compared to the high-end Gen 3 binocularss, this brand may not be as good. What you should realize is that you'll get some benefits while you're in the outdoors.