Review Detail about Vortex Optics Strike Eagle 1-8×24
The Vortex Optics Strike Eagle 1-8×24 is a versatile and the best vortex quality riflescope designed for both close and long-range engagements. With its clear glass, intuitive reticle, and durable construction, it is a top choice for serious shooters. Whether you are a competitive shooter, a hunter, or a tactical operator, the Strike Eagle 1-8×24 is built to meet your needs. Its price point makes it an excellent value, offering high-end features at a mid-range price.
Quick fact:
The Vortex Optics Strike Eagle 1-8×24 is a top-tier riflescope known for its clear optics, intuitive reticle, and durable build. Designed for both close and distant targets, it's a preferred choice for serious shooters, offering reliability and performance at a competitive price point.
What we like:
Advanced optical system for vibrant images.
Dead-Hold BDC reticle for varied ranges.
Exceptional glass clarity, especially in low-light.
Comfortable eye relief and forgiving eye box.
Rugged aircraft-grade aluminum construction.
Versatile 1-8x magnification with a 24mm lens.
Precise adjustment knobs and parallax adjust.
Compatibility with various mounts and accessories
In our opinion, the Vortex Optics Strike Eagle 1-8×24 is a solid investment for anyone looking to enhance their shooting experience. It is a scope that promises to deliver performance and reliability, making every shot count when it matters most. In conclusion, the Strike Eagle 1-8×24 is a testament to Vortex Optics' commitment to quality and performance, offering a top-tier shooting experience at a price that is accessible to a wide range of shooters.
Overview
Feature
Details
Product Name
Vortex Optics Strike Eagle First Focal Plane Riflescopes
Rating

★★★★★

4.8 out of 5 stars (based on 663 ratings)
Size Options
1-8×24, 3-18×44, 5-25×56
Style
EBR-8 (MOA), EBR-7C (MOA), EBR-7C (MRAD)
Brand
Vortex
Color
Black
Item Dimensions
14.35 x 6.4 x 3.5 inches
Item Weight
2.15 Pounds
Material
Aluminum
Magnification Maximum
8x
Objective Lens Diameter
24 Millimeters
Magnification Minimum
1x
CHECK LOWEST PRICE OF VORTEX OPTICS EAGLE
Optical Quality
The Vortex Strike Eagle 1-8×24 is designed to optimize the versatility and quick-handling attributes of your AR. It offers a true 1x on the low end and zooms up to 8x, allowing shooters to rapidly engage targets near and far. The glass is clear and provides a bright and crisp image, which is essential for accurate shooting. The fully multi-coated lenses deliver a clear, crisp sight picture and optimal low-light performance.
The illuminated reticle also aids in low-light condition shooting, ensuring that you always have a clear point of aim. The scope's optical system is designed for superior light transmission and minimal distortion, making it perfect for both dawn and dusk shooting scenarios. The anti-reflective coatings on all air-to-glass surfaces provide increased light transmission for the bright, sharp images necessary for successful long-range shots. The scope's high-quality optics are designed to deliver exceptional resolution and color fidelity, creating an exceptionally sharp and clear field of view for the shooter.
Reticle
The Strike Eagle 1-8×24 features an AR-BDC3 (MOA) reticle. This reticle aids in rapid shooting while providing holdover and ranging references from 0-600 yards. It is designed to maximize long-distance shooting and ranging abilities, and it offers intuitive and detailed hold points. The reticle is etched directly on the glass, ensuring that shooters have an effective point of aim whether the illumination is engaged or not.
It is designed to be used to estimate range, holdover, and wind drift. The reticle is also illuminated, providing a clear aiming point under low-light conditions or against dark backgrounds, making it versatile across various lighting conditions. The suspensions of the reticle are highly detailed, allowing for precise shot placement, and the illumination settings are adjustable to suit any lighting condition, providing flexibility for the shooter.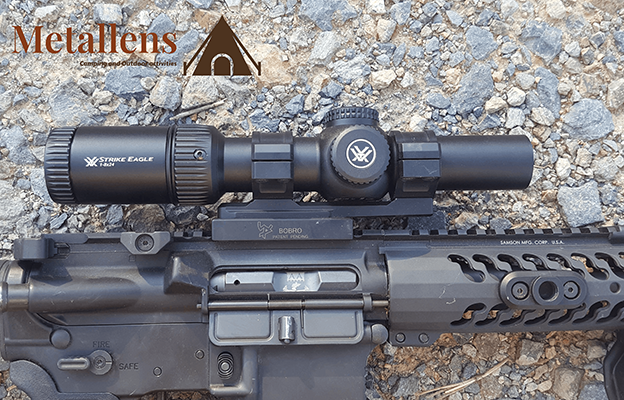 Construction
The Strike Eagle 1-8×24 is built with durability in mind. It is designed to withstand harsh conditions and maintain its performance. The construction is solid and robust, ensuring that the scope will hold up under heavy use. It features a 30mm tube that is constructed from a single piece of aircraft-grade aluminum, making it incredibly strong and highly resistant to magnum recoil.
The hard-anodized finish provides a low-glare matte surface, helping to camouflage the shooter's position. The scope is also purged with argon gas and sealed with O-rings to ensure it remains waterproof and fog-proof, allowing for reliable performance in all weather conditions. The rugged construction of this scope is designed to withstand the toughest environments, from the freezing cold of a winter hunt to the intense heat of a summer competition.
Magnification & Objective Lens
With a magnification range of 1-8x and a 24mm objective lens, this scope is versatile and suitable for a wide range of applications, from close-quarter battles to long-range engagements. The 1-8x magnification range is perfect for a variety of shooting applications, and the 24mm objective lens allows for a compact and lightweight design without sacrificing optical quality. The magnification ring is smooth and easy to operate, allowing for quick changes in magnification as the situation demands.
The 24mm objective lens size strikes a balance between light transmission and overall scope size, making it a versatile choice for various types of shooting. The scope's design ensures that the image remains clear and bright even at higher magnifications, making it easier for the shooter to identify and engage targets at extended ranges.
Other Features
Thread-in throw lever for faster target acquisition
Lifetime Warranty from Vortex Optics
Fast-focus eyepiece allows for quick and easy reticle focusing
Capped reset turrets allow re-indexing of the turret to zero after sighting in the riflescope
The scope also features a second focal plane design, meaning the reticle maintains its appearance across the magnification range, which is beneficial for rapidly changing situations. This design is preferred by many shooters as it allows the reticle size to stay constant, even when changing magnification, making it easier to use for estimating range at various magnification settings.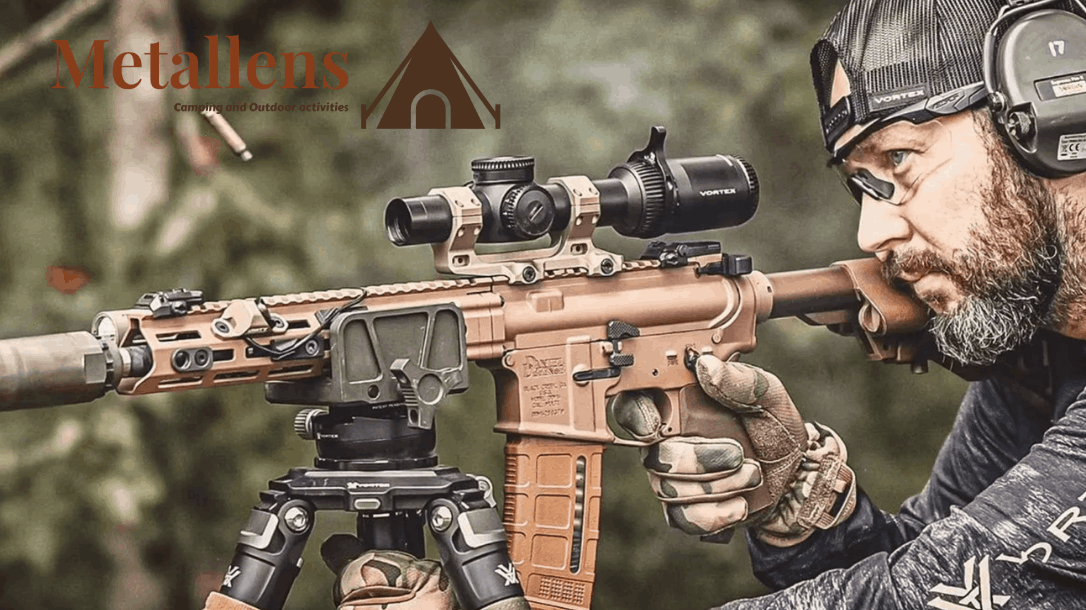 User Experience
Glass Clarity
Users have reported that the glass clarity of the Strike Eagle 1-8×24 is excellent, making target acquisition quick and easy. The fully multi-coated lenses deliver a clear, crisp sight picture and optimal low-light performance. The high-quality glass and coatings also reduce chromatic aberration, ensuring that colors are true and images are sharp. Shooters have noted that the image remains clear and bright across the entire magnification range, which is a testament to the quality of the optics used in this scope.
Eye Relief & Eye Box
The scope provides comfortable eye relief, allowing for extended periods of use without eye strain. The eye box is forgiving and allows for a good sight picture even when the shooter's head is not perfectly aligned. This is especially important for high-stress situations where perfect positioning isn't always possible.
The generous and consistent eye relief also protects the shooter from recoil injury, especially when using high-caliber rifles. Users have praised the scope's eye relief as being particularly comfortable and easy to maintain, even during long shooting sessions.
Durability
Users have praised the durability of the Strike Eagle 1-8×24, noting that it holds zero perfectly even after extensive use and rough handling. The O-ring seals prevent moisture, dust, and debris from penetrating the riflescope, ensuring reliable performance in all environments.
The rugged construction is designed to withstand impact and recoil, making it a reliable choice for the most demanding shooting conditions. Users have reported that the scope has survived bumps, drops, and harsh weather without losing zero or suffering damage, highlighting its resilience and dependability.
Adjustment Knobs
The adjustment knobs on the Strike Eagle 1-8×24 are reported to be precise and easy to use, allowing for quick and accurate adjustments in the field. The turrets are capped to prevent accidental adjustments and are designed for re-indexing to zero after sighting in.
The tactile and audible clicks give shooters confidence in their adjustments, and the zero-resettable turrets make it easy to return to a known zero after dialing temporary elevation corrections. Users have noted that the turrets are both easy to grip and turn, making adjustments quick and efficient, which is critical when time is of the essence.
Mounting & Accessories
The Strike Eagle 1-8×24 is compatible with a variety of mounts and accessories, including flip cap objective lenses, bubble levels, and various mounting options, which are available for purchase separately. The scope is designed to be versatile and can be easily mounted on a variety of rifle platforms using standard 30mm scope rings or mounts.
The inclusion of a thread-in throw lever is a thoughtful touch, allowing for rapid magnification changes in the heat of action. Users have found that the scope pairs well with a variety of mounting systems, allowing for a tailored setup that meets individual preferences and needs.
Price & Value
The MSRP for the Strike Eagle 1-8×24 is $799.99. Considering its features and performance, users have found it to be a great value for the price. It is a high-quality scope that offers features commonly found in more expensive models, making it an excellent investment for both novice and experienced shooters alike.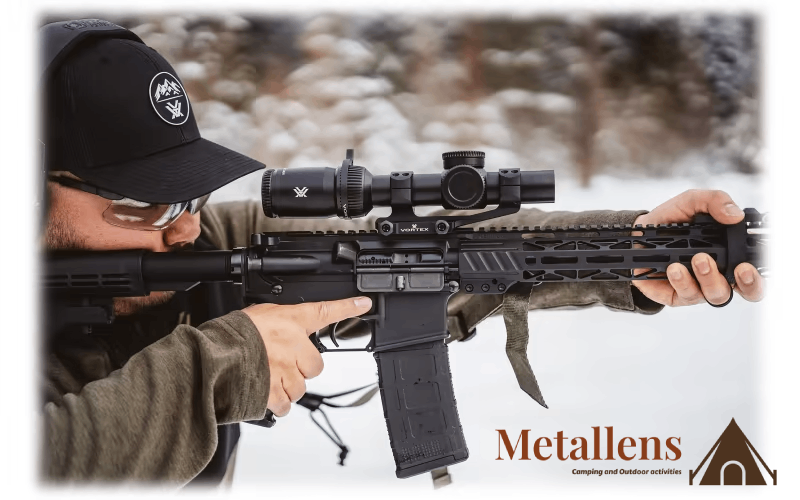 CHECK LOWEST PRICE OF VORTEX OPTICS EAGLE
The scope's combination of performance, durability, and features at this price point makes it an outstanding value in the market. Users have consistently noted that the Strike Eagle 1-8×24 offers a level of quality and performance that exceeds its price tag, making it a smart choice for those looking to get the most bang for their buck.
Comparisons
Compared to other scopes in its class, the Strike Eagle 1-8×24 stands out for its versatility, optical quality, and durability. It is a top choice for those looking for a reliable and high-performing scope without breaking the bank. It offers a unique combination of features and performance that sets it apart from its competitors.
Whether compared based on price, features, or field performance, the Strike Eagle consistently ranks high, solidifying its place as a top contender in the world of variable magnification riflescopes. Users have often compared it favorably to scopes that are significantly more expensive, noting that it holds its own in terms of performance and features.
Compared to Vortex Optics Diamondback
The Strike Eagle 1-8×24 stands as Vortex's push for boundary-breaking design. It offers an unparalleled visual journey, an adaptive reticle, and robust construction. But the Diamondback is Vortex's blend of tradition and innovation, offering a deep, rich optical experience and precision with its reticle design. It's durable, brings the world closer with its magnification, and promises value and a seamless user experience.
If you wanna learn more about the Comparison between Vortex Optics Strike Eagle and Vortex Optics Diamondback