It isn't so hard to set up a camping kitchen but everything needs guidance and tips. Also, what is harder is to keep the camping kitchen setup well-organized. If you are a frequent camper, it's worth knowing all these following guidelines on how to get a camping kitchen setup right.
Benefits of a DIY Camp Kitchen Setup
Cooking at the campsite is fun. But it will turn out to be messy if the camping kitchen is not well-prepared and organized with the right stuff. A lot of campers will choose to bundle all the cooking staples and groceries and take them for granted until they make them stressful at the campsite. Setting up a camping kitchen seems to involve a lot of work at the beginning, but it's surprisingly simple when you get used to it. Also, a good camping kitchen setup will save you a lot of time for the cooking process during camping.
Pack Your Car Easier
If you were once stranded by dozens of reusable grocery bags and storage bins along with many cookware before camping, a right camping kitchen setup will make you relieved. There's no need to pack the car with the fear of damaging the fragile item and you'll get more room for other camping gear instead.
You Don't Need To Bring Everything
The right camping kitchen setup will prevent you from carrying everything on the go. You can sort out what you have and decide what is important to bring with you and avoid duplicates. Focusing on the essentials is a lodestar for a perfect camping trip.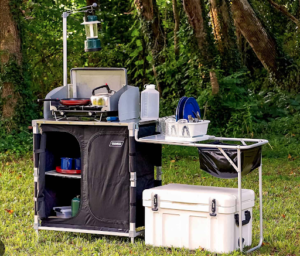 Easy to Find Your Stuff
If you have ever felt helpless finding aluminium foil out of a mesh, then it will never emerge with a well-built camp kitchen beforehand. Locating what you need turns out to be much faster and you'll feel relaxed after the cook.
Clean-up Is Much Simpler
Just like your kitchen at home, clean-up will be much simpler and you'll find no tools scattered around in the camp kitchen setup. It takes less time to wash and dry since the built-in system already suits what you need.
Use It for The Next Time
After you've got a camp kitchen setup that matches your cooking and camping style, there's no need to reinvent it whenever you go camping. Just set the camp kitchen once and it will be with you for good.
Camp Kitchen Essentials
Tables
A table is an essential component for any camping kitchen setup, in our opinion. A lot of campsites already provide picnic tables, but it's still best to bring a foldable one for cooking and preparing food while the picnic table can be used for meal time. Even if you prefer eating around the fire in the camp chair, it's difficult to cook with a picnic table. A foldable table that can be moved easily will be a good place for the stove and food prep.
Camp Sink
You should admit that washing dishes in the campsite is one of the hassles and stresses in your camping life. It's hard to get the dishes well clean as at home and they tend to be sticky and dirty again while they are laid for dry. You'll have to wash it over and over again before every meal and if the camping trip is long it will test your patience's limit. 
Choosing the right camp sink is as important as the tent. Choosing it depends on how long you are using it, and the purpose of using it. Getting the camp sink off the ground is better for your back. It's much easier to clean the dishes while you're standing straight up. Also, it's harder to get off the dirt, mud if the camp sink is too close to the ground. 
Set up the camp sink with buckets and a source of running water like a portable drain tub along with a rubbermaid bucket.
Cleaning Essentials
You've got a camp sink, but it's still tricky if your sink lacks the cleaning essentials. The most important cleaning essentials for your camp sink are: dish soap (preferably a biodegradable option), towels, paper towels and sponge.
Pots and Pans
Of course a camp kitchen setup can't be complete without the pots and pans which are also the cumbersome and bulkiest components. You can consider some of the items made of cast iron as the camping cookware. They are durable and can be placed directly on the coals. They hold heat and distribute it well for the best meals. 
Camping Stoves and Grills
It depends on what kind of dishes you are cooking, you can go for a camping stove or a grill on an open fire. The camp stove comes in handy for a quick meal with hot water and in case of the woods, coals are not allowed to use. Most campers choose the traditional 2 burners which are not too heavy for convenience. It also speeds up the cooking process more than the one-burner stoves. But in case you need to cut down on the bulk and weight, go for the latter one.
For the grill, picking up a portable grill of cast iron is an option to choose from. It can be packed up and used easily.
Utensils and Dishware
When it comes to a camping trip, a lot of campers like the convenience of paper plates, plastic utensils and dishware. You can buy a 4-person dishware set that consists of four plates, four bowls and 4 mugs. A 4-person spoon-fork-knife set made of stainless steel is a must in your camping kitchen setup as well.
Garbage and Recycling
Disposing of the garbage can be challenging, especially when you're in the wild at the campsite. There are certain kinds of foods, chemicals or even your urine can contaminate the water sources so you need to take extra care. Also, some spices like sugar, grease or cheese can attract insects like bees, flies or ants which can cause a problem or so. 
Furthermore, you should be aware that your food and garbage can even attract wildlife as well. You'll not want to handle a brown bear, racoons or coyotes so the best way is to keep your area clean with a proper garbage disposal.
Make sure you bundle the trash and tie the bag tightly before bedtime. If the campgrounds supply bear-safe garbage cans, it's great. Otherwise, you can keep the trash inside the car during nighttime or until you leave the campsite. 
Cooler
If you are heading out to a backcountry destination, a cooler is an important part of your camping kitchen setup. Also, it's a great experience to enjoy fresh milk in the coffee or a glass of cold iced beer at the camp chair.
If you are camping in the car, get a bigger cooler so that the ice can be kept frozen for days. If it's a carry-in campsite, you'll need a portable cooler with wheels to pull it easily. Also, the decision on the size of the cooler also depends on how long you are camping. A weekend-long camping trip will not require a large cooler and vice versa.
Spices and Dry Goods
You won't like a camping trip without spices and dry goods so create one or more dry good containers with you. A see-through storage container can be an option so that you can see all the items inside. Note that the lightest items need to be on top while cans should be packed on the bottom. Spices can be stored in the Tic-Tac containers and rice, nuts and dry beans can be in a ziplock bag. A coffee drinker will never forget his coffee supplies.
Food Prep and Cooking Miscellany
You'll need another container for the food prep and cooking miscellany. A plastic tub will fit gear like knives, cutting board, can opener, table cloth, cooking spray, lighter or matches, aluminum foil, plastic bags, spatula, potholders, spoon, ladle, etc. Make sure all the sharp items are covered. Lighters and matches can be stored in a screw-top container.
Portable Camping Kitchen Setup Ideas (With Pictures)
These are some of the portable camping kitchen ideas that would give you a glimpse of how they look. See the pictures and pick up your favorite one.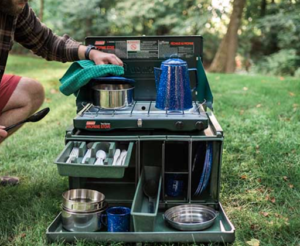 Here's a camp kitchen in a portable box that makes it easy to carry along.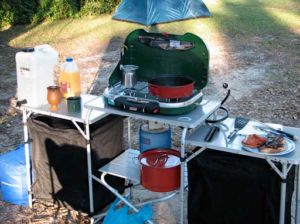 Camping kitchen setup with the 3-station method. This setup keeps things well-organized and leaves the picnic table free for meal time.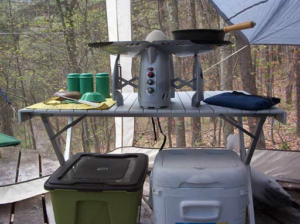 Minimalistic camp kitchen with the top of coolers serving as the food prep.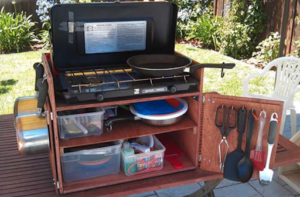 Another camp kitchen box to keep the small kitchen clean and well-designed. The box is divided into three floors with the stoves at the top and cookware underneath it.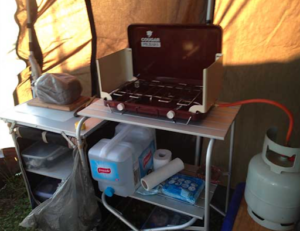 The storage underneath the table makes it simple to keep the camp kitchen organized.