Choosing a tent for camping is not a mere action of adding an item to your cart. Sometimes the tent options can be overwhelming so the campers will need some rules of thumbs to make a good purchase. If you're a beginner camper and you don't want to get stuck with the wrong camping gear, let's walk through this guideline on how to choose the camping tents which will perfectly fit your weekend camping trip.
How to choose a camping tent
Keep this checklist in your hand whenever you purchase a tent for your camping.
Space
The first thing in the tent buying guide is to consider the space and comfort. As there are a lot of camping tents available for you to choose from, determining how many people will share the tent space is an important step. And if the weather suddenly goes bad, chances are you need to keep some gear like a camping chair, backpack and portable grill inside the tent as well.
Tent Weight
Carrying a tent that is spacious yet light is all that we want. However, the challenge is that roominess always goes along with increased tent weight. You'll struggle to set up and pack up bigger tents as they are too heavy. Also, consider the mean of vehicles you'll use for your camping. There's no need to worry about weight if you go camping by car. However, carrying the tents on a kayak can be a challenge for you. Choose a four pounds or less weighted one in case you need a two-person tent for bike-camping or backpacking.
Weather resistance
No campers want to spend several nights outside without preparing for the bad circumstances. Also, in mountainous areas, the weather may change suddenly from sunny to windy or rainy even in a dozen minutes. A bright starry night can turn out to be dark and wet super fast so being well-prepared for all kinds of weather is an essential safety guide for your camping. 
Choose a waterproof tent if you don't want to spend your nights in a wet sleeping bag. Choose tents with big windows, mesh ceilings and vents to handle warm weather. Ones with big, full-coverage rain flies extending down to the ground will keep the cold from reaching in. Make sure you choose tents with high-quality and durable poles and stakes to stand with the heavy winds.
Ease of Use
For any camper, even a beginner or an experienced one, pitching a complicated tent may cause a headache. You won't want to fight with your family members or spend hours reading instructions to get your tent well set up. Other than that, it's not just a matter of setting up but putting it down and packing it back can become a problem as well if you don't get used to it. So the easier-to-use the tent is, the better. Some tents show how easy they are to set up and take down while others use up your calmness.
Time is not the only key factor to decide the ease of use of a camping tent. Yes, it's true that the larger the tent is, the longer it takes to pitch. Yet an intuitive 6-person tent that takes you 12 minutes to pitch can be more hassle-free than an 8-minute pitching 4-person tent that causes frustration, thanks to the color coding setup.
Since it's hard to assess the ease of use when you are shopping for a tent online or at the store, it's crucial to practice pitching your tent before going out for your camping trip.
Durability
You only find a week-long tent for one outing or you are seeking high and low for a life-long tent partner then durability is what to consider when choosing the right camping tent. To lower the manufacturing cost, some manufacturers may skimp on the materials that also help to keep the price low.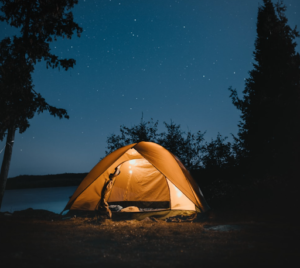 Meanwhile, some tents seem more expensive but it's a potential investment for avid campers who are looking for good tents performing well year by year. Consider the materials used for the tent, the flys, stakes and poles. A tent with bad poles can damage your camping trip. Make sure the tent body isn't crap or else you will be struggling to patch it until there's no other choice than tossing it. Most of the tents do not have a footprint included, so you'd better get one.
Family Friendliness
The final look before buying a camping tent is family friendliness. Are you going camping with a group of people, family, friends or dogs? Consider if your tent will accommodate enough people comfortably or if it has a roomy enough vestibule to clean your dog's feet or cook a meal. A big family outing should go well with bigger and feature-rich tents. Will your dogs be happy staying inside the tents? Consider if the floor is thick enough and check the material of the door if your pets scratch to get out.
What type of tents to opt for?
Tents have many different styles based on their shapes or using purposes. Let's discuss a few types including: four-season, double-wall, single-wall, six-person vs four-person.
Four-season tents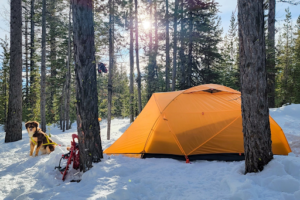 Choosing a four-season tent is a smart choice if you want a performance weather-resistant tent to withstand any season: winter, summer, spring and fall. The four-season tents can be a little heavier. They often have a lower profile to stand up to snowstorms in the mountainous areas. A four-season tent can be pricier than a normal one and it's also harder to pitch.
Double-wall tents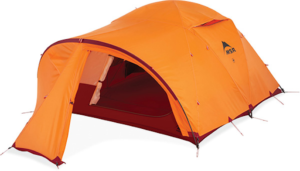 A double-wall tent is probably what most of us think of when imagining a camping tent. As the name tells, the double-wall tents get an inner tent body that is erected with two poles or more along with a rain fly going over the main tent to prevent water and wind from coming in. These are two separated components so the campers can choose to use the tent only and enjoy watching the Milky Way, the sky and the nature, thanks to a lot of mesh. At night, you can put the rainfly overtop if you want more privacy and warmth at this time.
These are not well-designed for backpacking so there's no compromise in the material of the tents to lighten the weight. That's the reason why most avid campers prefer to choose a double-wall tent as camping is the utmost purpose for the trip.
Single-wall tents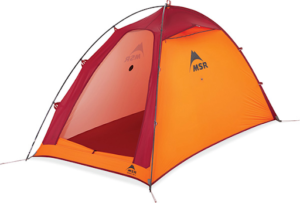 Unlike double-wall tents, single-wall tents are typically designed for mountaineering camping. Campers looking for a tent that is light enough and compact often opt for a single-wall design. The tent body is waterproof to keep everything safe and dry inside. However, you'll have to compromise on the ventilation in the single-wall tents and the water-resistant materials make it harder to breathe well. That's why they seem to accumulate condensation.
Six-person vs four-person tents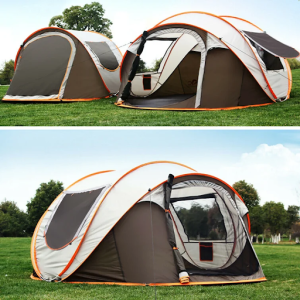 The number in their names state how many people can sleep, shoulder to shoulder, in these types of tents. A good rule to choose between them is to plus two. For example, if your family consists of four, go for a 6-person tent while a 4-person tent will perfectly fit a couple. The purpose is to consider the number of goods you carry along the trip. 
What type of camping are you doing?
It's obvious that the type of tents mostly depends on what kind of camping you are doing. Then it's very important to think of the type of camping when finding ways to choose the best tent for your camping nights.
Camping
If you are a classic camper who'd like to enjoy a perfect weekend trek, you'll certainly want a tent to cram into your backpack. Prepare an oversized tent bag to store your backpacking tent so you can easily pull it out of your car and hike far into the campsite.
Family Camping
Unlike traditional camping, if you are planning on a trip with your family, you'll need a tent with a family-camping style. The tents should be more durable and well-designed to bear rough use. They should also be more versatile, comfortable and fun-to-use for the whole family to share the space inside. Durability is the first criteria in the tent buying guide for family camping. Imagine if a backpacking tent can withstand all these: kids barge in-out of the zipper doors, dogs scratch or poke holes in the campground, etc.
Also, a family needs to share a larger space inside the tents then space and comfort are important factors to buy a camping tent for your go. You don't want 4 people with parents and kids being crammed into a tiny tent throughout a weekend-long trip with rainstorms. 
Base Camping
For those who are heading out to a backcountry destination for a week-long base camping trip, it's highly advised to carry a big camping tent which can withstand all types of conditions, terrains and weather. However, as base camping will involve a lot of gear and stuff for the serial day hikes, consider the proper tent weight you can deal with.
Walk-in Campsites
The walk-in campsite is a few hundred feet from where you park your car, deep in the wilderness. However, your back and arm would thank you if you pay attention to the weight and size of the tent so finding a camping tent that is "walk-in-worthy" is crucial. The four-person options will be easier to carry in than six-person counterparts.
FAQs
How Much Do You Want to Spend on a Tent?
For some campers, the price shall be one of the important factors in their camping tent buying decision. A budget-friendly tent price can vary from $50 while others mount to hundreds of dollars. For beginner campers, let's start over with the mid or lower-end options. Some might argue that money goes with quality and there's no resistance to that. However, if you have never been on a camping trip before and will never take up camping as a life-long hobby, you don't want to dig a deep hole in your pocket if the tent is not usable to you. Most casual campers are satisfied with mid-priced tents.
What Kind of Camping Will You Be Doing?
The kind of camping you do will decide the type of tents you choose. As you will not want the whole family to be cramped into a narrow too-small tent. Size and weight are not a big deal for car camping those are very essential to consider buying a good tent for your backpacking and hiking trips.
How Many People Will Be Sleeping in Your Tent?
The number of people sleeping in the tent will take a toll on the tent's size. Do not buy a tent that is much bigger than what you need. But again, if you are going for a car camping, bigger tents with plenty of room is a good option for you.
When Will You Be Camping?
The answer will also affect your decision on choosing a tent for your camping. Most of the campers prefer going in the fall, summer and spring so a 3-season tent is a good choice. 3-season tents provide plenty of ventilation to give you an enjoyable experience during your stay. For winter camping or the area where it gets very cold, a 4-season tent should be considered. Though they are called 4-season tents, they are best-designed for winter use. Since these tents do not offer much airflow and ventilations, they are not the best option for a summer camp.