Regardless of the type of four-wheeler you choose for camping, creating up a wonderful environment for car camping is essential if you want to enjoy your road trip. Both professionals and newbies are preparing to go when it is safe to do so by packing up and setting out on the open road. Are you ready? 
To make your upcoming car camping trip a success, check out these top car camping hacks and tips. Even if this is your first time car camping, your buddies will think you're an experienced pro.
TIPS FOR YOUR CAR CAMPING TRIP
The Ultimate Car Camping Survival Guide: Pack a Camping Bin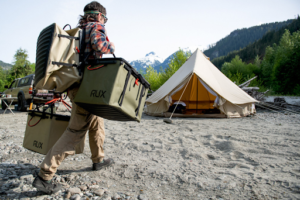 While having the necessities is fundamental for your car camping setup, keeping everything organized will enhance your experience. 
There are many such travel basics; it is simpler to keep everything organized if you have a sizable container to throw everything in. Put everything back where it was after using organized bins to store all of your car camping equipment in one spot. This package accumulates in our closet when we aren't camping. It is ideal for spontaneous travel; we simply throw it in the car and go. 
The critical feature of this camping hack for cars is keeping things arranged while you're traveling.
Elevate Your Sleep Experience with a Masterful Sleep Setup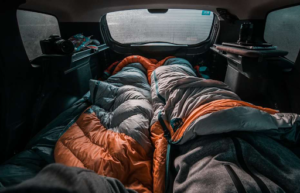 A good night's sleep contributes to a great camping trip. Don't ever assume that all you need is a space to rest. You can, in fact, sleep in the car seat for several nights, but over time, you'll begin to feel more drowsy when you get up and become like a sleepwalking zombie sleepwalking on the long trail. Undoubtedly you don't want to experience daylong back pain and sleepless nights, so the ideal option for your journey is an air mattress that is durable, comfortable, and portable. 
Cash is King for Small Town Adventures and Spontaneous Camping
Cash is usually a smart thing to carry on a camping trip, regardless of whether you're going to an advanced campsite or not. Although carrying cash seems unusual in today's world, the majority of our state and federal campground systems are still antiquated. You don't want to arrive at a far-off campground and discover that you are unable to make a booking. The likelihood is that there isn't an ATM nearby. So, keep in mind that cash is the king in your adventure kingdom.
The Power of Tiny Toiletries: Bringing Home Comforts on the Road
Perhaps you're not aware of it now, but one of the best car camping advice you can follow is to have the proper toiletries in the proper locations. Another helpful trick is to equip the entire car with hand sanitizer bottles with velcro to make it easier to access them. Toilet paper, hand sanitizer, a shovel, and wet wipes should all be placed in a compact bag. This is a simple kit to bring when you need to use, especially if it's late at night considering you probably won't be camping every night in areas with bathrooms.
Entertain Yourself with Music and Podcasts: Essential Car Camping Hacks
There's nothing better than indulging in great music and podcasts on a trip.  However, be sure to take a few minutes to choose a playlist that's perfect for you, or search for keywords like "music and podcast for a road trip", it is guaranteed to liven up the atmosphere and greatly uplift your mood.
Streamline Your Gear, Maximize Your Functionality
If you're going to spend the night in the car, remember to make smart choices and find multi-function for all your gear. Do you have a fork, knife, spoon, and other items? Packing multi-tool goods will save you a lot of room. Another excellent suggestion is to pack small storage items like pots and pans so they may fit together to save space.
Navigate the Coffee Scene: Find the Nearest Shops and Cafes with Free WiFi
Choosing a coffee shop's wifi as your primary source is a wise choice if you spend 5 to 8 hours there per day using wifi, it is to avoid running out of data. You can get the much-needed caffeine in coffee shops to fuel your caffeine addiction , socialize with other people and unite with coffee lovers, and spend significantly less each month on hotspot data, all while saving a ton of money. If you are in a town or camping, check the closest coffee shop. Purchasing coffee from local stores will also assist them in enhancing their businesses!
Clean Living on the Road: Research Shower Stops for a Refreshing Camping
Finding the closest showers is just as crucial as finding the closest coffee shop. You shouldn't skip your regular cleaning just because you're camping in your car. Truck stops, campgrounds with showers, and solar camping showers are a few convenient places to take a shower while traveling. and when cleaning gets out of control, sneak into hotels or gyms. 
Although most hotels with pools also offer showers near the pool, I wouldn't advise sneaking into hotels or gyms to take a shower because it's against the law. Nobody will confront you if you enter the space acting like you belong there.
CAR CAMPING HACKS
: SOME VALUABLE EX
PERIENCES
 Sleep Soundly with a Crack in the Windows
Breaking the windows at night will prevent the car from overheating, fogging up, and contributing to moisture buildup, which is the last thing you need. Although it seems like only a quick tip for vehicle camping, it is unquestionably a fantastic idea. For greater air circulation, a good advice is to open windows on the opposite side. The rear passenger window must also be opened if the driver's side window is opened.
DIY Privacy Curtains for a Cozy Car Camping Experience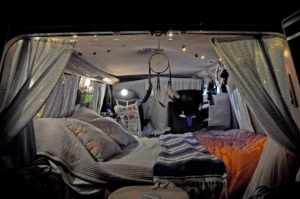 Bugs will surely fly inside your car when you open the window, especially if the lights are on. Cut a mesh the size of each window, add a magnet to it, and glue it to the outside of your car as a simple DIY camping concept. 
A powerful magnet will help keep your buggy screen in place during heavy winds because cars are composed of metal. In case it becomes uncomfortably hot, make one for each window. You'll be able to use it whenever you need to open the door.
Staying Hydrated on the Road: Don't Forget the Extra Water
Water may be used for a variety of purposes, including cooking, cleaning, and cooling your car in hot weather. It also helps you stay hydrated. Purchase a large water bottle rather than single ones to reduce waste and protect the environment. or even better, get a reusable plastic bottle and fill it anywhere you can, such as at petrol stations, theme parks, campsites, and so on.
 Stay Warm with a Portable Heat Source
The heat source can be anything, including a camping stove. A heat source can protect you on cold nights and be used for proper cooking. An excellent suggestion for cold-weather camping is to boil water, fill a heat-safe water bottle with it, and set the bottle at your feet in the sleeping bag. 
When possible, we advise cooking over a campfire or looking into ultralight stoves if you're wanting to maximize space and minimize equipment for your camping trip.
Light Up Your Nights: Essential Car Camping Light Sources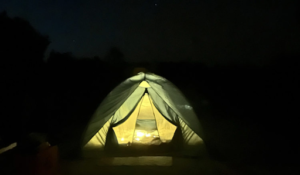 To see better in the dark, buy or borrow headlights, flashlights, or tent lights from your preferred brand. Please make sure that your luggage contains a spare battery or charger.
Outdoor Comfort: Bring Seating and a Hammock for Relaxation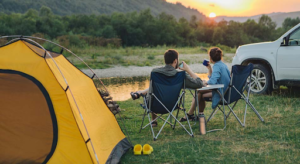 Many aspects of life in a car are discussed, but what about living conditions outside of a car? Without a doubt, you don't want to drive all of the time. That becomes monotonous and occasionally makes you feel a little cramped. 
Your location will be elevated and your car camping setup will be taken to the next level by setting up a lovely outside space with cozy camping chairs, hammocks, tables, fire pits, and other amenities. new peak.  Even while big camping chairs are a nice option, it can be more practical to go for something a bit smaller. Consideration should be given to folding chairs. 
Isn't it wonderful to have a spot where people may gather around a dining table or a campfire?
The Ultimate Outdoor Retreat: Don't Forget Your Tent
Even while car camping is fantastic, it can grow boring to sleep in your car every night. Additionally, there is no guarantee that a great campground with a river view will still be there when you return if you need to go into town for a few hours to work at a coffee shop. 
If you intend to spend at least three nights at a campsite, consider setting up a tent and an outdoor space to secure your area and have a more comfortable home in a few days. A foldable crib that is incredibly comfy and keeps you off the ground also feels more like a real bed.
Maximize Your Car's Space with a Cargo Box on Top
Roof storage bins fill up your trunk by providing twice the space for items you don't use frequently. Getting a crate is one of those car camping hacks that's worth spending the extra money on for individuals who live in two-person automobiles.
The Importance of a Foldable Camping Table
Sometimes you have to make an effort to park your car somewhere where there is a picnic table to dine in, or you are constantly searching for "counter space" to cook. It's helpful to have a table when you're in the middle of nowhere, there are plenty of nifty and super-small options that are well worth considering.
Embrace Solar Power: Your New Best Friend on the Road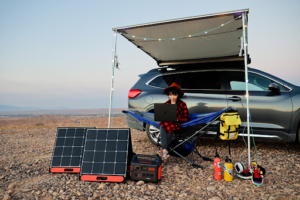 It wasn't until I tried to keep track of how many laptop, phone, and camera battery charges I required while traveling that I began to realize how much electricity I was using. It is a lot. 
But if you have to start your car each time you need to turn on your devices, you are wasting a lot of gas and stressing out your automobile, which will reduce its lifespan. Your laptops, cameras, phones, and other electronic devices can all be charged with the help of a solar bank that you purchase.
Keep Cool: Insulate Your Cooler for Fresh Food and Drinks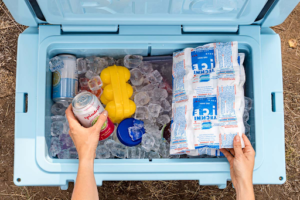 While I strongly advise purchasing a cooler with multi-day ice retention, you should insulate it once more by covering the cooler with an insulating material (like a window shade or a pool cover). Then, you may extend the life of your ice for a few extra days by taping or gluing everything together. One of the suggestions for vehicle camping that can end up saving you a ton of money is this one. 
Despite the rubber material that helps to seal multi-day ice retention coolers shut, heat will still seep through those tiny pores and melt the ice more quickly, especially if you're like me and keep your cooler in your backyard.
DIY Camping Table: Essential for Meals on the Road
You'll have to cook, work, and unwind a lot if you live in your car full-time or just go camping on the weekends. I need to make sure that my camping table is equally suitable for use as a cooking counter, desk, and surrounding gathering area. 
A folding table, a roll-up camping table, or a homemade version using your trunk as one of its legs are all options. Make a DIY camping table; there is no right or wrong way to do it.
Navigate Offline: Download Google Maps for Peace of Mind
Downloading an offline version of Google Maps before you leave is one of the finest tips for car camping and everyday life. 
When there is no cell coverage, you can travel to your location using offline maps, which remain on your phone for 30 days. There's also a good likelihood that many of the places you're traveling through won't have any service at all if you're vehicle camping. 
You can download the navigation for a full state, a whole country, or just the general area of the route you'll be taking most frequently.
Stay Safe: Let Someone Know Your Route Before You Hit the Road
You have to let others know where you are at all times. Making sure someone is aware of your location, whether it be your parents, friends, or coworkers, can assist others find you if something horrible happens. 
The likelihood of something terrible happening is remote, but the same logic applies when letting someone know which hiking trails you're on or while logging at a trail's summit. Someone will know where you are in the common area in case you sprained your ankle and need assistance.
In Conclusion
In conclusion, these easy car camping hacks serve as essential tips for beginners, empowering them to make the most out of their outdoor adventures. By implementing these clever strategies and utilizing the provided tips, novice campers can enhance their experience and ensure a smoother and more enjoyable journey.
From packing efficiently to setting up camp with ease, these car camping hacks offer practical solutions to common challenges faced on the road. With a little preparation and the right knowledge, beginners can embark on their car camping journeys with confidence, ready to create lasting memories in the great outdoors.