Welcome to our comprehensive guide on camping lighting ideas, where we explore creative ways to enhance illumination for your campsite. Whether you're a seasoned camper or embarking on your first outdoor adventure, having the right lighting is essential for creating a cozy and functional atmosphere. From lanterns to string lights, we'll provide you with a range of innovative ideas to ensure your camping experience is filled with warm and inviting illumination. Get ready to transform your campsite into a magical haven with our camping lighting inspirations.
Camping Lighting Ideas: Book Lights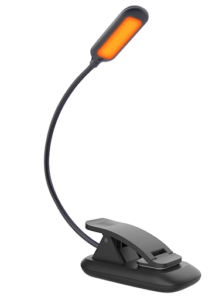 Imagine you want to cozy up in your sleeping bag with a nice book at night, but you don't want to wake up your tent mates by turning on your lantern. Good news! The book light is your savior. 
A high-quality book light can provide a suitable brightness level for reading without disturbing other campers. You can easily direct the light source toward the wanted pages, so your eyes don't have to strain harder to read words in the dark – which can help to prevent dried eyes. This also minimizes any uncomfortable mistakes like accidentally shining a bright light into your friends' eyes when they're trying to sleep. 
Furthermore, you can switch between white and dimmable amber lights, which are blue-light-free, to help you sleep soundly in your tent at night. The light attaches to any book or e-reader and features a fully adjustable gooseneck for the best reading experience. It's a literary accessory worth getting
Camping Lighting Ideas: Fairy Lights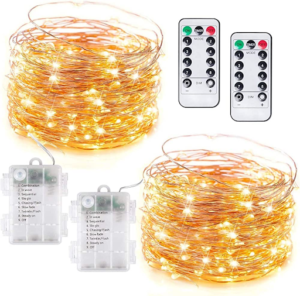 String lights, also known as fairy lights, are a surprisingly simple yet effective way to transform your tent into a cozy, romantic, and well-lit place.
They provide soft brightness with various colors which can lull you into a peaceful sleep. They're also highly packable and easy enough to set up without fear that they'll damage your tent.
Besides hanging them up in a tent, you can turn a roll of fairy lights into a mini lantern. Turn on the lights, place them in a plastic water bottle or glass jar and then place the container on the ground. That's all!
Camping Lighting Ideas: Solar String Lights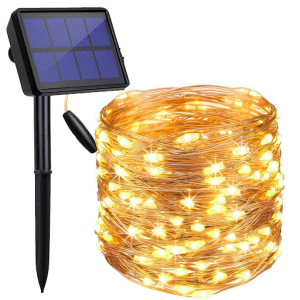 We have fairy lights on the inside, how can we forget the outside? You'll need an energy-saving and waterproof option in this case. Look for solar-powered string lights! 
Solar string lights might be a little bit more expensive than other types of string lights. In return, it can light up a large outdoor area using free solar energy during the day. And it stores the energy in the solar panel to last up to 10 hours at night. – You won't get stuck with dead batteries! 
If you're planning a party, it's one of the most festive campsite lighting ideas. Hang from trees, around the picnic table, or drape around your tent; they all create a fun atmosphere at the campground.  
Camping Lighting Ideas: Corded String Lights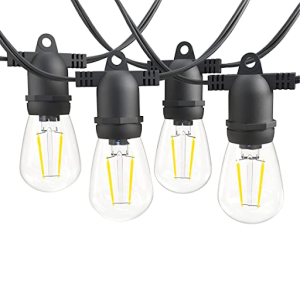 If you camp on a hazy day when the sunshine isn't as expected, meaning you can't rely on solar energy, consider corded string lights if your campsite has electric hookups. 
The light will be supplied continuously as they are plugged into an electrical outlet. Its apparent weakness is that, unlike other string lights, it cannot be placed in various locations. In the worst case, when the campsite loses power, you can't use them to illuminate the path or do other things like using a flashlight.
Camping Lighting Ideas: Rope Lights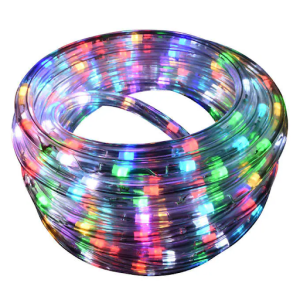 We suggest the rope lights if you're looking for lights that don't easily tangle. 
They can surprisingly brighten pathways after the sun sets. Tripping dangers may be avoided since the "rope" keeps the lights from snagging on each other and causing a mess.
They're also waterproof, so you can hang them around your campsite or in your tent, or put them in the bag and light them up to use as a lantern. The lights are powered by a battery pack, which you most likely already have for your other gadgets. However, if you believe it will be difficult to find a recharging location, you might get a solar-powered battery pack. 
Camping Lighting Ideas: Motion Sensor Lighting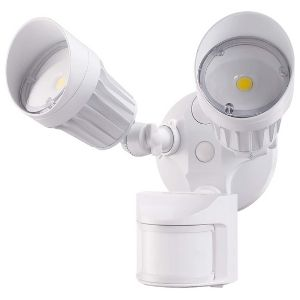 Consider motion sensor lighting if you only want campground lights when you need them. Wrapping them around posts, trees, or anything else at your campsite, and you won't be easily tripped in the dark when going to the bathhouse or anywhere else in the middle of the night. 
Use them cautiously to avoid disturbing other campers as they are really bright. And since the light turns on automatically when this sensor detects people, motion sensor lights assist in safeguarding your tents from burglars.
Camping Lighting Ideas: Glow Sticks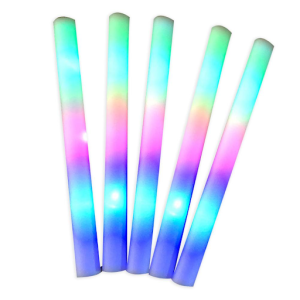 Sometimes you don't see things in front of your tent or on the road, causing you to trip. Glow sticks don't actually give much light, but they help provide a soft light that can draw attention to all the tripping risks or anything else that appears out of nowhere, especially in the dark. Attach these with zip ties to your tent's guy lines and, in some instances, the picnic table's sides. A pack of 300 glow sticks can last for an entire camping season.

Camping Lighting Ideas: Disk Lights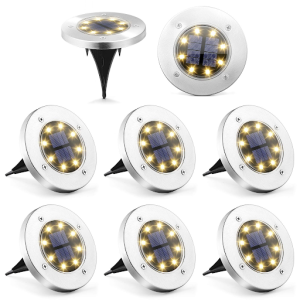 Disk lights are disk-shaped lights mounted horizontally or vertically on a surface or staked into the ground.  
Solder disk lights have the significant benefit of needing only sunshine to function. These are charged by sun energy using an integrated solar panel, and their batteries may provide up to ten hours of electricity for illuminating an LED bulb. When there is no electricity, it is always a good idea to have solar-powered lighting.
Depending on the model purchased, various features come with a disk light, such as on and off switches, color change, and the function to dim the lights.

Camping Lighting Ideas: Solar Torches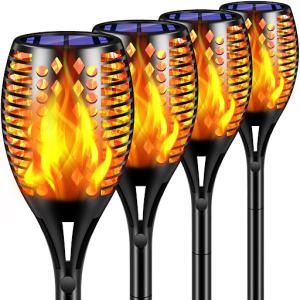 If you want to give your camping design a freshness, a set of solar torches should be considered. 
This set includes solar-powered torches with built-in stakes that can be put about your campground to create a more homely atmosphere. You can use these lights to light up the path from your tent to your  cooking area, so you'll find the way more easily when walking around camp at night.
Plus, they automatically turn on once it gets dark and off during the daytime, so you don't need to worry about adjusting your light settings while in camp.

Camping Lighting Ideas: Flameless Luminaries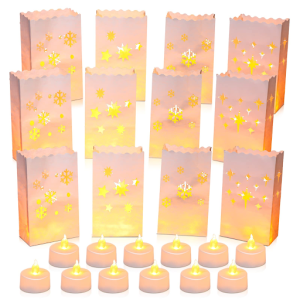 Luminaries are popular at specific events all around the world, and they can also make an excellent decoration to any campground. 
They're adorable, simple to use, lightweight, packable and completely safe. They provide the same wonderful shimmering light that many of us like, as well as an aesthetic touch to brighten up your tent.
Although we have a traditional option of placing a tea light or candle inside a decorative paper bag, this offers a fire hazard. And additionally, it holds up longer than regular decorative paper bags in wet weather. Therefore, flameless luminaries will be an ideal alternative. 
Camping Lighting Ideas: Battery-Powered Tea Lights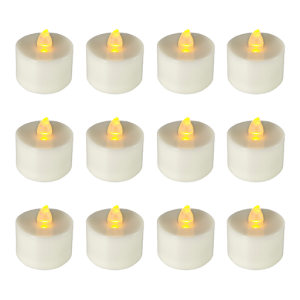 You're addicted to candlelight yet terrified of fire? Don't worry. Battery-powered tea lights are here to save you. 
These flickering, realistic-looking battery-powered lights perfectly simulate the glow, shape, and appearance of candles. They just give the same level of comfort without the risk of a fire. If you're feeling crafty, you can make your paper bag decorations and fill them with tea lights to create a warm ambience.
Besides, you just need to recharge the batteries with a remote and then reuse them over and over, while the real ones might melt within a few hours!
Moreover, you have a bunch of options in terms of sizes: from tea lights to regular candles to Christmas tree candle lights and more. 
Camping Lighting Ideas: BugLit Micro Lights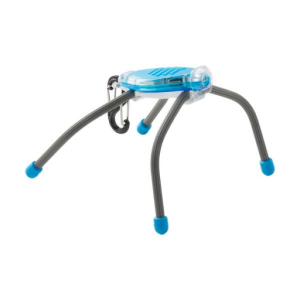 Don't let its cuteness deceive you. The BugLit is a actually powerful light equipped with adaptable Gear Tie legs. The flexible legs can be wrapped to keep the light in position wherever you need it, and the fully featured light has four settings and can illuminate up to 50 feet ahead.
You can use this little light as a book light, too. Clip it on the book or your shirt, or place it on your stomach and see how nice and bright it is while reading. You don't need to adjust it like with clip-on lights constantly. It can last up to 10 hours on the highest settings and up to 22 hours on the lowest settings.

Camping Lighting Ideas: Vintage Candle LED Lantern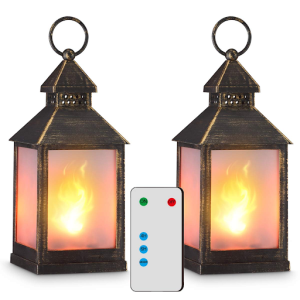 You may want vintage lanterns for a different aesthetic vibe among many types of battery-powered lanterns. 
Those lanterns have the appearance and feel of something out of a Harry Potter or a Victorian shop. If you camp on special holidays, such as Halloween or Christmas, you can hang them on a tree or arrange them on a picnic table to add to the antique ambience, especially when it is dark.
They come with a remote control, allowing you to modify the lanterns to your preferences: steady light or flame mode.

Camping Lighting Ideas: Collapsible Solar Lanterns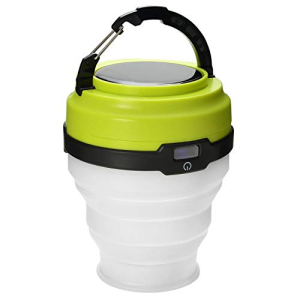 Collapsible solar lanterns are a great portable light source for camping and backpacking, especially perfect for areas having no electrical grid or a reliable electricity supply. You don't have to worry about wires getting in your way because they can be hung or positioned on any flat surface. These lamps are also durable, but in some cases, they can still be punctured. And if you don't remember to set them out to charge, you're going to be out of light for the night. 

Camping Lighting Ideas: Mini Kids Camping Lantern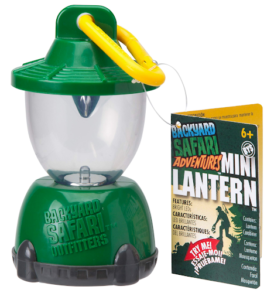 Camping with children may need more planning than we think. And here's something for our mini-cute campers: Backyard Safari Mini Kids Camping Lantern. It's a 5-inch tall, LED light lantern that runs on 3 AAA batteries. This cool camping gear has a carabiner clip for hanging the kid's camping light from small backpacks, tree branches, tents, and other places. Overall, it is functional and looks like authentic camping gear but has a cute, kid-friendly touch!

Camping Lighting Ideas: LED Camping Lantern With Ceiling Fan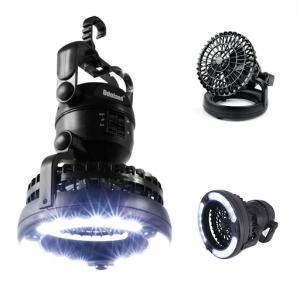 Are you finding a solution for camping in the hot summer? Then, you can get a 2-in-1 gear with a tent light and a fan.
The LED camping lantern with a ceiling fan is weather resistant so you can use it even in damp conditions. A set of batteries may supply up to 37 hours of illumination via its 18 LED tent lights, which are low-powered yet highly luminous. The fan has two speed settings: low and high. Thanks to the design, it can be a standing fan or a hanging fan. 

Camping Lighting Ideas: LED Baseball Cap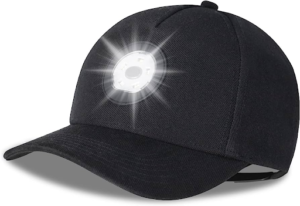 Have you ever wondered if you can wear a baseball cap to sunshade during the day, so what if its usefulness keeps working when night falls? Then, a LED Baseball Cap is what you're looking for. 
Four LED lights are built into the brim, giving you a viable lighting source when it gets too dark. In addition, the cap light emits beams that produce 48 lumens of light, providing plenty of illumination in dark and dimly lit places. They can replace the headlamps in some cases, but with no clunkiness.
This product has different materials available (e.g. 100 percent polyester, ventilated nylon, cotton twill, etc.) so you can match your preferred feel. 
Camping Lighting Ideas: Night Runner Shoe Lights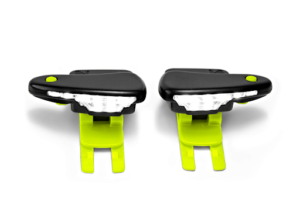 If you're the type of runner often caught out on the road after dark, you might agree that more light is always better regarding personal safety. And the Night Runner shoe lights can be a significant supporter along with other lighting gear.  
You'll attach these gadgets to your shoe laces and use them as headlights to find your way when the sun goes down and to be more noticeable to others. 
Those compact lights have two brightness settings, and a strobe mode which serves as an attention-getter and a battery life indicator. It's time to recharge when that light starts blinking. Their battery life is decent, in which on the lowest setting, they can light up to five hours, while on the highest illumination level, they last around 2.5 hours.
Camping Lighting Ideas: LED Headlamp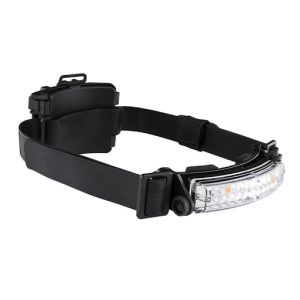 Let's go back to something traditional – an LED headlamp. Compared to other bulbs on the market (e.g. halogen), the LED bulbs used might cost a little bit more, but they are more energy-efficient and last longer. LED headlights also create less heat while producing brighter light since they emit white light rather than the yellow light provided by halogen light bulbs.

Camping Lighting Ideas: Firebowl Portable Fire Pit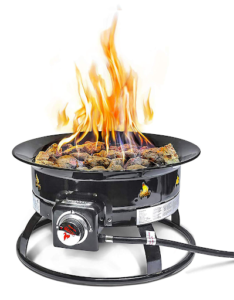 A portable fire pit is an excellent alternative if you want the warmth from the light of a fire but are afraid of fire hazards. To use this product, you need a large propane tank. Once connected, you may use the auto-ignition system to start your fire.
This package frequently includes a set of lava rocks, which can produce the flickering fire that comes with a wood-burning flame. It's also simple to set up and take down, so you don't have to worry about putting out your fire at night's end.
However, be careful with local fire ban regulations. Check the camping rules at your selected destination, as some may have fire prohibitions.
In Conclusion
Discover a variety of innovative camping lighting ideas to elevate the illumination at your campsite. From lanterns to string lights, our guide offers creative ways to enhance your outdoor experience.