Desert camping has become a trend for the campers who wish to experience the sense of adventure and push themselves to the limits. Deserts are so powerful and majestic to visit and camping in the desert gives us the utmost feel of being alive and existent, even higher than camping in the forest. But desert camping always requires good preparation that will protect you from serious problems, or even the death. Here's the ultimate guide on how to go camping in the desert, handy tips to live on a sandy field for several days and some of the best places for a wonderful desert camping trip.
Why Should You Be Down For Desert Camping?
It's worth it! In case you are still not convinced by spending some of your nights in a hot "sandy pan", that's the answer. If you are an avid camper who wants to immerse yourself into nature and get the unique experiences when lying inside the tent, gazing at the starry night skies surrounded by an enormous space, desert camping is a must-try.
Though experiences are indescribably strange and worth your investment, safety is the top priority, and absolutely you should be well-prepared for any scenario when you go camping in the desert. These are the tips that every desert camper should bear in their mind before heading out towards the dunes.
Desert Camping Precautions for Your Safety
Everybody knows that the desert is not a gentle place. It can be a harsh environment that causes you a lot of troubles and shortages, if you go there without a good deal of preparation. If you know what to bring with you and take these precautions seriously, you can make desert camping as comfortable as other places.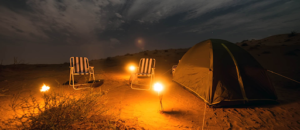 One of the biggest challenges of camping in the desert is hyperthermia (or heat stroke). Keeping yourself from the exposure to excessive heat to avoid heat stroke is important advice. Prepare suitable clothes to keep yourself from the sun and stay hydrated by drinking enough water. It's always a great idea to pack more water for your desert camping trip. Decrease the water loss by trying to breathe through your nose. Avoid fatty foods because they require your body to take more water to digest. 
Desserts are majestic but that can make it easier to get lost. Keep in hand a good map or GPS when traveling in the desert to avoid being disoriented to your campsites.
What to Prepare for Inclement Desert Weather
The biggest concerns for most desert campers will be the harmful sun's rays that can damage your skin and eyes because there's hardly any shaded places in the middle of the desert. A sunscreen with high SPF, a big hat with a large brim along with a pair of UV-filtering sunglasses are essential needs.
Some may not know that the sun and heat are not the only things you should concern when camping in the desert. The discrepancy in temperature between day and night up to 40 degrees is also a big deal. Thus, bringing many layers to keep your body warm at night and cool during the day is a must when packing for your desert camping trip.
Preparing for the fatal desert storms is also a very important thing before camping in the desert. Make sure you find a good place to camp to prevent your tent from being washed away by the sandstorm.
Finally, you'll need to take your car to the mechanic shop for a thorough inspection before your camping. A high-performance car with big wheels, high ground clearance is a must to drive in the desert. Being stranded by car failures in the middle of the desert is surely what you never want to face.
Desert and Wildlife Camping
Although deserts do not contain as many species as a rainforest, they are home to some of the most dangerous animals and reptiles. A desert rattlesnake, for example, often blends itself to the surroundings to manage its body heat and you can barely spot it.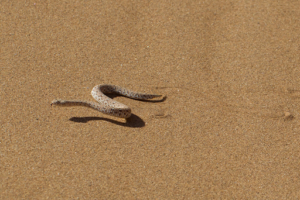 However, it's also interesting to watch these animals in the wild. Since daytime heat is powerful, most of the desert animals are nocturnal. But you can see the rabbits, prairie dogs and even coyotes in late evening or early morning. You can see more birds and reptiles during the daytime. Although some desert mammals and reptiles can be dangerous, they are mostly gentle unless they are attacked.
Wearing long pants is advisable for a desert camping trip. You won't want a bite in your leg by a rattlesnake, coral snake or a copperhead. If you know that the destination you are heading to is the home to many types of snakes, you'd better bring a snakebite kit with an extractor bump for venom removal.
Before You Go, What Should You Know About Desert Camping
It's not always hot
Most people picture the deserts as the searing badlands and it's true. However, they should be shocked by the temperature decrease at nightfall, from baking to chilling and even freezing in the desert. When camping or hiking in the desert, packing for the temperature swings is the campers' best interest. You'd better bring sunscreens but don't forget some beanies and thick socks. Make sure you choose a good tent for camping to keep you cool inside at day and warm enough at night. 
Water Is Essential, Literally
Water is essential, water is life. Desert is mostly dry so before departing for your trip, make sure you've prepared as much water as you can. Finding water sources along the route is also a good idea. Whichever the way you choose, you need to drink enough to prevent your urine from turning to yellow. Drink at least 3-5 quarts of water per day when camping in the desert is advised. Take small sip regularly during the day rather than chugging a big mouth. 
Know Your Route
Getting lost in the desert, again, will be a big fear. Some deserts have no designated ways, just you with the sun above and the sand underneath but some located in highly-trafficked national parks which get a lot of trails and signs so don't be too nervous by the hyperbole of the Hollywood movies. Still, keep a good map, compass, GPS and a well-covered cellphone with you during the desert camping.
Be Careful with What You Found
The desert environment can be harsh, as mentioned above, but it's also one of the most delicate ecosystems on Earth. Therefore, taking extra care of the local flora and fauna is important. Don't stomp in the rattlesnake burrows (unless you want a bite) or hang hammocks on the trees (which are intrinsically sensitive). 
Learn From The Animals
The desert animal that we try to avoid can come to impart important lessons. They are often more active at night to avoid being exposed to the sun's heat. For that reason, it's smart for the campers to conserve their energy in the daytime to enjoy the experience more clearly and delightfully. Who wants to see the starry night when you've already exhausted by hiking all day under the heat?
Of course, Protect your Tent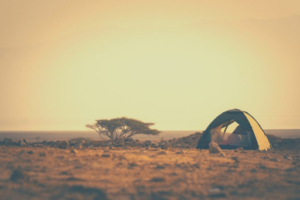 The tent will become your home when camping in the desert. It helps prevent the sun's heat and cold from reaching your body but thin and lightweight tents can be washed away by the strong desert's winds. Place your tent in a shaded spot and cover it with tarp so that winds can't blow and the sun rays can't go in as much as possible.
Protect Sensitive Gadgets
If you want to record your memories during the desert camping trip, hi-tech gadgets need to be protected from the sand. Make sure that all the electronic gear like cameras, drones, battery charges, etc. are far from sand and mud. It's smart to store them in zipper bags or waterproof stuff sacks. 
The Best Desert Camping Destinations
There are a number of places for desert camping that you can go to. Here are some of the most favorite desert camping destinations that you can add to your desert-camping bucket list.
1. Sedona Desert Camping in Arizona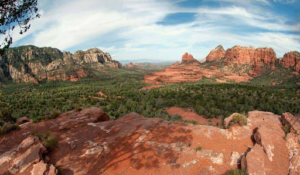 One of the famous camping destinations in the Southwest is Sedona desert camping in Arizona. The best months to visit here are in October-May. A standard SUV should be a good choice as you'll need to drive through the dirt rocky roads. 
2. Alabama Hills in California: Southwest Camping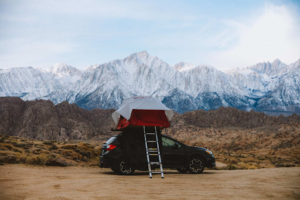 The Alabama Hills in California is another Southwest camping option that would give you stunning views of the rocks and mountains of Mount Whitney. It is located outside of Lone Pine, CA. It's preferable to go there in Spring and Fall to avoid the too-hot summer and too-cold winter. As the Alabama Hills get a lot of dirt roads, a standard SUV with clearance is again a good vehicle to opt for.
3. Trona Pinnacles in California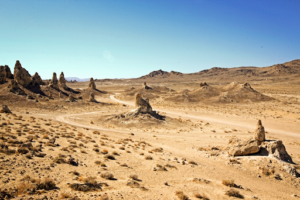 The Trona Pinnacles are located in California Desert Conservation, where will make you feel like you are on a different planet.
Like the above two destinations, free camping is offered here. The best months to camp here are in October-May as the summer temperature is too high. You'll enjoy the Tufas – 500 spires of calcium carbonate that range in sizes and heights. Since it's the area of sand, a standard sports utility vehicle is advised. 
4. Alvord Desert in Oregon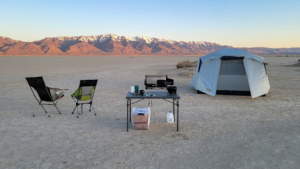 If you want the feeling of being in the middle of nowhere, you can choose to camp in the Avoid Desert. It's close to the Steens Mountain located in Oregon and comes with one of the largest playa lakes in the state. It's better to visit this place in the summer to fall if you don't want to get stuck in mud in springtime or freezing snowfall in the winter time. Still, a standard SUV clearance is advised. 
5. Red Rock Canyon in California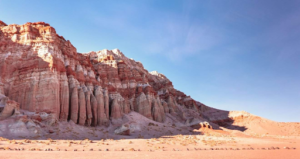 The Red Rock Canyon in Southern California is a good place to camp, though it's one of the most underrated State Parks in the region. You will be amazed by the stunning Red Cliffs, Hagen Canyon and desert camping. The campground has 50 primitive spots with no reservation system. The best time to come here is in spring and fall. Any means of vehicle can access this lovely place.
6. Death Valley National Park in California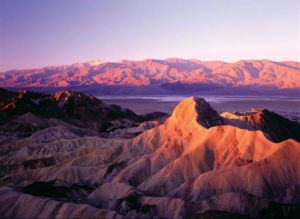 The Death Valley gives you a sense of adventure when camping on it. It has much more than just the sand dunes which is, by the way, literally scenic. It gives more pleasure to go there from October to April to feel the ideal weather. No fires are allowed in this place so keep that in mind. The campsite is at least 1 mile away from the main route. The favorite attractions are the Artist Palette, Dante's View and Zabriskie Point.
7. Joshua Tree Camping in the Southwest of California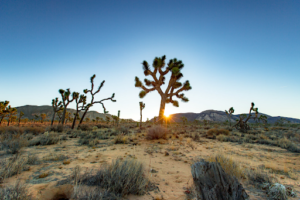 Joshua Tree Camping is a classic camping destination in the Southwest of California. Enjoy the magic sunsets in the attractions like Skull Rock, Arch Rock and Cholla Garden if you are planning to stay here. The best months to camp here are Spring or Fall.
8. Factory Butte in Utah
Prepare for the wonderful sunrise and sunset if you are planning to visit Factory Butte in Utah. There are dirt off-shoots from the main road so a standard SUV is a good choice to access this place. The best months to camp in Factory Butte are Fall and Spring for the best weather.