Why Do We Need The Best 10×42 Binoculars?
When the binoculars was invented, its mere magnification of distant images was enough to make it tick. Today, you can get such a binoculars for almost close to nothing.
However, the binoculars technology has improved immensely since the days of the paper binoculars. That does not mean each and every bino out there will offer you what you pay.
10×42 binoculars are the most commonly used binoculars, which can be easily used by beginners. But also, 8×42 binoculars are also good binoculars for beginners, so if you are curious about the difference between these two binoculars, the article Binoculars 8×42 vs 10×42 – Which One Better? is for you.
It is with that in mind that we wrote this review to help you make the best buy. Read on to learn about the top features of the Best 10×42 binoculars or the Best Image-Stabilization Binoculars.
Venator 10×42 – Best 10×42 Binoculars Review
We love Upland Optics products, so it was exciting trying out their new high-end binos.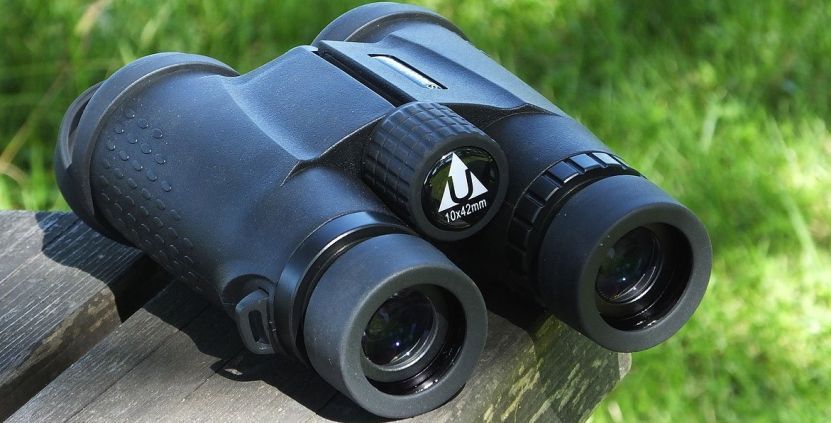 They recently released Venator 10×42 binoculars are much more costly than their best selling Perception HD, but its price is worth it overall. First, we'll look at the optics.
42mm objective lens, 10x optical zoom
114 m field of view (FOV) at 1000m
Eye relief, 15mm
Fogproof and waterproof
Comes with a carrying case, neck strap, lens cap and lens cloth
Weight: 1.5 lbs
Dimensions: 5.5″ x 5″ x 2″
Through its, Extra Low Dispersion Glass, which is top-of-the-line, the Venator 10×42 provides users with the highest quality optical clarity. It means no matter the situation, what you'll get is exceptional clarity, meaning you can expect fantastic visual experiences in any event, for example, birding excursion and hunting.
The Venator 10x42mm Binoculars has a high-quality build, that's in addition to its ED glass upgrade. You'll feel the solid durability of its body and the attention to detail when holding this device in your hands. One thing we love is the texture of the rubber on its body and the thumb grips- they don't feel similar to a pair of binoculars that will slide out of your hands when the weather is wet or cold.
They are sturdy, and if they happen to tumble out of your pack or hands, they will most likely hold up. The design of the Venator 10x42mm is open bridge, meaning it reduces the device's overall weight and lets it have an elegant and sleeker design when you compare it to low-cost single-hinge binoculars.
Technically speaking, this Venator Binoculars offers you a higher percentage of light transmission, meaning more light is allowed into the binoculars. When in low light conditions, you'll find this feature to be excellent. Its upgraded glass is of improved or higher technology than other models.
It also has advanced lens coatings (proprietary) for supreme anti-fog, anti-reflection and other technologies. That makes them very high glass quality with purposes beyond precision and clarity.
The solid design and high-quality glass mean that the Venators are designed to withstand extreme weather conditions. They are the type of binoculars that you'll want to have during a long hunt in extreme or inconsistent weathe
Why Choose the Venator?
The Venator has a lot of things that you'll love. However, you need to keep in mind a few things.
Fantastic Optics: The Venators offer you lots of top of the line optical technology, meaning they blow a lot of competition out of the water.
Solid and Superior Build: You can take your Venator on any outdoor excursion without having to worry whether they can handle the fog, cold, wind, heat or rain.
Lifetime warranty: Very few companies can stand behind their binocular's for a lifetime. However, Upland provides customers with a lifetime warranty for all their products, which is one huge thing.
The price is worth mentioning here, since it's both an advantage and a minus. In terms of competition, it's difficult to talk about the Venator, since not many binoculars are available at its price, period. It's hard to know what its price might be if Upland was to be sold in physical stores.
They keep their products' prices low by selling them online only, but it's honest to say that this pair can save you several hundred dollars when you compare it with competitors' that sell their devices for over $1000. Bottom line? The Venator provides you with an option for a high end feel at a friendly price.
Keep in mind there are some cons to discuss as well, which may or may bot bother you. It will therefore a be a good idea to consider them as well.
Weight: The Venator may be lightweight, but some users may find them a bit heavy.
Focus wheel tightness: For some users who are a bit focused on the details, the focus wheel may feel a bit tight when adjusting it.
Price: Though it may be one of the Venator's selling points, some buyers may find these binoculars to be on the higher side, meaning it may be out of their budget
If you're searching for an excellent pair of high-end binoculars, the Upland Optics Venator 10×42 should be among your top options. For a device that costs you such an amount, its optics technology and construction make them a pair to beat. Check them on Amazon if you want to know the current price.
The Best Image-Stabilization Binoculars of 2023
Nowadays, it looks as if for every situation, you'll find a pair of binoculars that offers you some top-of-the-range technology, sometimes infused within. Among other things, users have seen the rangefinder binoculars, but one lesser-known type of binos s is the image-stabilization binoculars.
Among camera enthusiasts, one very sought after feature is Image stabilization. They include those who own SLR and DSLR cameras. If you need more guides and information about the SLR and DSLR cameras, you should check out Bokeh Hub. Everyone wants their binoculars to transmit the best quality images to them, no matter the weather conditions.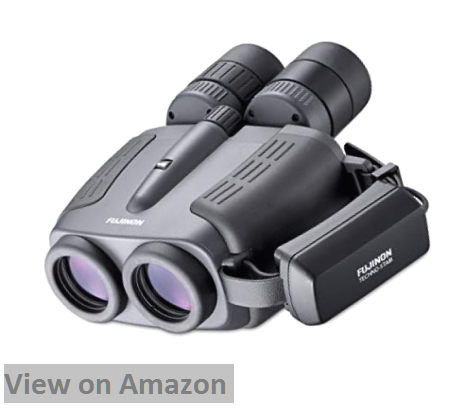 The majority of binos will provide some impressive job on their own. However, the image-stabilization binoculars will provide you with some of the best quality non-shaky images you can ever get.
Below we look at some of them:
i. Fujinon
When it comes to producing polaroid cameras and polaroid film, Fujinon is well known. Their entries into the IS-camera market have been well met. Let's look at what makes it tick.
14x40mm
Compared to the average user's binos, the 14x40mm pair of binos is more rectangular but at its left side is a hand grip that allows you to handle them with ease.
They come with 5 degrees of stabilization, which refers to the level, which the device's lenses operate in order for them to stabilize the image.
Advanced cameras use degrees of stabilization with utmost importance, especially in the case of filming. The ability of the Fujinon 14x40mm to display images in the far distance with maximum image quality stability has made it receive rave reviews.
12x32mm
Fujinon also makes a 12x32mm version that has 3 degrees of magnification. You can check out the upcoming 12x28mm version.
Canon
Canon is well known as a camera maker, which means it's a surprise that they have several numbers of image-stabilization binos.
10x30mm
The 10x30mm is the most popular Canon model of IS-binoculars. Its different from other binos such as Fujinon's since it has elongated eyepieces. These eyepieces flatten images on your vision's edges, the result being the elimination of blurriness that occurs commonly with other binos.
The 30mm lenses use similar IMAGE STABILIZATION TECHNOLOGY, which you will find on Canon's range of EF lenses that go on digital and SLR cameras. This technology is powered by a battery and is ideal in conditions, which can last over 8 hours. In extreme conditions such as below freezing temperatures, we don't recommend taking these, but they can operate for around an hour.
Canon really went all the way with these binoculars, and it's no surprise that they are popular. Below are other sizes of image stabilization binos offered by Canon.
12x32mm
18x50mm
12x36mm
10x42mm
ii. Zeiss
In the binos market, Carl Zeiss binos may be among those with the highest price tags. However, you'll get the value of your investment from their unmatched image handling and quality.
20x60mm
On our list, the 20x60mm pair of binos is most certainly the most powerful and biggest. These long eyepieces and 60mm lenses make sure that you're viewing animals and objects in the distance and your lenses edges.
These binos provide you with the power to "lock in" an image as you look through the lenses. For outdoor users such as birders, this feature will really appeal to them. That's because they need their binos to be very stable as they analyze the avians' features.
The 20x60mm offers users high magnification, making them ideal for nighttime viewing as well. Some people have even used the 20x60mm for spotting starts at night before achieving a closer look using a telescope.
Design
These lenses' construction process makes the binos' overall design to be quite different than the average pair of 8x42mm or 10x42mm. They look quite similar to rangefinder binos but in the end, are made with stabilization and image quality in mind. The lens sizes aren't the usual size one can find when browsing for typical binoculars, however, the good thing is getting even better and quality images.
These binoculars' technology is still very new, and you'll find out that the market doesn't have many of them. Another thing is the ones available will cost you some significant amounts of money.
Beside their above-average image stabilization benefits, these binos share similar characteristics, which apply to all binos:
The bigger the lens are, the more light which will be gathered
The higher their zoom, the more focused an image you'll get
Should You Buy the Best 10×42 binoculars with the Best Image-Stabilization?
Well, yes, but you need to pay for the advanced features. And it is worth it if you need the best images and do not wish to strain your eyes. Overall, there are several features to consider when buying a binoculars. The magnification, field of view, and weight are the most basic.
Features such as image stabilization are premium features, that help you to get the best images under low and high light conditions. We hope that you found this review on Best 10×42 binoculars and Best Image-Stabilization Binoculars to be informative, and you will enjoy your next adventure.