Let's explore the greatest beach camping spots around the Southern California coast. Enjoy the cool sea breezes, crashing surf, and warm nights over the campfire. With beachfront hotel prices skyrocketing, beach camping is an enjoyable and affordable vacation option.
Jalama Beach County Park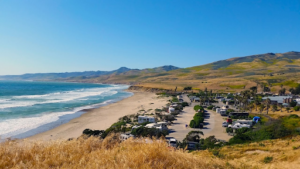 Jalama is the ideal beach camping in Southern California if you're searching for a secluded beach with breathtaking Pacific Ocean sunsets. It is remote because Vandenberg Air Force Base and private property surround it. Do not overlook Amtrak's Surfliner train, which travels down the coast on tracks from outside the park. 
Find one- and two-bedroom cabins for rent along with tent camping, RV, and day use sites. For $30 a night for a basic site, and $50 for a luxury site. The nightly rate for a cabin is $190. There is a bathhouse at Jalama Beach with flush toilets and hot showers ($). You may get everything you need for camping at a nearby store or stop by Jalama Beach Grill for a meal.
Located around 45 minutes from Lompoc at 9999 Jalama Road. 
Gaviota State Park Camping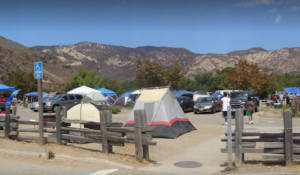 Gaviota's coastline is filled with a variety of intriguing elements, including the pier and the train tracks that cross Gaviota Creek. Search the Monterrey rock formations on the beach for fossils while exploring. At Gaviota State Beach, there is also a boat crane. 
RV internet is not available while staying at Gaviota, however, there are showers. This park also features a rustic hiking campground, and all sites cost $45. 
On Gaviota Beach Road, 17620. 
A town in the Santa Ynez Valley with Danish influences, Solvang, is close by.
El Capitan State Beach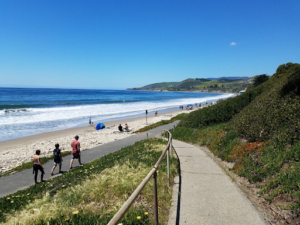 El Capitan State Beach lies on both sides of U.S. Route 101, west of Santa Barbara. The park is home to El Capitan Creek as well, therefore, it is abundant with trees, particularly sycamores and sycamores. Oak. 
A sandy beach, rocky cliffs, and tide pools can all be found at El Capitan. Interpretive programs are also provided by the park ranger. 
Despite the presence of showers, the campsite doesn't cut off any RV connections. Camping sites cost $45 per night. 42 feet is a generous length for an RV. 
Located 17 miles west of Santa Barbara at exit #117 off of US 101.
El Capitan Canyon Resort
El Capitan Canyon Resort has fantastic views of the coast and is just a short stroll from the beach despite not being placed immediately on the beach. Safari tents, Cabins, and Yurts are available as lodging options at El Capitan Canyon Resort. Imagine that you are going camping, and all you have to do is pack your bag. 
The resort's location east of Highway 101, far enough to prevent you from experiencing the whistles of Amtrak Pacific Surfliner trains as they travel up or down the coast, is a fascinating feature.
Refugio State Beach Camping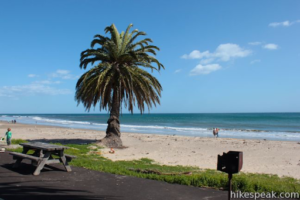 Refugio is a well-known beach as it has palm trees lining the white sand. The towers are also watched over by lifeguards from Memorial Day through August during the summer. During the summer, lifeguards also lead kayaks on trips. 
Despite having showers, Refugio only allows dry camping, therefore there is no RV hookup. Even those with a view of the beach are only $45 per night. The RV length restriction is 27 feet. Additionally, Refugio State Beach provides rustic camping for hikers. 
Located about two miles west of El Capitan State Beach at 10 Refugio Beach Rd.
Carpinteria State Beach Camping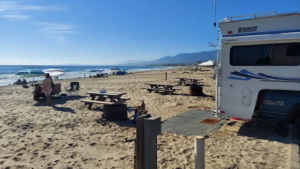 The Civilian Conservation Corps created the park after it was initially donated in the 1930s. There are numerous tide pools and a mile-long beach in Carpinteria at low tide. In Southern California, the beautiful seaside town of Carpinteria offers easy beach camping. 
Vehicles greater than 19 feet are not permitted at the Beach Row location in the San Miquel Loop at Carpinteria State Beach. There is a shower in the bathroom at Carpinteria. The rental price for a basic campground is $45; for deluxe coastal sites, it is $60. A night of RV connections costs $70. For all campsites, an RV cannot be longer than 35 feet. 
Situated in Carpinteria at 205 Palm Avenue.
Hobson Beach Park – Ventura County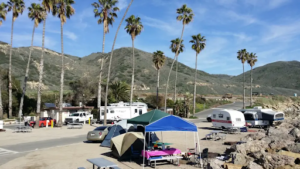 There are 29 campsites in Hobson Beach Park. 13 to 28 are situated right on the water. Despite the proximity of the campsites, the campground's setting more than makes up for it. It's first come, first served, so arrive early. To ensure that you have a space to camp, try to arrive on a Friday. The tiny snack bar offers breakfast and lunch as well as restrooms and WiFi.
Address: Ventura, California 93001, 5210 Pacific Coast Highway.
Rincon Parkway – Ventura County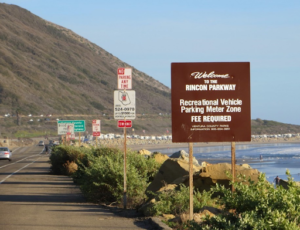 Rincon Avenue in Ventura County is the closest approach to the beach. The campgrounds have amazing views of the Pacific Ocean and are situated along the former Pacific Coast Highway. No reservations are necessary. Drive up and down until you locate a parking space. Where you park is unimportant because every place has a beautiful view. There is no day-use parking available here, and tent camping is not permitted. 
Located in Ventura, California 93001, 4668 Pacific Coast Highway.
Faria Beach Park – Ventura County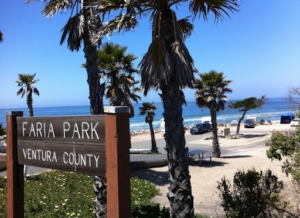 Another small beachside campground managed by Ventura County is Faria. There are 38 campsites at Faria Beach Park, which is a few kilometers south of Hobson Beach. Views of the Pacific Ocean are unimpeded from numbers 7 through 34, which face the water. First-come, first-served policy explains the availability of all camps. 
There are no reservations allowed. Finding a place here can be challenging, particularly on the weekends and during the summer. There is a tiny bistro where breakfast and lunch are served. 
Located on Old Rincon Highway, 4350, Ventura, CA 93001. Website.
Emma Wood State Beach

This area contains the remains of a World War II coastal artillery station for history buffs. Offshore, you can see the Channel Islands. This park has railroad tracks that are used by Amtrak coastal trains. 
Limited camping costs $40 a night and is only available to self-contained RVs. The campsite is immaculate and dry; hence, there are no restrooms, showers, hookups, or dump stations. 
Located off US 101, 2 miles west of Ventura.
McGrath State Beach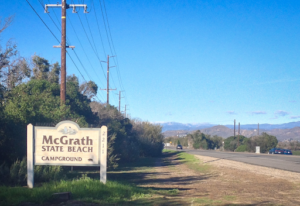 As of July 10, 2019, McGrath State Beach is closed until further notice due to floods.
McGrath State Beach, which is located close to the Santa Clara River and sand dunes, includes 172 oceanfront campsites. Compared to Southern California, the campground is far from the amenities provided by civilization. This beach is spacious and sandy, making it ideal for strolling or sunbathing. 
Address: California, 2211 North Harbor Boulevard, Oxnard.
Point Mugu State Park Camping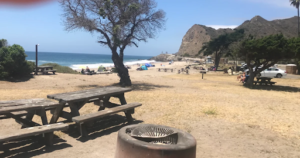 Point Mugu in Southern California features 5 miles of shoreline and a beach campground further north. The Santa Monica Mountains are home to this park, which has cliff faces and river canyons. 
Point Mugu has two campgrounds, such as the beachside Thornhill Broome Campground, which can flood during storms and high tides. The beach is across the highway from Sycamore Campground. Both campgrounds have showers, but neither one has RV connectivity. Camping at Sycamore Campground is $45 per night, compared to $35 at Thornhill Broome's Beach. 
Located in Malibu at 9000 West Pacific Coast Highway.
Leo Carrillo State Park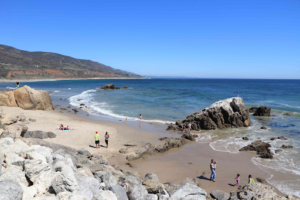 Leo Carrillo is a popular beach with 1.5 kilometers of shoreline. In addition, there are coral reefs, coastal caves, and tide pools to explore. Junior Rangers attend coding sessions and campfires led by park rangers. And look for hiking in the backcountry. 
The shady tent sites cost $45 per night. RV sites with electricity only cost $65 per night. The maximum RV length is 31 feet. 
Located in Malibu at 3500 West Pacific Coast Highway.
Dockweiler State Beach RV Park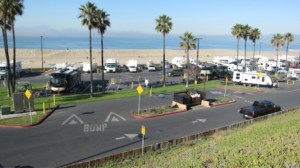 At the sole camping beach in LA County, camp while huge airplanes fly overhead. 
No tent camping; only self-contained RVs. Three rows of fully connected RV parking. RV sites with exceptional views of the ocean cost $75 per night. The middle row costs $70 each night, and the rear row costs $65. 
12001 Vista del Mar is the address. Los Angeles International Airport (LAX) is nearby.
Bolsa Chica State Beach RV Camping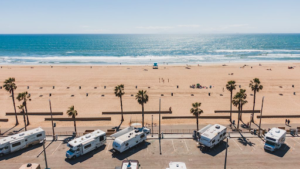 This beach, formerly known as Tin Can Beach, has fire rings and camping. 
There are no camping tents allowed because the RVs are self-contained. RV sites with electricity and water begin at $55 per night, with luxury sites overlooking the coast costing $65 per night. The maximum RV length is 40 feet. 
The address is 17851 Pacific Coast Highway. Huntington Beach is nearby.
Sunset Vista RV Park Huntington Beach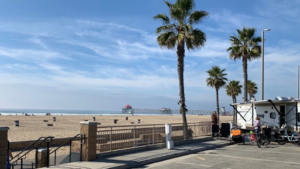 The Huntington Beach Pier is half a mile south of Sunset Vista RV Park. You can park your RV in this campground, which is a parking lot near the beach. Outstanding location The Pacific Ocean and anything else you could possibly want is all close by. 
The drawbacks include the potential for excessive noise, the abundance of fire rings on the beach, and the likelihood of nighttime smoke depending on the wind.  
Address: 103 Pacific Coast Highway, Huntington Beach, CA 92648. 
Newport Dunes Luxury Beach Camping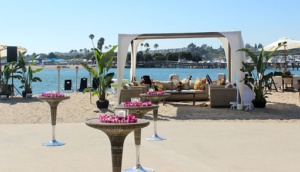 The ideal home away from home for visitors to enjoy the southern California sun is Newport Dunes Resort. 
You don't need an RV to stay here, although most visitors do so, stopping only for a few days to recover before continuing to their ultimate destination or continuing for the duration of their trip. Numerous lodging choices are available, such as tent camping and cottage leases. Numerous lodging choices are available, such as tent camping and cottage leases. 
Address: Newport Beach, California, 1131 Back Bay Dr.
Crystal Cove Beach Cottages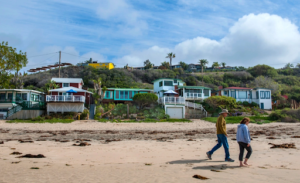 Crystal Cove, located between Laguna Beach and Newport Beach, protects 2,400 acres of Southern California wilderness. This contains 3.2 miles of coastline with bluffs offering spectacular views of the Pacific Ocean. 
Crystal Cove State Park contains a historic neighborhood with 46 1930s and 1940s cottages for rent along Los Trancos Creek. Rates range from $38 per night in a dorm to $269 per night in a nine-person house. Reservations are available for up to seven nights and can be made up to six months in advance. 
Campgrounds are $55 per night without electricity, and the RV maximum for dry camping is 25 feet. The cost of an RV site with electricity and water is $75, with a maximum length of 38 feet. 
Laguna Beach is located at 8471 N. Coast Highway.
Doheny State Beach Camping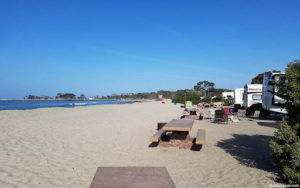 This is California's first state beach, and the park's northern edge is a popular surfing area. Look for tide pools and visitor centers with aquariums to see marine life. This beach also has a fire ring that is available on a first-come, first-served basis for a beach campfire. 
Campgrounds begin at $40 per night, with luxury sites (sea view) starting at $60 per night. RVs are accepted, but there are no hookups. The maximum RV length is 35 feet. 
The address is 25300 Dana Point Harbor Dr. Dana Point and San Juan Capistrano Mission are nearby.
San Clemente State Beach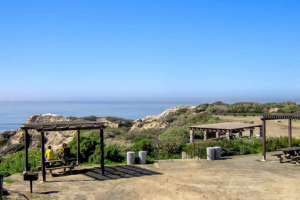 Another beach with sandstone slopes and a favorite surf place in San Clemente. Civilian Conservation has constructed a visitor center as well as park infrastructure. 
Tent campsites begin at $40 per night, with luxury sites costing $45 per night. Utility RV sites are $65 per night and include electricity, water, and sewer. For $189 per night, San Clemente provides three vintage travel trailers with two twins, one bunk bed, and one full bed. The maximum RV length is 30 feet. 
The address is 225 W. Calafia Ave.
San Onofre State Beach Camping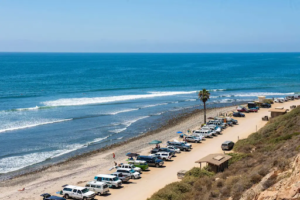 With 3,000 acres, it is one of California's five most popular beaches. Trestles, a world-famous surf break, is located here for surfers. During the winter, keep an eye out for whales migrating offshore. 
The cost of primitive camping is $40 per night. Each campsite has a parking place, picnic tables, and fire rings. This park has cold showers and chemical toilets but no RV hookup, though there is an RV dump station. The maximum RV length is 25 feet. 
5200 S. Pacific Coast Highway is the address of the campground. Marine Corps Base Camp Pendleton is nearby.
South Carlsbad State Beach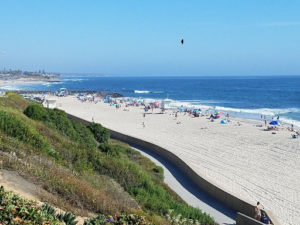 Swimming and surfing are common activities on this beach. Additionally, park rangers give informative events for children several times every week, such as animal viewing and junior rangers. 
Beach campsites cost $50, while inland campsites cost $35. Connected coastal locations (electricity, water, and drainage) are $75, and connected inland locations are $60. The maximum RV length is 35 feet. 
The campground is located 3 miles from Carlsbad at 7201 Carlsbad Blvd. Carlsbad State Beach, located directly to the north, is a day-use only beach.
San Elijo State Beach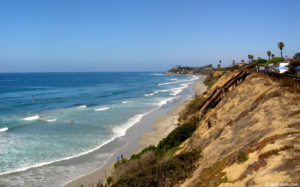 Enjoy 2 miles of coastline, complete with bluffs and stairs leading to the ocean. Bang San Elijo Beach is not far from Cardiff. Look for shows that interpret despite the fact that the draw is surfing. 
Beach campsites cost $50, while inland campsites cost $35. RV beach campsites with power, water, and drainage are $75, and inland sites with electricity, water, and drainage are $60. The maximum RV length is 35 feet. 
Cardiff is located at 2050 S. Coast Highway 101. During the day, the available space is restricted. Nearby beaches include Cardiff State Beach, Moonlight State Beach, and Leucadia State Beach, also known as Beacon Beach.
Silver Strand State Beach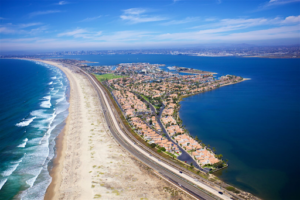 On the strip of sand that divides San Diego Bay from the Pacific Ocean is Silver Strand State Beach. The most well-liked place in San Diego for beach camping is Silver Strand. 136 self-contained, vehicle-only campsites are accessible at Silver Strand.
Address: California's Coronado, 5000 Highway 75.
Roberts Cottages Oceanside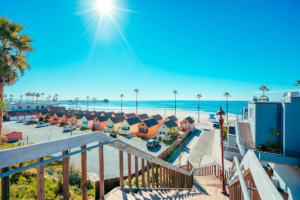 Only a few steps distance Roberts Cottages from Oceanside's expansive sandy beach. The majority of these were developed in 1924 as vacation residences and had one bedroom. Many of these distinctive beach bungalows are now available for rental. Although not inexpensive, this site is gorgeous and costs, on average, $1500 per week in the summer. Being halfway between Los Angeles and San Diego, Oceanside is a fantastic spot for families to visit.
Oceano Dunes SVRA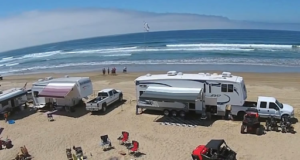 1,500 acres of beaches and dunes are accessible by 4×4 vehicles in this recreation area for off-road vehicles only. There is no authorized camping area in Oceano Dunes, and 4WD cars are advised. A night costs $10. 
Located in Oceano at 1001 Cabrillo Highway.
Pismo State Beach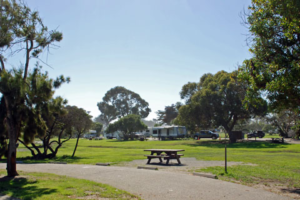 Western monarch butterflies that migrate from northern Canada spend the winter months (November to February) at Pismo State Beach. Pismo and Pacific Razor Clams enjoy scallops. You need a current California fishing license to go clamming. 
Register at the Oceano Dunes Visitor Center for the educational show that takes place in the park. A night at the tent camping costs $25. The cost of an RV spot with electricity and water per night is $40. The RV is limited to 31 feet. 
Situated in Oceano at 555 Pier Avenue.
Montana de Oro State Park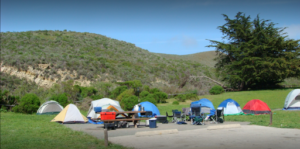 There are 8,000 acres, including 7 miles of beachfront, to explore at one of California's biggest state parks. Earlier, this area was a dairy farm. 
Equestrian camping is provided at Montana de Oro State Park at prices ranging from $50 to $150 per night, depending on the number of booths. RV primitive camping is $25 per night without hookups. The RV length limit is 27 feet. 
Located at 3550 Pecho Valley Rd. Near Los Osos, 6 miles south of Morro Bay.
Morro Bay State Park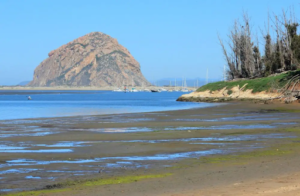 Morro Bay State Park is located in Morro Bay, California. There are numerous amenities available, including an 18-hole public golf course and a marina for boating. Views of Morro Rock and the natural bay may be had from the park. 
RV sites with electricity and water are available for $50 per night. Tent sites with no hookups cost $35. The maximum length of an RV is 35 feet. 
The address is 1 State Park Rd.
Morro Strand State Beach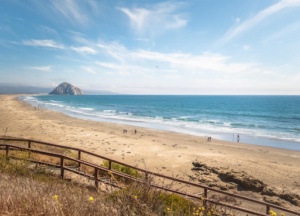 Morro Strand is a beach park on the bay, fewer than five miles from Morro Bay State Park. The ocean and Morro Rock may be seen from both parks. The beach at Morro Strand is less developed. 
RV sites with water, electricity, and drainage are available for $50. Sites for tents without hookups are $35. For RV sites, the maximum length is 40 feet; for tent sites, it's 24 feet. 
Located at the Yerba Buena entry along the Pacific Coast Highway.
Hearst San Simeon State Park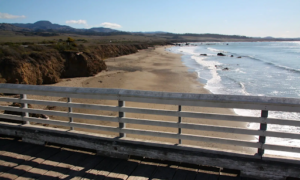 Media mogul William Randolph Hearst established Hearst Castle, an American landmark, along California's central coast. It is now a state park, perched atop a precipitous slope above the Pacific Ocean. More than 20 miles of beach may be found in this park. 
To view a sizable slum from the boardwalk, go to the Elephant Boardwalk. It's 5 miles north of Hearst Castle Road along Highway 1 (see for signage along the road), and it's free. 
RV and tent sites without hookups are available at San Simeon Creek Campground for $35. For all campgrounds, an RV cannot be longer than 35 feet. The cost of basic campsites at Washburn Campground is $20. 
The entrance to both campgrounds is at 5000 San Simeon-Monterey Creek Rd. in Cambria, and they are near to one another.
Nearby: A private timed ticket for Hearst Castle must be purchased in advance online or at the visitor center at 750 Hearst Castle Road.